GOP presidential candidates pandering to the GOP's Christian Right base for votes by engaging in Islamophobia hysteria have crossed over a line.
J.E.B.! Bush said over the weekend that relief efforts for refugees fleeing war and terrorism in the Middle East should be limited to Christians. Jeb Bush: U.S. assistance for refugees should focus on Christians: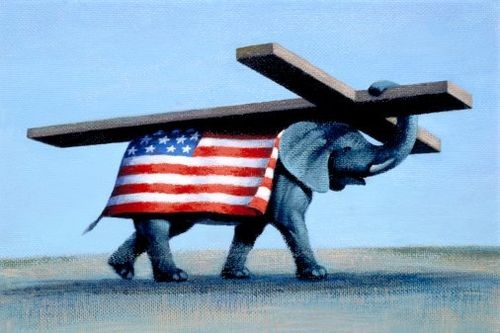 Republican presidential candidate Jeb Bush says that any U.S. assistance to Middle Eastern refugees should focus primarily on Christians fleeing persecution.
"We should focus our efforts as it relates to refugees on the Christians that are being slaughtered," he told CNN's "State of the Union" in an interview on Sunday morning.
J.E.B.! is definitely not his brother George W. Bush who was deliberately careful not to turn terrorist attacks by extremists into an apocalyptic clash of civilizations between the Western world and Islam:
Just six days after the 9/11 terrorist attacks, Bush went to the Islamic Center in Washington, D.C., and gave a speech cautioning against bigotry and religious discrimination against Muslims.
"The face of terror is not the true faith of Islam," he said. "That's not what Islam is all about. Islam is peace. These terrorists don't represent peace. They represent evil and war."
More quotes by Bush distinguishing between the fight against extremists and the Islamic faith.
"Americans understand

we fight not a religion; ours is not a campaign against the Muslim faith. Ours is a campaign against evil." [9/27/01]
"We're taking action against evil people. Because this great nation of many religions understands, our war is not against Islam, or against faith practiced by the Muslim people. Our war is a war against evil. This is clearly a case of good versus evil, and make no mistake about it — good will prevail." [1/5/02]
"Islam is a vibrant faith. Millions of our fellow citizens are Muslim. We respect the faith. We honor its traditions. Our enemy does not. Our enemy doesn't follow the great traditions of Islam. They've hijacked a great religion." [10/11/02]
Senator Ted "Calgary" Cruz, a "pander bear" to the GOP's Christian Right base if there ever was one, similarly said that he would allow Christian refugees from Syria into the U.S., but not Muslim refugees. Cruz: 'No meaningful risk' of Christians committing terrorism:
Sen. Ted Cruz Sunday continued to call for Muslim refugees from Syria to be barred from entering the United States but opening the borders to displaced Christians, arguing there is not a "meaningful risk" that Christians will commit terrorist acts.
"There is no meaningful risk of Christians committing acts of terror. If there were a group of radical Christians pledging to murder anyone who had a different religious view than they, we would have a different national security situation," Cruz (R-Tex.) told reporters.
The rest of the GOP field is no better. Conservative suspicions of refugees grow in wake of Paris attacks:
Donald Trump has promised to kick all Syrian refugees out of the country and not allow any more in.
* * *
Louisiana Gov. Bobby Jindal called for sealing off U.S. borders, while former Arkansas governor Mike Huckabee wants to halt the arrival of any refugees from countries with a "strong presence of ISIS or al-Qaeda." Ben Carson, a retired neurosurgeon who has embraced some of Trump's views, said Sunday that accepting Syrian refugees is "a suspension of intellect."
* * *
President Obama, like many Democratic leaders, has been more sympathetic to the plight of the millions of Syrians fleeing the violent, years-long war that has consumed their homeland. That has prompted an intense wave of criticism from some Republican voters, including some who have long believed that Obama is Muslim despite his insistence that he is Christian.
If you have listened to FAUX News or hate talk radio since the Friday evening terrorist attack in Paris, the level of Islamophobia fear mongering and scapegoating of one of the world's largest religions based upon the act of terrorists has reached the point where it is fair to ask which of the Tea-Publican candidate for president will be the first to suggest that we round up all Muslims in the U.S. and put them into detention camps, like we did to Japanese-American citizens during World World II.
My money in on "The Donald," who has already promised to round up all undocumented immigrants and load them onto cattle cars and ship them back to their country of origin.
Is this the people Americans have become from the constant stream of ignorance, fear and hatred of "others" spewed by the conservative media entertainment complex? (and yes, I object to Bill Maher and his Islamophobia as well).
President Obama today tried to tamp down this Islamophobia hysteria at his press conference from the G-20 Summit in Turkey. Think Progress reports,  Watch Obama Tear Into GOP Candidates Who Only Want To Take In Christian Refugees From Syria: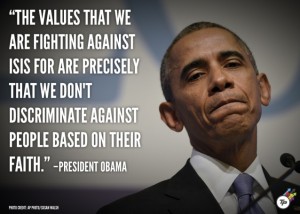 President Obama called out Republican presidential candidates who have said the United States should admit Christians but bar Muslim refugees from Syria from entering the country, saying that Americans "don't have religious tests to our compassion."
"When I hear folks say that: 'Well, maybe we should just admit the Christians but not the Muslims,' when I hear political leaders suggesting that there would be a religious test for which person who's fleeing from a war-torn country is admitted, when some of those folks themselves come from families who benefited from protection when they were fleeing political persecution, that's shameful," Obama said on Monday during remarks at the G20 summit in Antalya, Turkey. "That's not American. That's not who we are. We don't have religious tests to our compassion."
He pointed to Pope Francis' speech to Congress when the Catholic leader "didn't just speak about Christians who were being prosecuted" but said we need to protect all people who are vulnerable.
"It is very important for us right now, particularly those who are in leadership, particularly those who have a platform and can be heard, not to fall into that trap, not to feed that dark impulse inside of us," Obama continued. "I had a lot of disagreements with George W. Bush on policy, but I was very proud after 9/11 when he was adamant and clear about the fact that this is not a war on Islam. The notion that some of those who have taken on leadership in his party would ignore all of that, that's not who we are."
After telling Republicans to follow Bush's example, he continued, "Whether you are European or American, you know the values that we are defending — the values we're fighting against ISIL for — are precisely that we don't discriminate against people because of their faith. We don't kill people because they're different than us. That's what separates us from them."