E.J. Dionne, Jr. asks Are Republicans abandoning democracy? The clear answer is "yes."
As Charles Blow explains, Republican Efforts to End Democracy: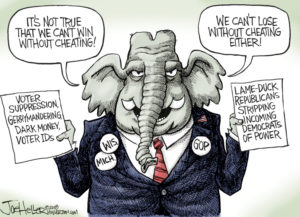 Do not believe that we are still living in a functioning democracy. We are not. Republicans across this country are doing everything they can to impede, alter and override the power of the personal vote. This strikes at the very heart of democracy, both undermining people's faith in it and contorting it until it no long resembles what it claims to be.
From Wisconsin, to Michigan to North Carolina, there is a Republican coup against democracy occurring right now before our eyes. Lame-duck Republicans are stripping their Democratic successors of constitutional powers on taking office.
This is also being contemplated  right here in Arizona. The election of Democrat Katie Hobbs as Secretary of State has Republicans apoplectic. They have been spouting wild conspiracy theories about voter fraud being responsible for Democratic wins in the recent election.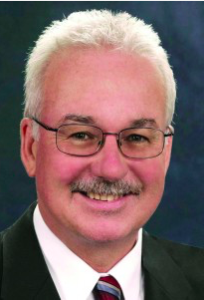 Now our Trump troll Representative-elect John Kavanagh is proposing eliminating the Secretary of State office altogether — because a Democrat has been elected to the office — and creating a lieutenant governor who runs in tandem with the governor, because of Arizona's constitutional rules of succession.
The Arizona Capitol Times reports, Democratic SOS spurs talk of change in line of succession:
The election of a Democrat as Arizona's next secretary of state has renewed some Republicans' interest in the line of succession.
That's because if anything were to happen to Republican Gov. Doug Ducey – be it resignation, impeachment or an untimely death – Democrat Katie Hobbs would be next in line to serve as the state's chief executive.
Given the lengthy history of Arizona governors who don't serve full terms in office, some lawmakers want to shake up the gubernatorial line of succession by inserting a new player – a lieutenant governor. But they'll have to convince voters, who've routinely rejected the idea, to go along with it.
Arizona is one of only seven states in the country that doesn't elect a lieutenant governor.
* * *
[Succession is] not an uncommon situation in Arizona. Five secretaries of state have become governor. Four of those instances have occurred since 1977.
And twice since the late 1980s, the governor of one party was replaced by a secretary of state from a different party.
Sen. John Kavanagh, R-Fountain Hills, said voters aren't aware of what's at stake when they elect a secretary of state – that they're the proverbial "heartbeat away" from becoming governor. A lieutenant governor would clarify who's second-in-command.
"It would be like the president. The same box would provide you with that team. The two would run as a team," Kavanagh said.
There's also the argument that being secretary of state doesn't prepare you to be governor. The roles are too different, say Republicans like House Speaker J.D. Mesnard of Chandler. It'd be better if the gubernatorial nominee for each party could pick a running mate to serve as their lieutenant governor.
There's a hurdle to those plans, however. The line of succession is enshrined in the Arizona Constitution, and only the voters can decide if that should change.
Voters have overwhelmingly rejected the idea, twice in the last two decades – first in 1994 by a 2-1 margin, then again in 2010 by a roughly 59 percent majority.
Republicans are also aware of the perception of proposing a lieutenant governor in the wake of the 2018 election. For more than two decades, Republicans have occupied the Secretary of State's Office, meaning in recent memory, there's never been the fear of having a Republican governor replaced by a Democrat.
In fact, the last time a governor resigned, the transfer of power worked in the GOP's favor. Democratic Gov. Janet Napolitano resigned from office in 2009, and was replaced by Republican Jan Brewer.
To assuage any concerns that their motives might be political, Kavanagh and other Republicans say that any effort to create a lieutenant governor must have a delayed effective date. That's exactly what Mesnard proposed in 2015, and he may simply reintroduce that legislation. This time, he'd push the date a lieutenant governor would first be elected until 2026.
That would ensure that Hobbs, as the recently elected secretary of state, could serve at least two full terms in office without being affected.
As for what the role of a lieutenant governor would be, there are differences of opinion. Kavanagh said he sees the role as a fill-in for the governor – someone who can speak on the governor's behalf, travel to events on his or her behalf, and most importantly, serve the state while the governor is traveling abroad.
Kavanagh also suggested the lieutenant governor could assume some of administrative duties of the secretary of state. And perhaps the secretary of state could be eliminated altogether, Kavanagh said, replaced by a gubernatorial appointee.
"You could simply make the Secretary of State's Office a full time civil servant," Kavanagh said.
Mesnard, however, said it'd be a mistake to turn the secretary into an appointed role.
"The Secretary of State's Office needs to be an elected position. It's true that it's mostly an administrative position… but no matter who is in that position, it's going to be political," Mesnard said. "At least if it's an elected position, they answer directly to the people."
Instead, Mesnard's proposal would put the lieutenant governor in charge of the Arizona Department of Administration, a role in government operations that would better prepare a lieutenant to become governor if needed.
If approved by the Legislature, voters would have a final say on any lieutenant governor proposal in the 2020 election.
Arizona voters have already decided this issue. Stop wasting our time and tax dollars on this failed proposal.
---
Support volunteer citizen journalism at the Blog for Arizona with a donation today. Your secure contribution keeps the Blog online and sustains a free press in Arizona.
---