"There are two novels that can change a bookish fourteen-year old's life: The Lord of the Rings and Atlas Shrugged. One is a childish fantasy that often engenders a lifelong obsession with its unbelievable heroes, leading to an emotionally stunted, socially crippled adulthood, unable to deal with the real world. The other, of course, involves orcs." — John Rogers
This Libertarian bullshit has also produced the "trickle down" Tea-Publican zombies in our state government, and this blog's most infamous blog troll, the disgraced John Huppenthal aka "Thucky." If there is a reason why this Libertarian bullshit should not be taught in public schools to infect the minds of impressionable youth, it is this blog troll. He is the poster boy.
The Arizona Republic reports, Legislators want millions for schools with Koch brother ties:
The Arizona Legislature, which has slashed university funding in recent years, could soon vote on a budget that would give the state's higher-education system an additional $32 million.
But $5 million of it would come with strings attached. The budget would earmark that amount for so-called "freedom schools" [i.e., indoctrination centers] aimed at advancing free-enterprise ideals at Arizona State University and University of Arizona.
The Arizona Board of Regents, which oversees the state's university system, has not advocated for that earmark. A spokeswoman said the regents are prioritizing funding that is not tied to specific programs so it can be used to mitigate tuition costs for in-state students.
The billionaire Koch brothers, whose network of "dark money" supported Doug Ducey's 2014 campaign for governor, have provided funding for the freedom centers. ASU has two and UA has one.
* * *
Democrats strongly oppose the schools, while Republicans support or have mixed sentiments about the proposed spending.
Ducey supports the earmark, his spokesman said, because it promotes specialized and innovative programs that shape students' viewpoints long after college.
"The governor … believes it's important that students in our university system are exposed to a broad range of viewpoints and academic views on a number of issues, including economics," spokesman Daniel Scarpinato said. "So this fits in with that priority."
* * *
Jonathan "Payday" Paton, who is lobbying for the dollars on behalf of the Arizona Free Enterprise Club, said he has contacted representatives of a Koch charitable foundation to see if they would support the spending plan, but they have not been involved in the efforts. The Arizona Free Enterprise Club describes itself as a "free market, pro-growth advocacy group," and as a non-profit, it is not required to disclose its donors.
* * *
The $5 million plan for the schools has been included in at least two versions of budget spreadsheets that illustrate negotiations by House and Senate Republicans. ASU would receive $3 million, while $2 million would go to UA.
* * *
ASU's Center for the Study of Economic Liberty is an academic unit of the W.P. Carey School of Business at Arizona State University [now known as "Koch Brothers University"] and is [laughably] described as "nonpartisan" [only because of its 501c tax status.]
The center features recent work on public education titled "The Demise of Government Schools" and on the state's land trust fund. The trust-fund report – the cornerstone of the May 17 education-funding measure Proposition 123 crafted by Ducey – determined state leaders could be "more aggressive" in withdrawing from the fund.
The center has also published a policy report that examined a "road map" to how state leaders could eliminate the income tax, which is another key Ducey promise. The paper concluded that as state government enters a new era of economic growth "and the tax competition between states that has been occurring in earnest for decades, waiting longer may result in losing a golden opportunity."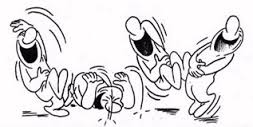 ASU's Center for Political Thought and Leadership focuses on the "principles of good government, civic involvement, free markets and political liberty."
UA's Center for the Philosophy of Freedom's website says it works to advance the "ideals of freedom" through research, education and community outreach.
* * *
Democratic Minority Leader Eric Meyer of Paradise Valley ripped the earmark for the schools, saying even Republicans are questioning why it has been added to the budget deal agreed upon by GOP leaders and Ducey.
"These freedom schools advocate for things that will help to abolish public education as we know it," Meyer said. "We have all these needs, and they're talking about $5 million for a think tank that spews out propaganda."
Rep. Debbie McCune Davis, D-Phoenix, wants to know who specifically has requested the funding be included in the budget. No one appears to know who is advocating for the funding, she said. Some lawmakers suggest Ducey and Senate President Andy Biggs are pushing hard for the funding.
"I don't think something should be in the state budget that doesn't have a member willing to stand up and take responsibility for it," she said, noting one center professor's emphasis on private schools.
Just like they do with their "dark money" PACs, these cowards hide in the shadows and don't want to be exposed or to take a stand in public for what they claim they believe in.
Sen. Steve Yarbrough, R-Chandler, said Monday that the centers perform valuable research and are a "modest but very important part of these institutions."
Rep. Jay Lawrence, R-Scottsdale, said the spending plan represents "a wonderful opportunity" to fund conservative viewpoints, which he says are lacking at the schools. He said a freedom school should be established at Northern Arizona State University, as well.
"The universities in Arizona – two of them – have an education and professors who do not adhere to conservative thoughts and rules or the conservative attitude toward government," he said. "I want to see more of that taught in our universities and it will never lessen the way they're being taught now."
So now the Arizona legislature wants to mandate political course content? So much for academic freedom and First Amendment freedom of speech and association. Soon they will be mandating that college students must attend these "kochtopus" indoctrination centers.
The Republic's E.J. Montini adds, Montini: Millions for Koch Bros. University branch campuses – ASU and UA:
Funding foe the state's universities don't usually include "earmarks" for specific programs favored by right-wing billionaires.
That kind of blatant politicizing of academic integrity doesn't happen in state-run, state-owned institutions of higher learning.
Except here.
(And several other universities around the country.)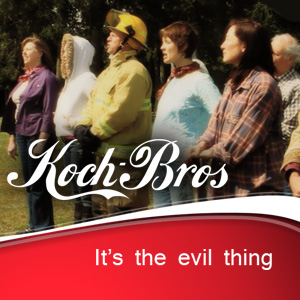 In a cleverly subversive but legal way Arizona State University and the University of Arizona are now owned – in part – by billionaires Charles and David Koch, the dark knights of the "dark money" who helped Gov. Doug Ducey get elected.
* * *
The Charles Koch Foundation gave $3.5 million in ASU's new Center for the Study of Economic Liberty in order to spread the brothers political and economic philosophy in the guise of academic scholarship. In addition, ASU accepted more than $1 million in Koch money for a history professor's position in the Center for Political Thought and Leadership, a job right out of the public relations department of billionaires.
Then there is the UA Center for the Philosophy of Freedom, housed in the College of Social and Behavioral Sciences and, likewise, with lectures that should be titled Koch 101, Koch 102, etc.
According to Ducey's spokesman Daniel Scarpinato, "The governor … believes it's important that students in our university system are exposed to a broad range of viewpoints and academic views on a number of issues, including economics. So this fits in with that priority."
In other words, we're spending tax dollars for Koch brothers' propaganda. In this case, $3 million for ASU's center and $2 million for UA's.
It's a form of ivy-covered brainwashing.
* * *
On the bright side, Koch Brothers University only has branch campuses at UA and ASU. For now. If Ducey and his friends in the Legislature persist, it someday will be the other way around.
At least then the devil mascot will be appropriate.
UPDATE: More from E.J. Montini:
We now find out that [University of Arizona President Ann Weaver] Hart's oily connection to DeVry University is nothing compared to the Legislature's soul-selling union with the right-wing billionaire Koch brothers, Charles and David.
The dark money dons who helped get Gov. Doug Ducey get elected are now being allowed to buy their way into our kids' brains.
The universities have established three "think tanks" (Read: propaganda centers) with money from the Kochs and their affiliates, and the Legislature wants to earmark $5 million a year in public money for them to dispense their dystopian disinformation at ASU's Center for the Study of Economic Liberty, ASU's Center for Political Thought and Leadership and UA's Center for the Philosophy of Freedom.
It's an academic embarrassment and an education travesty.
And it makes Hart's DeVry connection look like a visiting professorship at Oxford.
Although given our Koch connection, I wouldn't be surprised if the DeVry people forced her to resign from their board.
And The Republic's Laurie Roberts writes Dot by dot, Koch takeover of Arizona is happening.
Of course our Ayn Rand acolytes who troll in the comments argue, "nothing to see here, go back to sleep" as the "Kochtopus" completes its hostile takeover of Arizona.