The GOP culture of corruption at the Arizona Corporation Commission has been a soap opera for over a year now.  Tom Forese and Doug Little were elected to office last year with "dark money" from the state's largest utility, APS, and its parent company Pinnacle West Capital Corp. The regulated purchased the regulators.
In a related matter, Commissioner Bob Stump's phone was seized for a forensic examination to recover emails and texts that may disclose illegal campaign coordination between Tom Forese and Doug Little and the GOP "dark money" organizations. The complaint is being pursued by the Checks and Balances Project.  Judge orders review of Stump's text messages.
There has been the ongoing "dark money" disclosure dispute between some members of the Commission who want APS and Pinnacle West to come clean, and  Tom Forese and Doug Little who simply chant the Goldwater Institute's magical mantra of "First Amendment free speech!" to justify political corruption and the Commission becoming a captive agency, bought by the utilities that it regulates. Regulator wants APS to disclose 'dark money' — well, not really — Montini: APS disclosure request is kind of a sham and Roberts: Burns' request for APS disclosure is a joke.
Commissioner Bob Burns faces a complaint at the Attorney General's Office seeking his removal from office for a conflict of interest. The complaint was filed by Warren Woodward, a frequent critic of the commission. Burns was listed as a lobbyist for a telecom group when he was elected, but he claims he resigned from the group after taking office. Corporation Commissioner Robert Burns faces conflict of interest complaint. Burns says it is all just a mistake, he doesn't even know the group that listed him as a lobbyist, "I swear!"
Which brings us to the most recent Commission scandal involving Commissioner Susan Bitter-Smith, whose full-time job is executive director of the Southwest Cable Communications Association, a business regulated by the Commission.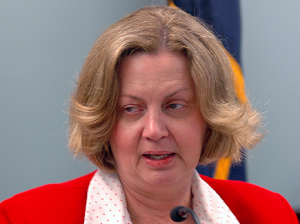 When Chandler attorney Tom Ryan filed a complaint for a conflict of interest with the Attorney General's office against Susan Bitter-Smith, she pooh-poohed it as being without merit.
On Monday, Arizona Attorney General Mark Brnovich  petitioned the Arizona Supreme Court to remove Corporation Commission Chairwoman Susan Bitter Smith from office in a 900-page filing. Brnovich files petition to oust Susan Bitter Smith from Arizona Corporation Commission. Things just got real!
The Arizona Supreme Court today decided to hear the conflict of interest complaint. The Arizona Capitol Times (subscription required0 reports, State Supreme Court to consider special action in attorney general's case against Bitter Smith:
The Arizona Supreme Court today decided to grant Attorney General Mark Brnovich's motion to consider a special action he filed on Monday against Arizona Corporation Commission Chairwoman Susan Bitter Smith.
The justices will decide on January 5 whether to accept full jurisdiction of the case. If they accepted the case, the justices could set oral arguments or decide the issue based on briefings alone.
The court gave Bitter Smith until December 16 to file her response to the complaint, and for Brnovich to respond by December 23.
Brnovich has gone directly to the state's justices in seeking to remove the commissioner from office.
Bitter Smith is a registered lobbyist for Cox Communications and serves as executive director of the Southwest Cable Communications Association. Brnovich said those ties mean she has a "pecuniary interest" in decisions made by the Corporation Commission.
Bitter Smith has repeatedly insisted that she has not violated the state's conflict-of-interest statutes.
The attorney general asked the justices to accept the case rather than have it go through the trial court first, arguing it requires their prompt resolution.
The court granted Brnovich's motion after holding a telephone conference with the parties also today.
Every member of the Arizona Corporation Commission is tainted by scandal and possible illegal conduct. All of the Corporation Commissioners should go. Just clean house.
Of course, Attorney General Mark Brnovich also has his "dark money" connection to APS and Pinnacle West, as The Republic's Laurie Roberts reminds us: "Now, will [Brnovich] stand up to APS, which spent $425,000 to get him elected AG last year? That one's still a question mark." Roberts: Brnovich takes mop to Corp Com but will he air the place out?