Just ten days ago, President Trump staged a televised bipartisan congressional discussion on immigration and DACA at the White House, the purpose of which was to dispel the claims of his incompetence in Michael Wolff's new book "Fire And Fury." It did not go well.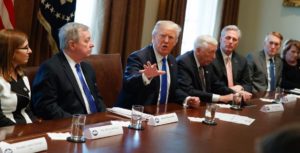 Trump literally agreed to everything each member of Congress proposed, including a "clean" DACA bill proposed by Sen. Dianne Feinstein. GOP Majority Leader Rep. Kevin McCarthy had to jump in, "Whoa! Whoa! Whoa!" and remind Trump of the Republican position on DACA: that any agreement needs to come with substantial border security.
The takeaway from this meeting was this: Trump says he'll sign DACA deal, pursue comprehensive immigration reform:
"You guys are going to have to come up with a solution [for DACA], and I'm going to sign that solution," Trump said during a bipartisan meeting of House and Senate leaders at the White House on Tuesday morning.
"When you talk about comprehensive immigration reform, which is where I would like to get to eventually," Trump said, turning to Senate Minority Whip Dick Durbin, D-Ill., "If we do the right bill here, we are not very far away, we've done most of it. You want to know the truth, Dick, if we do this properly, DACA, you're not so far away from comprehensive immigration reform. And if you want to take it that further step, I'll take the heat. I don't care," said Trump.
"My positions are going to be what the people in this room come up with," the president later told the press pool. "If they come to me with things I'm not in love with, I'm going to do it, because I respect them," Trump said, flanked by Durbin and House Minority Whip Steny Hoyer, D-Md.
The Senate's "Gang of Six" has put together a bipartisan compromise on DACA which has bipartisan support. Senate DACA deal picks up GOP supporters:
A bipartisan immigration agreement is picking up the support of several additional GOP senators despite opposition from President Trump and the White House.
Sen. Lindsey Graham's (R-S.C.) office announced that GOP Sens. Susan Collins (Maine), Lamar Alexander (Tenn.), Lisa Murkowski (Alaska) and Mike Rounds (S.D.) are signing onto the forthcoming legislation.
That brings the total number of Republican lawmakers officially backing the bill up to seven, including Graham and GOP Sens. Jeff Flake (Ariz.) and Cory Gardner (Colo.) — who were part of the original "Gang of Six."
Despite Trump's televised assurances that ""My positions are going to be what the people in this room come up with … If they come to me with things I'm not in love with, I'm going to do it, because I respect them," Trump called the Senate proposal "horrible" on border security and "very, very weak" on reforms to the legal immigration system on Wednesday. Trump calls immigration proposal 'horrible'.
The Septuagenarian Ninja Turtle, Senate Majority Leader Mitch McConnell will not allow the bipartisan Senate DACA bill to be scheduled for a vote in the Senate because he will only allow a bill the president supports to come to a vote, whatever the hell that is. Mitch McConnell's clear, passive-aggressive dig at Trump:
While talking about languishing discussions to attach a DACA compromise and border security to the government-funding bill that is due Friday, Sen. McConnell suggested that the White House had failed to even make its demands known.
"I'm looking for something that President Trump supports, and he has not yet indicated what measure he is willing to sign," McConnell said. "As soon as we figure out what he is for, then I would be convinced that we were not just spinning our wheels."
So the self-proclaimed "best deal maker ever" punted to congressional leaders to come up with a bipartisan bill that he said he would sign, which they did, but now Trump is content to snipe at the bill from the sidelines. This is an indication that despite saying he wanted a "bill of love" on DACA, Trump really does not want a DACA deal. Trump engaged in psychological projection when he wrote on Twitter that "DACA is probably dead because the Democrats don't really want it …"  Trump is projecting his own motivations 0nto Democrats, hoping to blame them for his own failure.
Also on Wednesday, President Trump's chief of staff and immigration hardliner, John F. Kelly, told a group of Democratic lawmakers that  Trump had not been "fully informed" when promising voters a wall along the Mexican border last year, and said that he had persuaded the president it was not necessary. Trump Was Not 'Fully Informed' in Campaign Vows on Wall, Chief of Staff Says:
The comments Mr. Kelly made Wednesday were an unusual instance of a White House chief of staff seeming to undercut public statements made by the president, in the process contradicting the central message of "Build the wall" that defined Mr. Trump's presidential campaign. The president has recently begun to temper his own statements about the wall, telling a group of Republican and Democratic lawmakers at the White House last week that a 2,000-mile structure would not be needed because parts of the border would be impassable.
But our Twitter-troll-in-chief was up early this morning directly contradicting his chief of staff on Thursday, saying his position on building the wall had not "evolved."
In an early-morning Twitter post, Mr. Trump said, "The Wall is the Wall, it has never changed or evolved from the first day I conceived of it." He added in a second tweet, "The Wall will be paid for, directly or indirectly, or through longer term reimbursement, by Mexico, which has a ridiculous $71 billion dollar trade surplus with the U.S."
With the Senate's "Gang of Six" bipartisan compromise gaining support, despite Trump's opposition, the immigration hardliners in the House GOP Freedom Caucus are now demanding a vote on their own DACA bill. Shutdown drama grips the Capitol: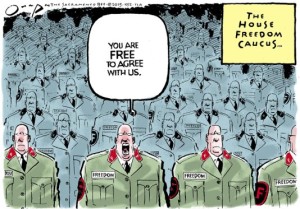 The Freedom Caucus, a group of roughly 30 conservative hard-liners, has railed against the short-term funding patch — the fourth since September — and expressed skepticism over broader immigration negotiations on Capitol Hill.
Some Freedom Caucus lawmakers are putting pressure on leadership to pass an immigration measure authored by Judiciary Committee Chairman Bob Goodlatte (R-Va.) and Freedom Caucus member Raúl Labrador (R-Idaho) in exchange for their support on the CR.
"We're making progress, yet still, at this point, if the vote were to happen today, there's not the votes to fund it with Republican-only votes," said Rep. Mark Meadows (R-N.C.), chairman of the House Freedom Caucus, as he emerged from a meeting with McHenry in the Speaker's office on Wednesday evening.
The Goodlatte legislation, which has attracted support from both the conservative and moderate wings of the GOP conference and has buy-in from key committee chairmen, includes more conservative immigration priorities than are expected to be included in any bipartisan deal on the Obama-era Deferred Action for Childhood Arrivals (DACA) program.
"We don't wanna get rolled by the Senate on DACA and the budget," said Freedom Caucus member Rep. Dave Brat (R-Va.).
Homeland Security Committee Chairman Michael McCaul (R-Texas), another lead sponsor on the Goodlatte bill, said a commitment from leadership on his immigration bill could help win more support for the stopgap bill.
"That certainly would help, in terms of whipping votes on the CR," McCaul said.
But leadership, while supportive of the Goodlatte approach, has so far resisted calls to put the bill on the floor. It's unclear whether the legislation could pass the House, and even if it does, it's likely dead on arrival in the Senate. There is also concern the vote could roil the sensitive, high-level negotiations on a bipartisan DACA deal.
"We're working on the Goodlatte bill," said Majority Leader Kevin McCarthy (R-Calif.), when pressed by The Hill on whether leadership has committed to a floor vote yet.
"Still, GOP leadership may be able to pass the [CR] funding bill without boosting defense spending or promising a vote on Goodlatte's immigration bill."
The Washington Post editorializes, Republicans coo reassurances at 'dreamers.' They're false. The Post further editorializes, Ignore the president. Vote on the DACA deal.
LARGE MAJORITIES of Americans in both parties favor a deal to provide protection and legal status for "dreamers," the young undocumented immigrants brought to the United States as children. That should give Congress license to make a deal — and ignore President Trump.
Note: According to a new CBS News poll, almost nine in 10 respondents – 87 percent – said they believe that the so-called "dreamers" should be allowed to remain in the U.S. if they meet certain requirements, such as working or going to school. Poll: Nearly nine in 10 want DACA recipients to stay in US.
Where it concerns Deferred Action for Childhood Arrivals (DACA), the Obama-era program that shields dreamers from deportation, the president is pure impediment. Mercurial, malleable and malevolent, he has shifted gears, tone and stances on the program so many times that heeding him is like indulging a toddler's caprices.
Better for lawmakers to forge a bipartisan deal and send it to the White House. Fortunately, they already have the outlines of one at hand.
That's the pact struck by a bipartisan group of senators, including Lindsey O. Graham (R-S.C.) and Richard J. Durbin (D-Ill.), who presented it to the president last week. The deal has plenty for both sides to dislike, and it omits most of the items on their wish lists; in other words, it's a compromise. But it would grant most dreamers eventual citizenship and appropriate $2.7 billion in the fiscal year starting this fall for beefed-up border security, more than half of it for Mr. Trump's "beautiful" wall — the one he said Mexico would pay for.
This "dream deal" is not, and cannot be, all things to all people. Its limited purpose is to resolve an immediate problem triggered by Mr. Trump when he announced the dismantling of DACA last fall, starting March 5. In doing so, the president himself urged Congress to resolve the dreamers' status.
The time to act is now, notwithstanding the administration's decision to obey a court order last week ordering the government to resume accepting renewal applications from DACA recipients while legal challenges play out. (The administration announced Tuesday that it would appeal the judge's order directly to the Supreme Court.) And the blueprint devised by Mr. Graham and Mr. Durbin is fair.
In addition to protecting dreamers, and jump-starting the border wall and funding other security measures (including surveillance technology and retaining Border Patrol agents), the deal would reshape and shrink the diversity lottery system that Mr. Trump and some other Republicans dislike. Half that program's current 55,000 visas would be meted out according to a merit-based system to underrepresented countries. The other half would be reallocated to foreign nationals who have been living legally in the United States for years with temporary protected status, which the Trump administration has ordered ended for citizens of Haiti, El Salvador and Nicaragua.
Both sides would doubtless love to ornament that skeletal deal with their favorite immigration baubles — in the Democrats' case, legal status or citizenship for about 11 million undocumented immigrants; in the Republicans', an end to so-called chain migration (family reunification) visas, a feature of immigration law for decades. Mr. Trump is reported to have demanded billions of dollars more for his wall.
But why choke on a full loaf when half a loaf will do? In the Graham-Durbin deal, Congress has the makings of success. It should vote on it.
If only the Septuagenarian Ninja Turtle, Senate Majority Leader Mitch McConnell, will allow the bipartisan DACA bill to be scheduled for a vote in the Senate.