Earlier this week, the Arizona Republic reported that Arizona's classroom spending at its lowest since 2001:
Districts last school year spent the lowest percentage of their operating dollars on classroom instruction since at least 2001, when the state began monitoring the figure, according to a state report released Tuesday.
Classroom spending is a popularly cited funding figure that includes a school's expenditures for salaries and benefits for teachers and instructional aides as well as classroom supplies.
The report said the low spending percentages have contributed to a lower state teacher salary average and larger classroom sizes.
Some of the key findings of the annual report released by the Arizona Office of the Auditor General:
The state's school districts spent 53.6 percent of its maintenance and operations dollars on classroom instruction. The national average is 60.8 percent.
More than 40 percent of Arizona school districts spent less than 50 percent of their operating dollars in the classroom.
Had Arizona kept classroom spending at the same rate it did in 2001, when the reports were first commissioned, it would have spent $402 million more on classroom instruction in fiscal 2015.
"That percentage has decreased in both in years where overall spending decreased and overall spending increased," said Vicki Hanson, division of school audits manager for the Office of the Auditor General.
"And that matters because it means $400 million not going into classrooms."
Tuesday's report said Arizona school districts "spent less than national averages in nearly all operational areas." Arizona districts spent less on administration — $780 per student compared with $1,173 nationally. The state also spent less on classroom spending — $4,105 per student compared with $6,543 nationally.
Arizona's steady spending decline deviated from the national trend.
The national classroom spending average has fallen only 0.7 percent since 2001. Arizona classroom spending has dropped by more than 5 percentage points from a peak of 58.6 percent in 2004 to 53.6 percent last school year.
"Arizona schools are doing good work with very little support from the state," said Andrew Morrill, president of the Arizona Education Association.
For further analysis of these numbers, see David Safier at The Tucson Weekly's The Range blog. A Look at Arizona's Classroom Spending Numbers.
The Arizona Republic lambasted our lawless Tea-Publican legislature's failed education policies in a brutal editorial this week. Our View: Education needs don't match lawmaker wants:
When it comes to K-12 education, the Arizona Legislature either suffers from a lack of understanding of demographic realities or an utter disregard for the dangers of further widening a dangerous achievement gap.
The majority of Arizona's K-12 students belong to groups that are struggling to succeed in school.
They are the poor, Latinos, Native Americans and Blacks.
They are not inherently less capable or less intelligent. But they are failing at higher numbers than other students.
It is a matter of existential importance to Arizona turn that around. The success – or failure — of these students will define our state.
Yet Arizona is engaged in efforts likely to deepen inequities.
Consider a few facts:
Arizona's child poverty rate is above the national average. The Arizona Department of Education says  48 percent of Arizona's K-12 students in 2014 were eligible for free or reduced lunches, a common definition of poverty.
46 percent of students of color in Arizona were in schools with a high-poverty rate in 2014, according to the National Equity Atlas, a project of the University of Southern California's Program for Environmental and Regional Equity. Only 9.6 percent of White students attended high-poverty schools.
Arizona has a majority-minority school population. Only 40 percent of students classified as White in 2014, according to the ADE.
Latino students are increasing in sheer numbers and percentage, accounting for 44 percent of K-12 students in 2014, according to ADE. That increase is attributable to children born in the United States, not immigration, according to the Pew Research Center.
The ADE reports that about 6 percent of Arizona students were not proficient in English. These English Language Learners are, by law, taken out of the classroom for special English instruction several hours a day, which means they fall behind in core subjects like math and science, says Joe Garcia of Arizona State University's Morrison Institute for Public Policy.
On the 2015 AzMERIT test, economically disadvantaged students, as well as Latino, Black and Native American students did significantly worse than their peers. When it came to students who were not proficient in English, only 2 percent passed the language arts portion of the test and 6 percent passed math.
These facts call for a concerted effort to reach children that Arizona knows need help.
Instead, Arizona's GOP majority Legislature is pushing an expansion of Empowerment Scholarship Accounts, a voucher program that takes money out of public schools to pay for private or church school tuition.
Touted as a way to increase school choice and help low-income students, the current program is most used by students in wealthy districts, reporting by The Republic found.
Arizona's quest for school choice has resulted in a large number of charter schools. The unintended consequence: charters serve disproportionately fewer Latino students, according to the Arizona Center for Investigative Reporting.
Education tax credits, also designed to increase school choice, also fail to deliver for those who most need help. Tax credit money designated for private schools disproportionately benefits well-off families, according to another Republic investigation.
Public school tax credits also tend to go to wealthier schools, where parents can afford the donations.
Now lawmakers are considering what could be a significant blow to efforts to raise the achievement level of Arizona's poorest and most disadvantaged students.
There is legislative push to end desegregation funding that allows some districts to focus on improved learning opportunities for students facing challenges. It is being done in the name of fairness, because not all schools benefit from being able to levy property taxes to remedy identified problems with how minority students were treated.
The system may be flawed. But denying funds that schools use to address the needs of Latino, Black and Native American students makes little sense.
It makes more sense to find ways to increase funding for all schools – especially those with greatest needs.
Arizona's leaders need to look at the demographics in our schools and find ways to reduce – not increase – achievement inequities in our schools.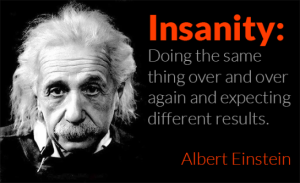 The definition of insanity is "doing the same thing over and over again and expecting different results." For the love of God, people, stop electing these lawless Tea-Publicans to office who are committed to the destruction of public education and to privatizing education, often for their own personal  profit. Stop the insanity!