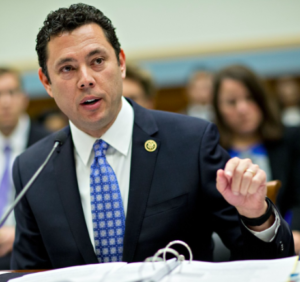 Rep. Jason Chaffetz (R-Utah) promises that the current less-than-less-than-do-nothing Tea-Publican Congress will do even less next year in announcing that he will use his powerful House Oversight Committee to engage  in "The Hunting of the President II." (In fact, Joe Conason and Gene Lyons already have an updated E-book to their seminal work available, The Hunting of Hillary).
The GOP is like captain Ahab in pursuit of the great white whale, Moby Dick. See, Trump's Moby Dick Debate:
It was impossible for me not to recall how Ishmael, Melville's narrator, describes Ahab's obsession with Moby Dick:
"All that most maddens and torments; all that stirs up the lees of things; all truth with malice in it; all that cracks the sinews and cakes the brain; all the subtle demonisms of life and thought; all evil, to crazy Ahab, were visibly personified, and made practically assailable in Moby-Dick. He piled upon the whale's white hump the sum of all the general rage and hate felt by his whole race from Adam down; and then, as if his chest had been a mortar, he burst his hot heart's shell upon it."
In circumstances like these, speaking to and for a base that has hunted the Clintons around the seven seas of American politics for more than a quarter century now, Trump's performance was guaranteed to excite and stimulate the limbic system of hardcore Republicans, including many who have no use for Trump as a candidate or potential president. It must have been an almost euphoric experience for them.
Except, Moby Dick was never "all evil" personified. Moby Dick was just a whale.
And on the third day of his final pursuit, Ahab finally realized: "Aye, he's chasing me now; not I, him—that's bad."
The Washington Post reports, House Republicans are already preparing for 'years' of investigations of Clinton: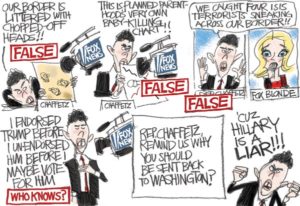 Jason Chaffetz, the Utah congressman wrapping up his first term atop the powerful House Oversight Committee, unendorsed Donald Trump weeks ago. That freed him up to prepare for something else: spending years, come January, probing the record of a President Hillary Clinton.
"It's a target-rich environment," the Republican said in an interview in Salt Lake City's suburbs. "Even before we get to Day One, we've got two years' worth of material already lined up. She has four years of history at the State Department, and it ain't good."
In a tweet Wednesday night, Chaffetz reaffirmed his distaste for Clinton and his refusal to endorse Trump — but reversed his plans not to vote for the Republican nominee. Jason Chaffetz just set some sort of modern record for flip-floppery.
If Republicans retain control of the House, something that GOP-friendly maps make possible even in the event of a Trump loss, Clinton will become the first president since George H.W. Bush to immediately face a House Oversight Committee controlled by the opposition party. (Bill Clinton, George W. Bush and Barack Obama lost Congress later in their presidencies.)
And other Republican leaders say they support Chaffetz's efforts — raising the specter of more partisan acrimony between them and the White House for the next four years.
"The rigorous oversight conducted by House Republicans has already brought to light troubling developments in the [Hillary] Clinton email scandal," the office of House Speaker Paul D. Ryan (R-Wis.) said in a statement to The Washington Post. "The speaker supports [Oversight's] investigative efforts following where the evidence leads, especially where it shows the need for changes in the law."
And the Oversight Committee may not be the only House panel ready for partisan battle. While the Select Committee on Benghazi appears to have finished its work, Rep. Jim Jordan (R-Ohio), a committee member who says Clinton might have perjured herself on questions about her email, said recently that he wants the committee to continue.
On the campaign trail, Republicans running for every office confidently talk about Clinton facing criminal charges one day.
* * *
Republicans are not inclined to give her a political honeymoon. To many of them, a Clinton victory would mean that Trump threw away an election that anyone else could have won.
"This should have been a slam dunk for the GOP," party consultant Frank Luntz said Sunday on CBS News's "Face the Nation."
* * *
Chaffetz, too, views Clinton as a lucky candidate whose past will catch up with her after the polls close.
"She's not getting a clean slate," he said. "It's not like the State Department was bending over backwards to help us understand what was going on. We've got document destruction. We've got their own rogue system. We've got classified information out the door. We've got their foundation doing who knows what. I mean, it took them four years just to release her schedule."
Several Clinton allies recoiled when asked about Chaffetz's plans for 2017. Clinton spokesman Brian Fallon said Chaffetz threatened to "ignore the public's clear desire for the two parties to work together," and he and others accused Chaffetz of wasting taxpayer money chasing old stories.
"It's clear Congressman Chaffetz is ready to spend resources on additional worthless political investigations that will, again, come up with nothing," said David Brock, a former Clinton foe who now runs the pro-Clinton political action committee American Bridge and its affiliates.
Rep. Elijah E. Cummings (Md.), the ranking Democrat on the Oversight Committee and the Select Committee on Benghazi, said that new Clinton investigations based on the scandals vetted since 2013 would amount to waste.
"Republicans are pretending like they haven't been investigating Secretary Clinton for years ever since she announced that she was running for president, including everything from Benghazi to emails to the Clinton Foundation," Cummings said in a statement. "It's no exaggeration to say that on the first day Secretary Clinton walks into the White House, Republicans will have already investigated her more than any other president in history."
Chaffetz, elected in 2008 after beating a congressman in a primary, rose quickly in the House. After John A. Boehner's surprise retirement, Chaffetz briefly ran for speaker of the House. Today, he says he's "supportive" of Ryan and has no plan to chase his job — though he does not rule out supporting someone else. Oversight, he explained, is "where the action is."
Chaffetz emphasized that the questions raised since he took over the committee in 2015 have not all been answered.
"We still have tens of thousands of missing documents," he said. "That ranges from everything from the missing boxes [of subpoenaed emails] to the David Petraeus emails, to [State Department Undersecretary] Patrick Kennedy's communications."
Chaffetz also suggested that coming Clinton hearings would touch on issues that had not been vetted. He had sent the committee's investigators a weekend article from the Wall Street Journal that asked whether Virginia Gov. Terry McAuliffe (D) had slanted the FBI's probe of Clinton by helping outside groups put $467,500 into the campaign of Virginia senate candidate Jill McCabe, whose husband, Andrew, later became deputy director of the FBI.
In addition, Chaffetz previously said in an interview with CNN, an FBI agent's suggestion that Kennedy had tried to get Clinton's emails declassified deserved a hard look. "I honestly don't believe they act in the best interests of our country," he said of the State Department. Future Oversight Committee investigations, he said, might depend on whether Clinton tries to put people ensnared by previous probes into her administration.
"It depends on who stays and who goes," Chaffetz said. "If Hillary Clinton brings in the same gang — Loretta Lynch, Cheryl Mills, Huma Abedin, Jake Sullivan — she has her cast of characters. If they put on the same play, she's not going to get good reviews from the critics. Every single time we turn around, this puzzle gets more complicated with more pieces to it. That story about the $12 million from Morocco to the Clinton Foundation? You could take any one of these stories and have a year's worth of investigations."
But the Morocco story also points to a potential problem for Chaffetz. The embarrassing 2015 emails from Clinton staffers, debating whether the future candidate should go to Morocco to collect a large charitable donation, came from hacked exchanges published by WikiLeaks. Chaffetz was inclined to steer away from them and had told Oversight Committee investigators to avoid poking through the website's cache. "You don't want to be dealing with stolen documents," he said.
* * *
"In the past, Republicans have used scandal investigations to keep their political opponents off kilter, as opposed to using them for serious accountability," said Tom Fitton, the president of Judicial Watch, which has filed dozens of ongoing Clinton suits. "They made noise about Clinton lying to Congress, when, if they were really concerned about it, they could have passed a contempt resolution."
The negative feelings toward Clinton — the certainty, in conservative media, that she is "crooked" — could put pressure on Republicans from the first moments of Clinton's presidency. Asked whether investigations could lead to extended political crises, with echoes of Watergate, Chaffetz said it would depend on Clinton and her team.
"It depends on how cooperative they are, how seriously they take it," Chaffetz said. "If they continue to erect walls and shore up the turrets, then, yeah, it's going to be a battle. But if they act like they're supposed to, if they comply with subpoenas and actually respond to requests from Congress, well, our republic requires that."
The one thing Chaffetz will not consider is an election that goes badly against the GOP. He sees the Oversight Committee as "the tip of the spear," with a valuable role to play in challenging the executive. If Republicans lose the majority, Chaffetz has no Plan B.
Even Jennifer Rubin, The Post's conservative blogger, says Chaffetz's plan is wrong. Jason Chaffetz blows it:
With voters trying to decide if they should ticket split and voters generally wondering if the GOP has lost its sanity, this is an idiotic thing to say for multiple reasons.
First, the Benghazi, Libya, investigation turned out to be a bust and an embarrassment. Recall how Hillary Clinton flicked lint off her jacket, an apt metaphor for her triumph over ham-handed inquisitors. Oh yes, let's repeat that!
Second, announcing before a president even takes office that you plan on immediately conducting one inquest after another smacks of bad faith and irresponsible partisanship. Perhaps Republicans do not understand that one of the things voters hate about Washington pols is their insistence on criminalizing politics. The vindictive tit-for-tat is likely once again to make Republicans look obstructionist and unserious. Clinton spokesman Brian Fallon immediately pounced, accusing Chaffetz of ignoring voters and wasting taxpayer money.
Third, it automatically undermines the legitimacy of any reasonable oversight for things she does as president. Chaffetz seems bent on making his own committee seem obsessed with finding something, anything to hang around her neck.
Fourth, the voters don't care. If she wins handily after all the news about emails and servers and the foundation, it's a fairly good indication that these things aren't of sufficient magnitude to deny her the presidency. What makes Republicans think plowing over the same ground is going to be any more popular?
Fifth, the entire point of House Speaker Paul Ryan's "Better Way" was to give Republicans a positive agenda to run on. Now, along comes Chaffetz to say, "Nah, we'd rather spend time going after her than working on actual problems."
Sixth, it gives credence to the #NeverTrump forces' claim that the GOP is intellectually spent and politically stupid. In lieu of an inspirational message, the GOP now stands for "Make Her Life Miserable." Just swell, guys.
Finally, Chaffetz's timing stinks. Republicans are desperately trying to argue they aren't like the unhinged Trump who calls his opponent "Crooked Hillary" and threatens to "lock her up." Here comes Chaffetz to announce, nope, the Republicans pretty much want to do the same thing.
Chaffetz may have pulled his endorsement from Trump but he has not shed the Trump mind-set that is leading the GOP into the political wilderness. He's daring voters who want politicians to work together to throw out the GOP House majority . . . Now there's a brilliant strategy for a party struggling for its life.
You can deprive the GOP of its plan to abuse power and wallowing in its post-policy nihilism of playing to the conservative media entertainment complex while failing to address the policy needs of this country by voting these Tea-Publicans out of office. Stop the insanity!