Less than a month after he surprised Beltway media villagers by actually declaring that he will run for president, Donald Trump has ripened into a full-blown panic within the GOP establishment.  Here are today's headlines:
The New York Times, Republican Party Leaders Struggle to Rein In Donald Trump: With Mr. Trump rising in opinion polls, officially neutral officials are reluctant to publicly criticize him despite his recent controversial statements.
The reliably Republican Washington Post gives Trump the full treatment:
GOP leaders fear damage to party's image as Donald Trump doubles down: The head of the Republican National Committee spent nearly an hour on the phone, urging Trump to tone down his inflammatory immigration comments that have infuriated a key constituency. . .
. . . A report that the Post had to walk back, Trump denies GOP chair asked him to tone down immigration comments: The Post had reported Wednesday that RNC Chairman Reince Priebus had asked Trump to reconsider his hard-edged approach. [UPDATE: The New York Times also reports Donald Trump insists that his phone call with Reince Priebus, the chairman of the Republican National Committee, was brief and he described it as "congratulatory" instead of condemnatory, in contrast to news accounts of the talk. Donald Trump Says R.N.C. Chairman Called to Congratulate Him.]
And the Post concedes that since Trumps' entry into the race, this showman and charlatan is sucking up all the oxygen in the room, depriving his rivals of oxygen media attention because, let's be honest, Beltway media villagers just love associating with celebrities, even "C List" celebrities (see the annual White House Correspondents' Association dinner.) The Donald: Almost half of all conversation last week on social and regular media was about him.
Finally, the Post's Dana Milbank opines today, Trump is the GOP, something that I have already posted about. Donald Trump is the 'brand' of the Mass Deportation Party.
It seems like a lifetime ago when the 2012 post-election GOP Autopsy report declared:
We are not a policy committee, but among the steps Republicans take in the Hispanic community and beyond, we must embrace and champion comprehensive immigration reform. If we do not, our Party's appeal will continue to shrink to its core constituencies only. We also believe that comprehensive immigration reform is consistent with Republican economic policies that promote job growth and opportunity for all.
I posted about the GOP bills in Congress for mass deportation and to punish DREAMers earlier this year, The GOP reaffirms it is 'the party of maximum deportations, there are the lawsuits pending before the Fifth Circuit Court of Appeals on Friday challenging President Obama's executive orders on immigration, and this week, Republicans again propose blocking Obama's immigration orders.
So how's that GOP Outreach to Latino voters working out for ya?
As if you needed any more evidence that the GOP has become the modern-day equivalent of the anti-immigrant Know Nothing Party of the 19th Century, "The Donald" has been invited by the Maricopa County Republican Party to speak at an event this weekend alongside crazy Uncle Joe Arpaio, a man whose sheriff's department has been found guilty of racially profiling Latinos and who is awaiting two trials next month, one for racial profiling and one for contempt of court that may result in criminal contempt charges being filed against him (he has already cost residents of the state of Maricopa millions of dollars in judgments paid out to his victims).
The Arizona Republic reports, Trump to visit Phoenix to talk immigration:
Controversial Republican presidential candidate Donald Trump is coming to Phoenix to make remarks on illegal immigration and other topics.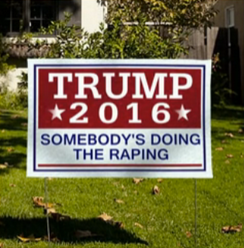 He'll be joined Saturday at the Arizona Biltmore in Phoenix by Maricopa County Sheriff Joe Arpaio at the 2 p.m. event hosted by the Republican Party of Maricopa County.
Trump and Arpaio are both nationally known hardliners opposed to illegal immigration.
Trump, the celebrity developer from New York who immediately roiled the GOP presidential race by making derogatory remarks about Mexican immigrants during the June 16 announcement of his candidacy, continues to defend his assertion that Mexican immigrants bring drugs and crime into the United States and are "rapists."
He teased the upcoming visit to Phoenix during an interview Wednesday with NBC News.
"I'm going to Arizona this weekend where they want to talk to me," Trump said. "… Somebody said I'm the most popular person in Arizona because of my stance, and I'm going to be there this weekend."
According to Trump's campaign, he plans to deliver "a speech on illegal immigration and numerous other topics" at the Phoenix stop.
Trump's appearance at the Arizona Biltmore, 2400 E. Missouri Ave., Phoenix, is free and open to the public, but registration is required here: www.StandWithTrump.Eventbrite.com.
UPDATE: Donald Trump's Arizona campaign event is moving to the Phoenix Convention Center, North Ballroom, 100 N. Third Street, Phoenix. Donald Trump event moves to Phoenix Convention Center.
Here is what I have not seen reported by Arizona's media villagers: where does the Arizona Republican Party stand on "The Donald's" offensive racist comments? Where do Arizona's elected Republican politicians stand on "The Donald's" offensive racist comments? Where do the various chamber and business groups that support Republican politicians stand on "The Donald's" offensive racist comments? (especially the Hispanic Chambers of Commerce).
Has any Arizona Republican Party organization sought to distance itself from and to condemn "The Donald's" comments? Have any elected Republican politicians sought to distance him or herself from and to condemn "The Donald's" comments? Has any chamber or business group that supports Republican politicians (especially the Hispanic Chambers of Commerce) sought to distance itself from and to condemn "The Donald's" comments?
And who will be in attendance on Saturday cheering on the xenophobic and racist comments of "The Donald" and crazy Uncle Joe Arpaio? The citizens of Arizona have a right to know. Report it.
UPDATE: But of course, Jan Brewer is rushing to "The Donald's" defense. Ex-Arizona gov: Trump telling it like it is:
"I believe that Mr. Trump is kind of telling it like it really, truly is," Brewer told host Don Lemon on CNN's "CNN Tonight."
"I think that the people of Arizona realize that we picked up the tab for the majority of the violence that comes across our border in regards to the drug cartels, the smugglers, the drug houses," she added. "It has been horrendous."
Brewer also rejected claims that outsiders understand the daily struggle facing states, like Arizona, that are on the southern border.
"We know from their data — from the federal data — that they only stop or apprehend 1 out of 4 illegal people crossing our border," Brewer said.
Those "a thousand miles away" can cite whatever statistics they want without experiencing the border crisis firsthand, she added.
UPDATE: Steve Benen with the latest in GOP Latino outreach: At the gathering of La Raza, the nation's premier Latino advocacy organization, none of the GOP presidential candidates will be showing up. Democrats Hillary Clinton, Martin O'Malley, and Bernie Sanders have accepted invitations to attend.
The National Association of Latino Elected and Appointed Officials (NALEO) hosted an event in Las Vegas last month and invited Republican presidential candidates to appear. Only one did: Ben Carson. (Clinton and Sanders attended the NALEO event, too.)
UPDATE: Arizona Sens. John McCain and Jeff Flake have condemned Trump's remarks; good for them. Governor Doug Ducey says he will not attend "The Donald" and Crazy Uncle Joe Arpaio Show on Saturday — this is not the same thing as condemning Trump's remarks; grow a pair, Guv. Trump shunned by Arizona's GOP establishment ahead of Phoenix visit. And what about the numerous other elected Republicans in Arizona? Where do they stand on "The Donald's" offensive racist comments? Still waiting.