How's that GOP Latino Voter Outreach program working out for ya? This is not going to go down well for you.
And what is up with Rep. Kyrsten Sinema, yet again?
The Hill reports, House votes to punish sanctuary cities: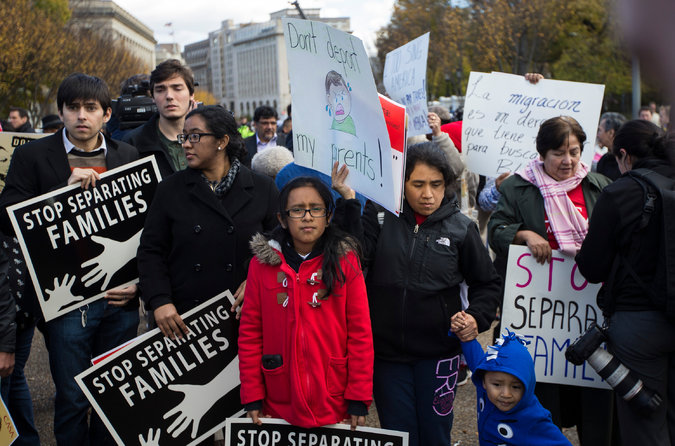 House Republicans passed legislation on Thursday that would deny federal funds to sanctuary cities. [Map: Sanctuary Cities, Counties and States | Center for Immigration Studies]
The bill, passed 241-179, would withhold certain federal law enforcement grants to cities that have policies designed to shelter illegal immigrants from deportation.
Sanctuary cities have come under heavy scrutiny in the wake of Kathryn Steinle's death on July 1 in San Francisco. Authorities charged Juan Francisco Lopez-Sanchez with her killing. Lopez-Sanchez, who is in the U.S. illegally, has a history of felony convictions and has been deported five times.
* * *
Democrats accused House Republicans of bringing up the bill in part because of real estate mogul and Republican presidential candidate Donald Trump's focus on illegal immigration and sanctuary cities; they dubbed the bill the "Donald Trump Act."
"Just a few weeks into his campaign and Donald Trump has a bill on the floor of the House. That is better than some of the senators he's running against." Rep. Luis Gutiérrez (D-Ill.) said mockingly.
Republicans denied that Trump had any influence on their decision to bring up the legislation.
"This is a valid concern that we're voting on today," said Rep. Tom MacArthur (R-N.J.), who has often broken with his party on immigration in the past and said he finds Trump's comments offensive. "I'm not going to let Donald Trump dictate my vote."
Five Republicans joined all but six Democrats in opposing the measure.
The five Republicans who voted against the bill were Reps. Carlos Curbelo (Fla.), Bob Dold (Ill.), Dan Donovan (N.Y.), Pete King (N.Y.) and Dave Reichert (Wash.).
Six Democrats voted for the bill, in a break from previous immigration votes in which the party voted unanimously. The Democrats voting yes were centrist (sic) Reps. Ami Bera (Calif.), Jim Cooper (Tenn.), Henry Cuellar (Texas), Bill Keating (Mass.), Collin Peterson (Minn.) and Kyrsten Sinema (Ariz.).
An aside: I am so effin' tired of Beltway media villagers labeling conservative Democrats as "centrists." That just serves to cast the conservative position as the "centrist" position; it is not. Call these Democrats what they are, conservatives.
Greg Sargent reports today in the Morning Plum, A new Washington Post/ABC News poll asks: Do you think undocumented immigrants currently living in the United States should or should not be allowed to live and work here legally if they pay a fine and meet other requirements?  Overall Americans favor legalization by 60-37. And even Republicans are more closely divided than is commonly thought: 43 percent of them favor legalization, versus 51 percent who don't. To be sure, Republican voters are more likely to take a dim view of immigration in general than Americans overall are. The WaPo poll finds that overall Americans believe that immigrants strengthen American society, rather than weaken it, by 57-33. Republicans are much more closely divided on this question (47-42). But still, a plurality of Republicans believes immigration is a positive.
Back to The Hill:
The sanctuary city debate centers on laws that are aimed at encouraging illegal immigrants to report crimes to the police without fear of deportation.
* * *
Democrats have argued that Lopez-Sanchez should have been deported even under the sanctuary statutes in San Francisco.
A coalition of 21 big-city mayors criticized the House bill and warned that cutting off federal law enforcement grants would weaken public safety efforts.
"Overbroad immigration enforcement undermines safety for all," they wrote in a letter to lawmakers Thursday.
"When immigrant residents can report crime without fear of deportation, immigrants are more willing to engage with local police and government institutions, our streets and neighborhoods are safer, and those who commit crime are more likely to be brought to justice."
The White House has threatened to veto the legislation, saying the proposal "undermines current administration efforts to remove the most dangerous convicted criminals" and doesn't enact comprehensive immigration reform.
Meanwhile, NumbersUSA, which advocates for less immigration, urged lawmakers to oppose the House bill because the group didn't think it went far enough. [Mass deportation!]
More immigration enforcement legislation could hit the House floor in the coming months.
We are also waiting on the 5th Circuit Court of Appeals to rule on President Obama's immigration executive orders, which will be appealed to the U.S. Supreme Court.