As an attorney, I was appalled to see Trump lawyer Alexander Kolodin file a legal bag of trash in Arizona federal court in a ludicrous attempt to overturn Arizona's election results. His complaint was a sack of Venezuelan conspiracies, anonymous "witnesses," and irrelevant material from other states.
U.S. District Judge Diane J. Humetewa's ruling threw out his case on Dec. 10. She granted the motions to dismiss by Republican Gov. Ducey, the GOP-controlled Maricopa County Board of Supervisors, and Democratic Arizona Secretary of State Katie Hobbs.
The case is Tyler Bowyer, et al., v. Doug Ducey, et al., docket No. 2:20-cv-02321-DJH.
Kolodin, who lives in Scottsdale, is an anti-abortion, anti-gay, anti-income tax zealot who thinks teachers should carry guns in school. He was a Reagan Fellow at the right-wing Goldwater Institute in 2011.
Kolodin filed "over 300 pages of attachments, which are only impressive for their volume," Judge Humetewa wrote. "The various affidavits and expert reports are largely based on anonymous witnesses, hearsay, and irrelevant analysis of unrelated elections."
Frivolous lawsuit
This was the fourth complaint filed nationwide in the previous nine days, all relying on the same discredited or unnamed "experts."
Who will file a bar complaint against Kolodin for this obviously frivolous lawsuit?
Kolodin, a failed GOP candidate for state senate in 2020, should be investigated by court disciplinary authorities. Arizona attorneys must have "a good faith basis in law and fact for doing so that is not frivolous." Rule ER 3.1 – Meritorious Claims and Contentions, Ariz. R. Sup. Ct. ER 3.1
The Arizona lawsuit is the latest in a series of frivolous copycat lawsuits with nearly identical allegations filed in Georgia, Wisconsin, and Michigan. GOP lawyers in states President-elect Biden won filed near-identical lawsuits. They all allege that thousands of election officials somehow orchestrated an international conspiracy to steal the election by manufacturing votes and improperly counting votes —  without a shred of credible evidence.
Take a look at the crap that Kolodin attached as affidavits: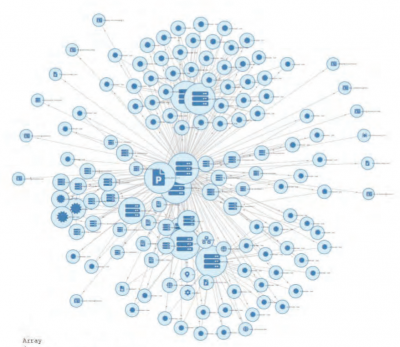 ► An anonymous witness referred to only in the Spider affidavit—where a hacker claims in gibberish that there is a conspiracy running through Serbia, Iran, and China to compromise voting machines and software across the US. Note: Anonymous affidavits are inadmissible as evidence.
► An anonymous Venezuelan witness, who is not an American citizen, claims to witness the creation of voting systems used to manipulate elections in favor of Hugo Chávez, who died in 2013, and Nicolas Maduro. The witness further claims that descendants of this "Smartmatic" system are now "in the DNA" of voting software systems used in the United States. The sole claim of the witness is that the US elections are "eerily reminiscent" of Venezuelan elections.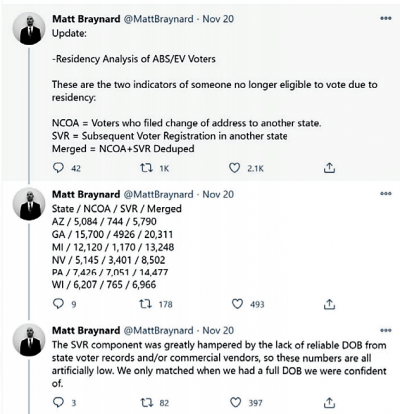 ► The so-called "expert" Dr. William Briggs (a self-proclaimed "Statistician to the Stars!") states that his opinions are based entirely on survey data provided by someone named Matt Braynard. But who is Matt Braynard? His affidavit consists of a series of printouts of Twitter posts from someone named Matt Braynard. Otherwise, Dr. Briggs offers nothing whatsoever about Braynard's identity. Briggs does not even cite any basis for his assumption that there were 518,860 "unreturned absentee ballots" in Arizona.
► Russell Ramsland of Dallas, TX, asserts there was "an improbable spike in processed votes" in Maricopa and Pima Counties at 8:46 p.m. on November 3, 2020. He apparently was ignorant that Arizona begins counting early ballots before the election. The results of counting early ballots in Pima and Maricopa Counties shortly after the polls closed were unsurprising. Ramsland's speculation that these results were the product of a multi-national conspiracy, rather than the counting of validly cast ballots, is utterly implausible.
► The Linda Brickman affidavit is a document from the Maricopa County Republican Committee Chairwoman that attorney Kolodin labels a "declaration." However, it is not signed under penalty of perjury and that appears to be a transcript from statements she made at a meeting with Republican State Representative Mark Finchem and other officials.
Bogus affidavits, bogus argument
The fantastical allegations spew forth in a total of 23 bogus affidavits, one harder to believe than the next.
Kolodin also attached declarations from poll watchers who observed election officials during the election. These are the only declarants offered by Kolodin with first-hand observation of the election administration. But these four declarants didn't allege fraud at all. Instead, they whined about how Arizona election officials matched signatures on absentee ballots; to the process and role assigned to poll workers.
The judge wrote, "These objections to the manner in which Arizona officials administered the election cannot serve to overturn the results of the 2020 presidential election in Arizona because they fail to present evidence that supports the underlying fraud claim. At most, these are the type of "garden variety election irregularities" federal courts are "not equipped nor empowered to supervise . . . ."
Kolodin's theory was that Arizona election officials—including the state's Republican governor and "the State of Arizona" as a whole—conspired with domestic and international actors to manipulate election results throughout the state. Local elections officials allegedly helped advance a "massive election fraud," because they used voting machines made by Dominion,  which is a company created exclusively to ensure election-rigging so that "Venezuelan dictator Hugo Chavez never lost another election," which thereby allowed Iran and China to manipulate the general election to ensure President-elect Biden's victory, in cahoots with Arizona elections officials who also supposedly enabled mass voter fraud among mail-in voters.
U.S. District Judge Diane J. Humetewa ruled, "The various affidavits and expert reports are largely based on anonymous witnesses, hearsay, and irrelevant analysis of unrelated elections. Because the Complaint is grounded in these fraud allegations, the Complaint shall be dismissed."
How can a weasel lawyer make these allegations and still keep his law license?