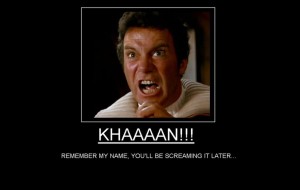 In every presidential election there is a turning point, a pivotal moment, to which historians will assign significance as the reason for victory or defeat. We may well be witnessing that moment right now.
Donald Trump has made the strategic insane decision to attack the Gold Star parents of a fallen American hero because this thin-skinned megalomaniac Islamophobic bigot cannot stand being criticized by them. Members of his own party, the media, and public opinion are hardening against him. This may become known colloquially as The Wrath of Khan (spoofing the Star Trek film by the same name).
Think Progress reports: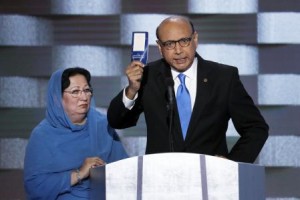 Khizr Khan is the father of Humyun Khan, a Muslim U.S. Army Captain who was killed in Iraq while heroically protecting his men from an attack on their compound. His emotional anti-Donald Trump speech at the DNC will go down as one of the convention's most memorable moments. But Trump's response to the speech made matters worse — instead of simply acknowledging Humyun's heroism and the Khan family's loss, he went after Khan's wife, insinuating that her Muslim faith forbade her from contributing to her husband's remarks.
Asked for his response to Trump smearing his family during a CNN interview on Sunday, Khizr said it's time for leading Republicans to repudiate their party's presidential nominee. Senate Majority Leader Mitch McConnell (R-KY) and House Speaker Paul Ryan (R-WI) have a "moral, ethical obligation to not worry about the votes but repudiate [Trump], withdraw the support," Khan said.
"If they do not I will continue to speak," Khan continued. "I have received tremendous support from Republicans saying to me that they have never voted for the Democrats, [but] this year they are not going to vote Republican because of this candidate."
Responding to Khizr's speech during an ABC interview, Trump went after Ghazala, suggesting she didn't say anything during Khizr's speech because of her Muslim faith.
"His wife, if you look at this wife, she was standing there, she had nothing to say," Trump said. "She probably — maybe — she wasn't allowed to have anything to say, you tell me, but plenty of people have written that."
In an op-ed published by the Washington Post on Sunday, Ghazala explained why she didn't speak: "Without saying a thing, all the world, all America, felt my pain. I am a Gold Star mother. Whoever saw me felt me in their heart."
"Walking onto the convention stage, with a huge picture of my son behind me, I could hardly control myself," she continued. "What mother could? Donald Trump has children whom he loves. Does he really need to wonder why I did not speak?"
Trump, meanwhile, defended himself on Twitter by trying to change the topic and falsely suggesting he opposed the invasion of Iraq from the beginning.
During the CNN interview, Khizr rejected Trump's conflation of Muslims and terrorists.
"Muslims hate the menace of terrorism as much as any other [group]," he said. "It is our duty to keep this country — our country, beautiful country — safe. We have always thought that way, we will continue to do our part."
Greg Sargent of the Washington Post sums up the choice Republicans face at this pivotal moment in the campaign today, The Khan fight highlights a huge GOP problem: No one knows how low Trump can go:
Donald Trump's continuing war with the Khan family — which Trump inexplicably continued to keep in the news this morning with a series of new tweets — raises the specter of a brutal trap for Republicans.
It's this: If individual Republicans don't break off their support for Trump's candidacy now — by, say, withdrawing their endorsements — they run the risk of having no choice but to do so after Trump sinks even further into wretchedness and depravity, to a point of true no return. (Presumably there is such a point.) At that juncture, their move will look unprincipled and desperate, leaving them stained — perhaps irrevocably — with their previous willingness to stick by him during much of his descent, and depriving their break with him of whatever moral force it might have had if done earlier.
As some Republicans are already remarking, Trump's battle with the Khan family makes it harder and harder to avoid acknowledging the possibility that we really have no idea how low Trump will sink. After Khizr Khan, the father of a soldier killed in Iraq, criticized Trump from the stage of the Democratic convention last week, Trump responded by asking why his wife had stood by silently, unleashing a torrent of criticism from lawmakers in both parties and setting the stage for another round of media appearance by the Khans, in which they brutally tore into Trump's lack of empathy and temperamental unfitness for the presidency.
Trump kept the story going this morning, tweeting angrily that Khan had viciously attacked him (reminding us that Trump, not the grieving father of a fallen soldier whose religion Trump attacked, is the truly aggrieved party here) and that this story is not about Khan but is rather about "RADICAL ISLAMIC TERRORISM." Republicans who have long warned their own party against embracing Trump are noting that this episode shows we are only seeing the beginnings of how unhinged Trump's candidacy could become.
"Trump is inevitably going to get worse, not better, as his poll numbers get worse," Tim Miller, a former adviser to Jeb Bush and a frequent Trump critic, told me this morning. "When he's being criticized and his back is against the wall, he's going to act out and become more extreme and despicable. Every time we think he's gone as low as he's going to go, he manages to sink even lower. There is no argument for waiting until he behaves better."
"If Republicans are going to have to disavow Trump eventually because of how bad his behavior has gotten," Miller continued, "it is incumbent on them to get the political benefit of doing it when it's a principled stand, rather than waiting until they are backed into a corner and there's no other choice."
Take the response of House Speaker Paul Ryan. Over the weekend he issued a statement declaring that "many Muslim Americans have served valiantly in our military" and their sacrifice "should always be honored." But his statement did not mention Trump at all. Ryan has previously said with real eloquence and sincerity that the GOP "stands for" the idea that there are "many Muslims serving in our armed forces" and "dying for this country" and in defense of the Constitution and "pluralism and freedom and democracy and individual rights." But the GOP's presidential nominee — the man Paul Ryan is trying to get elected president — belittled the religion of a family that made the ultimate sacrifice in defense of all those things, and if elected, would impose a religious test temporarily barring Muslims from entering the country.
Many Never Trump Republicans and conservatives don't believe Ryan's position is a tenable one. But the point is that this position on Trump could get harder, not easier, to sustain. As Peter Wehner, a former speechwriter for George W. Bush, put it: "Trump is a man of sadistic cruelty. With him there's no bottom." If this is right, and Trump sinks even lower, leaving no alternative but to cut him loose, Republicans such as Ryan will have done so not in defense of their own principles, but because events forced them to.
To his credit, Senator John McCain has forcefully condemned Donald Trump's slander of these Gold Star parents today. To his discredit, McCain has demonstrated his lack of moral courage by stopping short of repudiating Donald Trump as his party's nominee and withdrawing his tepid endorsement. John McCain condemns Donald Trump over attacks on Khan family:
Sen. John McCain (R-Ariz.), a respected figure on national security issues in the Republican Party, issued a written statement strongly rebuking Trump.
(McCain's full statement):
"The Republican Party I know and love is the party of Abraham Lincoln, Theodore Roosevelt, Dwight D. Eisenhower, and Ronald Reagan.

"I wear a bracelet bearing the name of a fallen hero, Matthew Stanley, which his mother, Lynn, gave me in 2007, at a town hall meeting in Wolfeboro, New Hampshire. His memory and the memory of our great leaders deserve better from me.

"In recent days, Donald Trump disparaged a fallen soldier's parents. He has suggested that the likes of their son should not be allowed in the United States — to say nothing of entering its service. I cannot emphasize enough how deeply I disagree with Mr. Trump's statement. I hope Americans understand that the remarks do not represent the views of our Republican Party, its officers, or candidates.

"Make no mistake: I do not valorize our military out of some unfamiliar instinct. I grew up in a military family, and have my own record of service, and have stayed closely engaged with our armed forces throughout my public career. In the American system, the military has value only inasmuch as it protects and defends the liberties of the people.

"My father was a career naval officer, as was his father. For hundreds of years, every generation of McCains has served the United States in uniform.

"My sons serve today, and I'm proud of them. My youngest served in the war that claimed Captain Khan's life as well as in Afghanistan. I want them to be proud of me. I want to do the right thing by them and their comrades.

"Humayun Khan did exactly that — and he did it for all the right reasons. This accomplished young man was not driven to service as a United States Army officer because he was compelled to by any material need. He was inspired as a young man by his reading of Thomas Jefferson — and he wanted to give back to the country that had taken him and his parents in as immigrants when he was only two years old.

"Captain Khan's death in Iraq, on June 8th, 2004, was a shining example of the valor and bravery inculcated into our military. When a suicide bomber accelerated his vehicle toward a facility with hundreds of American soldiers, Captain Khan ordered his subordinates away from the danger.

"Then he ran toward it.

"The suicide bomber, striking prematurely, claimed the life of Captain Khan — and Captain Khan, through his selfless action and sacrifice, saved the lives of hundreds of his brothers and sisters.

"Scripture tells us that 'Greater love hath no man than this, that a man lay down his life for his friends.'

"Captain Humayun Khan of the United States Army showed in his final moments that he was filled and motivated by this love. His name will live forever in American memory, as an example of true American greatness.

"In the end, I am morally bound to speak only to the things that command my allegiance, and to which I have dedicated my life's work: the Republican Party, and more importantly, the United States of America. I will not refrain from doing my utmost by those lights simply because it may benefit others with whom I disagree.

"I claim no moral superiority over Donald Trump. I have a long and well-known public and private record for which I will have to answer at the Final Judgment, and I repose my hope in the promise of mercy and the moderation of age. I challenge the nominee to set the example for what our country can and should represent.

"Arizona is watching. It is time for Donald Trump to set the example for our country and the future of the Republican Party. While our Party has bestowed upon him the nomination, it is not accompanied by unfettered license to defame those who are the best among us.

"Lastly, I'd like to say to Mr. and Mrs. Khan: thank you for immigrating to America. We're a better country because of you. And you are certainly right; your son was the best of America, and the memory of his sacrifice will make us a better nation – and he will never be forgotten."
The admonishment went beyond the words of House Speaker Paul D. Ryan (R-Wis.) and Senate Majority Leader Mitch McConnell (R-Ky.). Over the weekend, they expressed support for the Khan family and reiterated their opposition to Trump's proposed ban on most Muslims. But neither mentioned Trump by name and neither abandoned support for the nominee.
* * *
Gold Star Family members of 17 service members killed in the line of duty wrote a letter to Trump calling his comments about the Khan family "repugnant" and demanding an apology. The letter was coordinated by Karen Meredith of the group VoteVets, which is aligned with Democratic candidates.
Late Sunday, Trump supporters, including longtime adviser Roger Stone [a GOP ratfucker from way back to the time of Nixon], circulated unsubstantiated accusations from an anti-Islam website about Khizr Khan. Stone tweeted a link to a post that, among other things, accuses Khan of being a "Muslim Brotherhood agent who wants to advance sharia law."
Sophia Tesfaye at Salon answers Greg Sargent's question, Team Trump has no bottom: Roger Stone is now attacking Khzir Khan as a "Muslim Brotherhood agent":
[S]everal of [Trump's] most prominent supporters have rushed to his support by furthering his attacks to also accuse the Khan's of serving as spies for the Muslim Brotherhood.
Former Trump campaign staffer and key confidante Roger Stone turned to conspiracy theorist Alex Jones to repeat Trump's suggestion that the mother of Captain Humayun Khan did not speak out against Trump's proposal to ban Muslims from entering the U.S. because her faith represses women.
"But it's true. Unfortunately, the mother probably wasn't allowed to speak 'cause it's not allowed in their culture," Stone told Jones on his conspiratorial show Sunday.
After the appearance, Stone went on to escalate his attack on the family, tweeting an article suggesting that Mr. Khan "is a Muslim Brotherhood agent who wants to advance Sharia la and bring Muslims into the United States."
These guys are the bottom-feeding sewer dwellers of the conspiracy theory underworld from which Donald Trump emerged as the GOP nominee.
This has to end now. The GOP must repudiate Trump as its nominee, or the Republican Party must be repudiated.