The Associated Press reported earlier this month in an AP Exclusive: Docs show top WH officials buried CDC report:
The decision to shelve detailed advice from the nation's top disease control experts for reopening communities during the coronavirus pandemic came from the highest levels of the White House, according to internal government emails obtained by The Associated Press.
The files also show that after the AP reported Thursday that the guidance document had been buried, the Trump administration ordered key parts of it to be fast-tracked for approval.
The trove of emails show the nation's top public health experts at the Centers for Disease Control and Prevention spending weeks working on guidance to help the country deal with a public health emergency, only to see their work quashed by political appointees with little explanation.
The document, titled "Guidance for Implementing the Opening Up America Again Framework," was researched and written to help faith leaders, business owners, educators and state and local officials as they begin to reopen. It included detailed "decision trees," or flow charts aimed at helping local leaders navigate the difficult decision of whether to reopen or remain closed.
White House spokeswoman Kayleigh McEnany said Friday that the documents had not been approved by CDC Director Robert Redfield. The new emails, however, show that Redfield cleared the guidance.
This new CDC guidance — a mix of advice already released along with newer information — had been approved and promoted by the highest levels of its leadership, including Redfield. Despite this, the administration shelved it on April 30.
As early as April 10, Redfield, who is also a member of the White House coronavirus task force, shared via email the guidance and decision trees with President Donald Trump's inner circle, including his son-in-law Jared Kushner, top adviser Kellyanne Conway and Joseph Grogan, assistant to the president for domestic policy. Also included were Dr. Deborah Birx, Dr. Anthony Fauci and other task force members.
Three days later, CDC's upper management sent the more than 60-page report with attached flow charts to the White House Office of Management and Budget, a step usually taken only when agencies are seeking final White House approval for documents they have already cleared.
The 17-page version later released by the AP and other news outlets was only part of the actual document submitted by the CDC, and targeted specific facilities like bars and restaurants. The AP obtained a copy Friday of the full document. That version is a more universal series of phased guidelines, "Steps for All Americans in Every Community," geared to advise communities as a whole on testing, contact tracing and other fundamental infection control measures.
Redfield weighed in publicly for the first time Saturday, issuing a statement that apparently contradicts his internal emails, and supports the White House assertion that he had not formally approved the guidance.
He said in the statement that the CDC guidance was in draft form and had not been vetted fully. "This is an iterative effort to ensure effective, clear guidance is presented to the American people. I had not seen a version of the guidance incorporating interagency and task force input and therefore was not yet comfortable releasing a final work product."
But on April 24, Redfield again emailed the guidance documents to Birx and Grogan, according to a copy viewed by The AP. Redfield asked Birx and Grogan for their review so that the CDC could post the guidance publicly. Attached to Redfield's email were the guidance documents and the corresponding decision trees — including one for meat packing plants.
"We plan to post these to CDC's website once approved. Peace, God bless r3," the director wrote. (Redfield's initials are R.R.R.)
Redfield's emails contradict the White House assertion Thursday that it had not yet approved the guidelines because the CDC's own leadership had not yet given them the green light.
* * *
According to the documents, CDC continued inquiring for days about the guidance that officials had hoped to post by Friday, May 1, the day Trump had targeted for reopening some businesses, according to a source who was granted anonymity because they were not permitted to speak to the press.
On April 30 the CDC's documents were killed for good.
The agency had not heard any specific critiques from either the White House Principals Committee or the coronavirus task force in days, so officials asked for an update.
* * *
The administration had already released its Opening Up America Again Plan, and the clock was ticking. Staff at CDC thought if they could get their reopening advice out there, it would help communities do so with detailed expert help.
But hours later on April 30, CDC's Chief of Staff McGowan told CDC staff that neither the guidance documents nor the decision trees "would ever see the light of day," according to three officials who declined to be named because they were not authorized to speak to reporters.
The next day, May 1, the emails showed, a staffer at CDC was told "we would not even be allowed to post the decision trees. We had the team (exhausted as they are) stand down."
The CDC's guidance was shelved. Until May 7.
That morning The Associated Press reported that the Trump administration had buried the guidance, even as many states had started allowing businesses to reopen.
The AP further reported, Experts worry CDC is sidelined in coronavirus response:
The Centers for Disease Control and Prevention has repeatedly found its suggestions for fighting the coronavirus outbreak taking a backseat to other concerns within the Trump administration. That leaves public health experts outside government fearing the agency's decades of experience in beating back disease threats are going to waste.
"You have the greatest fighting force against infectious diseases in world history. Why would you not use them?" said Dr. Howard Markel, a public health historian at the University of Michigan.
The complaints have sounded for months. But they have become louder following repeated revelations that transmission-prevention guidance crafted by CDC scientists was never adopted by the White House.
* * *
In late February, Dr. Nancy Messonnier — a well-respected CDC official who was leading the agency's coronavirus response — contradicted statements by other federal officials that the virus was contained. "It's not so much a question of if this will happen anymore, but rather more a question of exactly when this will happen – and how many people in this country will have severe illness," she said.
Stocks plunged. President Donald Trump was enraged.
The White House Coronavirus Task Force moved to center stage. Vice President Mike Pence took control of clearing CDC communications about the virus. CDC news conferences stopped completely after March 9. Messonnier exited the public stage.
CDC Director Robert Redfield continued to keep the low profile he's had since getting the job.
Then there is a whistleblower, Doctor Rick Bright. The New York Times reported, Whistle-Blower Exposes Infighting and Animus in Trump's Coronavirus Response:
Dr. Bright, whose tiny federal research agency was pursuing a coronavirus vaccine, had long been at odds with his boss at the Department of Health and Human Services, Robert Kadlec. His White House visits, twice in a single weekend, only exacerbated those tensions. "Weekend at Peter's," Dr. Kadlec quipped in the subject line of an email that expressed his displeasure.
The hostility between these two key officials in the government's response to a pandemic that has claimed more than 75,000 American lives burst into public view Tuesday when Dr. Bright — who was abruptly dismissed last month as head of the Biomedical Advanced Research and Development Authority — filed a federal whistleblower complaint. The document accuses Dr. Kadlec and other top administration officials of "cronyism" and putting politics ahead of science.
Chris Hayes at MSNBC did a good background piece on the whistleblower complaint.
Whether or not the charges are ultimately proven, the 89-page complaint along with other documents and interviews expose troubling infighting at the Health and Human Services Department, the sprawling agency that includes BARDA, the Centers for Disease Control and Prevention, National Institutes of Health, the Food and Drug Administration and other arms of government, as officials there struggled to combat the worst public health crisis in a century.
"BARDA is the front edge of the global response, in terms of organizing the financing, laying down the bets on what's coming forward as the options on vaccines and therapies," said J. Stephen Morrison, a global health expert at the Center for Strategic and International Studies, adding that the infighting had consequences. "They need to move with incredible skill and judgment and speed."
The internal clashes extend beyond Drs. Bright and Kadlec. Fierce battles have erupted between Alex M. Azar II, the health and human services secretary, and Seema Verma, the Medicare and Medicaid administrator. Mr. Azar has also clashed with a senior White House policymaker, Joe Grogan.
But the consequences of such clashes were vividly brought to life by Dr. Bright's complaint. Email messages show that, as early as January, when President Trump was saying the outbreak was "totally under control," Dr. Bright was pressing for the government to stock up on masks and drugs and to commence a "Manhattan Project" effort to develop a vaccine.
But Dr. Bright was largely sidelined by personal disputes with Dr. Kadlec and his aides, some of which long predated the coronavirus, the documents suggest. By the time the pandemic arrived in force, the relationship between them had become toxic, with Dr. Bright increasingly left out of key decisions. His ideas about battling the threat "were met with skepticism," the complaint says, "and were clearly not welcome."
On Friday, lawyers for Dr. Bright said the federal watchdog agency handling his complaint, the Office of Special Counsel, had notified them that it had found "reasonable grounds" to believe he was retaliated against and was seeking his reinstatement for 45 days while it investigated. On Thursday, he is scheduled to testify before a House committee.
Mr. Azar must now decide whether to reinstate Dr. Bright. An H.H.S. spokeswoman, Caitlin Oakley, declined to comment on a "personnel matter." But, she said, the agency "strongly disagrees with the allegations and characterizations in the complaint from Dr. Bright."
If Mr. Azar refuses, Dr. Bright's complaint would ordinarily be sent to the Merit Systems Protection Board, an independent quasi-federal agency charged with deciding claims of whistle-blower reprisal. But the Senate has not confirmed Mr. Trump's nominees to the board, leaving it with no members. A "frequently asked questions" document about the lack of members has been removed from the board's website.
Dr. Bright is scheduled to testify [Thursday] before a House panel led by Representative Anna G. Eshoo, Democrat of California, who helped create BARDA and has called for an investigation into his removal. Ms. Eshoo has said she would also like to hear from Dr. Robert P. Kadlec, the assistant secretary for preparedness and response, and Mr. Azar. [Not going to happen].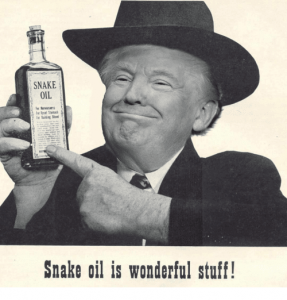 By the way, the snake oil hydroxychloroquine drug that "Dr. Trump" wanted to push to doctors across America without evidence it was effective, to which Dr. Bright objected: a new study finds no evidence of benefit from a malaria drug widely promoted as a treatment for coronavirus infection. Malaria drug shows no benefit in another coronavirus study. Dr. Bright is vindicated again, even as "Dr. Trump" and his Fox News aka Trump TV propagandists continue to act like drug pushers for this drug.
On Sunday night, 60 Minutes ran this shocking story of retaliation against coronavirus scientists based upon an unfounded conspiracy theory advanced by POS Rep. Matt Goetz (R-FL) on "Tucker Carlson Tonight." Trump administration cuts funding for coronavirus researcher, jeopardizing possible COVID-19 cure:
Peter Daszak is a scientist whose work is helping in the search for a COVID-19 cure. So why did the president just cancel Daszak's funding? It's the kind of politics which might seem ill-advised in a health crisis. President Trump is blaming China's government for the pandemic. The outbreak was first detected in the city of Wuhan. The administration has said, at times, the virus is man-made or that, if it's natural, it must have leaked out of a Chinese government lab. Both the White House and the Chinese Communist Party have been less than honest. And so, in China, and the U.S., the work of scientists like Peter Daszak is being undercut by pandemic politics.
https://www.youtube.com/watch?v=iHaeCNPxZ6M
Peter Daszak is a British-born American Ph.D. who's spent a career discovering dangerous viruses in wildlife, especially bats.
In 2003, in Malaysia, he warned 60 Minutes a pandemic was coming.
Peter Daszak in 2003 interview: What worries me the most is that we are going to miss the next emerging disease, that we're suddenly going to find a SARS virus that moves from one part of the planet to another, wiping out people as it moves along.
In the 17 years since that prophecy, Peter Daszak became president of the New York-based EcoHealth Alliance.
Peter Daszak: We're a nonprofit research organization that focuses on understanding where the pandemics come from, what's the risk of future pandemics and can we get in between this pandemic and the next one and disrupt it and stop it.
In China, EcoHealth has worked for 15 years with the Wuhan Institute of Virology. Together they've catalogued hundreds of bat viruses, research that is critical right now.
Peter Daszak: The breakthrough drug, Remdesivir, that seems to have some impact on COVID-19 was actually tested against the viruses we discovered under our NIH research funding.
Scott Pelley: And so that testing would not have been possible–
Peter Daszak: No, it would not.
Scott Pelley: –if it hadn't been for the work that you did with the NIH grant?
Peter Daszak: Correct.
But his funding from the NIH, the U.S. National Institutes of Health, was killed, two weeks ago, by a political disinformation campaign targeting China's Wuhan Institute.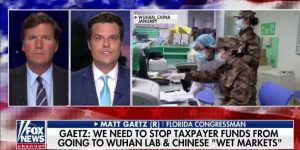 On April 14, Florida Republican Congressman Matt Gaetz claimed China's Wuhan Institute had, quote, "birthed a monster." Gaetz is a vigorous defender of the president. He's been under investigation by the House Ethics Committee for allegedly threatening a witness against Mr. Trump and he led a protest to delay impeachment testimony.
Matt Gaetz on "Tucker Carlson Tonight": The NIH gives this $3.7 million grant to the Wuhan Institute of Virology, they then advertise that they need coronavirus researchers. Following that, coronavirus erupts in Wuhan.
There never was a $3.7 million U.S. grant to the Wuhan lab. But, the falsehood spread like a virus, in the White House, and without verification, in the briefing room.
* * *
President Trump: The Obama administration gave them a grant of $3.7 million? I've been hearing about that. And we've instructed that if any grants are going to that area – we're looking at it, literally, about an hour ago, and also early in the morning. We will end that grant very quickly.
That grant was to Peter Daszak's U.S.-based EcoHealth Alliance for disease prevention it does throughout the world. His work was considered so important that, last year, the grant was reauthorized and increased by the Trump administration.
* * *
The Wuhan Institute is internationally respected. Two years ago, a team from the U.S. Embassy visited. That team sent a cable to Washington, concerned that one lab in the complex had a serious shortage of trained investigators. But the cable, first reported by the Washington Post, emphasized the Wuhan Institute is "critical to future… outbreak prediction and prevention." EcoHealth's work with Wuhan ended one week after Mr. Trump's briefing room pledge, when the NIH revoked the grant.
Scott Pelley: They gave you no reason?
Peter Daszak: They said it was canceled for convenience and it doesn't fit within the scope of NIH's priorities right now.
Scott Pelley: And yet it was a high priority when the grant was reissued in 2019?
Peter Daszak: Yeah it's definitely puzzling. I mean, this grant received an incredibly high-priority score. It was in the top 3% of grants they reviewed. And that's unusual.
* * *
The National Institutes of Health, in its mission statement, says it exemplifies "the highest level of scientific integrity and public accountability." But it wouldn't tell us why the grant was cancelled or whether anything like it had happened before. The NIH told us to direct questions about the origin of the virus to the director of national intelligence.
* * *
As the U.S. led the world in illness and death, the White House moved the focus to the Chinese government.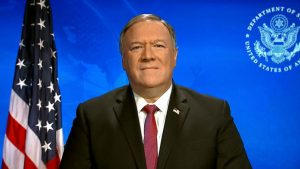 Last Sunday, Secretary of State Mike Pomepo attempted to resurrect a debunked [conspiracy] theory that the virus was man-made in China.
Mike Pompeo on ABC's "This Week": Look, the best experts so far seem to think it was man-made. I have no reason to disbelieve that at this point.
He did have reason. Days before, the director of national intelligence said there was "wide scientific consensus" the virus was not man-made.
Martha Raddatz on ABC's "This Week": Your Office of the DNI says the consensus, the scientific consensus was not man-made or genetically modified.
Mike Pompeo on ABC's "This Week": That's right. I agree with that.
The same day Pompeo tried to have it both ways, President Trump repeated the theory of a Chinese lab accident.
President Trump at Fox News town hall: I think they made a horrible mistake and they didn't want to admit it.
The administration has offered no evidence of an accident or genetic engineering. Dr. Elodie Ghedin is studying the genome of the virus in her lab at New York University.
Elodie Ghedin: People have been saying that's an engineered virus. And it's not. And we know that by looking at the genetic information, looking at the code. And the code tells you a lot.
Human-engineered viruses have common and obvious genetic components, including the virus's overall molecular structure called its backbone.
Elodie Ghedin: If a virus had been engineered, it would've used the backbones that we know. And there's none of that in that virus. And let's say it was a brand-new backbone. Well, it wouldn't look like what it's looking like, because we can find every piece of that virus. We can find these pieces in other very similar viruses that circulate in the wild. From the genetic information, it's clearly not an engineered virus.
Elodie Ghedin and most experts believe the virus, officially called SARS-CoV-2, passed from a wild animal into humans, perhaps in the wild animal market in Wuhan. Many early cases were traced to this market and a market like it was where the SARS virus jumped into a human in 2003.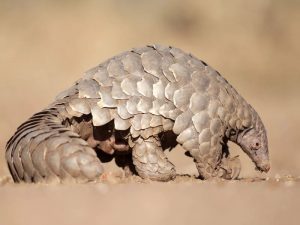 Elodie Ghedin: A lot of these coronaviruses are found in bats. But we haven't found the exact match. We did find a close match in pangolins. It's an anteater. It's a wildlife that's been traded. People, you know, will consume its meat. But they also use in Chinese medicine, its scales.
So now even bats have been getting a bum rap in this coronavirus conspiracy theory. WTF?
Scott Pelley: Is there a way to know that this virus, SARS-CoV-2 emerged from the wild into the human population? Or has that not been proven yet?
Peter Daszak: Well, I'm a scientist. And what I do is I look at the evidence around a hypothesis. There is a huge amount of evidence that these viruses repeatedly emerge into people from wild animals in rural areas through things like hunting and eating wildlife. There is zero evidence that this virus came out of a lab in China.
Scott Pelley: Does the Wuhan Institute of Virology, to your knowledge, have this virus in its inventory?
Peter Daszak: No.
Scott Pelley: Why do you say so?
Peter Daszak: The closest known relative is one that's different enough that it is not SARS-CoV-2. So, there's just no evidence that anybody had it in the lab anywhere in the world prior to the outbreak.
Dishonest and negligent allegations [by Rep. Matt Gaetz on "Tucker Carlson Tonight"] have now ended EcoHealth's carefully reviewed research designed to stop pandemics. Representative Matt Gaetz wore a gas mask on the floor of the House to lampoon the crisis. This was back in the beginning of March, weeks before masks were common. Peter Daszak, whose researchers wear masks to shield them from viruses in the wild, says his team is now facing layoffs.
Peter Daszak: This politicization of science is really damaging. You know, the conspiracy theories out there have essentially closed down communication between scientists in China and scientists in the U.S. We need that communication in an outbreak to learn from them how they control it so we can control it better. It's sad to say, but it will probably cost lives. By sort of narrow-mindedly focusing in on ourselves, or on labs, or on certain cultural politics, we miss the real enemy.
To summarize: The Trump administration is burying the science that could save lives so Trump can reopen the economy, and blame the resulting deaths on China based upon an unfounded conspiracy theory. We have gone well beyond criminal negligence; this is wanton criminal manslaughter.