Health insurers are scrambling to decide whether to stay or go by Wednesday's deadline to file plans for the federal marketplace. As we've reported here for months, GOP sabotage of "Obamacare" and uncertainty in the health insurance marketplace has caused some insurers to leave the federal marketplace, and others will dramatically increase their premiums or deductibles trying to anticipate the damage that the GOP  health care bill will do to their bottom line. With Health Law in Flux, Insurers Scramble to Meet Filing Deadline:
Even as Senate Republicans hurry to finish their plan to overhaul the law, insurers must meet a series of state and federal filing deadlines. While the Wednesday deadline does not represent a final commitment by the insurer, "it will be a good indicator of the health of these markets," said Sabrina Corlette, a research professor at Georgetown University.
If an insurer misses the Wednesday deadline, regulators could still choose to accept a last-minute application, as they did last year in Arizona, to make sure residents had access to a policy through the state marketplace. "State officials and governors are going to be very pragmatic to make sure people have coverage," Ms. Corlette said.
Some insurers are betting against the GOP saboteurs.
[S]ome insurers say they plan to stay — and a few are even expanding into more states.
Oscar Health, the New York insurance start-up, said Wednesday that it expected to offer policies in three additional states for 2018: Ohio, New Jersey and Tennessee. The company, which covers about 105,000 people, also plans to expand in California and Texas while remaining in New York. Oscar had sold policies in New Jersey but left the state this year.
* * *
"We're confident that when the dust settles, the market for health insurance will stabilize in time for 2018," Mario Schlosser, the company's chief executive, wrote in a blog post. "For all of the political noise, there are simply too many lives at stake for representatives in Washington, D.C., not to do what's right for the people."
Wow, is this guy politically naive.
Oscar's announcement follows a flurry of decisions in recent days by insurers gambling on the existing market. Medica, a small nonprofit insurer, said Monday that it would offer plans statewide in Iowa, although it is seeking rate increases that average 43 percent. Its decision would cover the yawning gap left by Aetna and the state Blue Cross plan, which exited the market for next year and raised the possibility that no carrier would offer coverage to the bulk of the state's residents.
Centene, another large insurer, announced its plans last week to offer coverage for the first time in Nevada, Missouri and Kansas.
But other insurers, even those who are submitting proposals, seem ambivalent about staying. Two of the major companies that offer Blue Cross plans say they may file to meet Wednesday's deadline but have not made any final decisions.
Health Care Service Corporation, which operates nonprofit Blue Cross plans, said it would file proposals in all five states where it offers coverage, but could still decide to leave. The insurer covers more than one million people in the individual market.
Anthem, a major for-profit insurer offering Blue Cross plans in 14 states, has already decided to pull out of Ohio but would not disclose its projections elsewhere. "We may have to exit certain markets because those markets are not sustainable," Anthem's chief executive, Joseph R. Swedish, said in an interview with CNBC last week.
Anthem said it would not make its filings public, leaving it up to state regulators to decide whether to disclose its plans.
The exit by insurers like Aetna and Humana, as well as by some Blue Cross plans, is likely to lead to many more areas in the country that have only a single carrier in the state marketplace, according to a recent analysis by Avalere, a health care consulting firm.
But while the overall market is worsening, "there is a lot of variation by local market," said Dan Mendelson, Avalere's president. "There are some markets that are doing fine," he said, while others, particularly rural ones, could still be left without an insurer willing to offer coverage.
Premiums are also likely to be higher, according to Avalere, which analyzed filings in eight states. Insurers are seeking an 18 percent increase, on average, for the most popular so-called silver plans.
Many insurers are blaming the current political uncertainty when asking state regulators for sharply higher prices. The Trump administration and Congress have yet to commit to critical funding for subsidies worth billions of dollars to low-income individuals. Insurers are also concerned that the administration will stop enforcing the penalties people face when they choose to go without coverage, which they say would also drive up prices.
Insurers "are going to build all of this uncertainty into their rates to the maximum extent to protect themselves," Ms. Corlette said.
Last month the Trump administration asked the court for a 90 day extension to decide what it wants to do regarding the House Tea-Publicans' lawsuit, House v. Price, and continuing insurance subsidies. This week the administration paid the cost sharing reductions (CSRs) for June, which leaves two more payments before a decision must be filed with the court. Trump administration pays June ObamaCare subsidies to insurers:
The Trump administration has made critical ObamaCare subsidy payments to insurers for the month of June but won't provide any certainty about whether they'll continue in the future.
The payments, known as cost-sharing reductions, reimburse insurers for providing discounts to low-income customers.
Insurers have been threatening to raise premiums — or leave the ObamaCare markets — if they don't receive certainty about the payments from Congress or the White House.
But the Trump administration continues to say they have not made a decision about future payments.
Insurers across the country have blamed uncertainty surrounding the payments for proposed double-digit rate increases for 2018. Middle Class, Not Poor, Could Suffer if Trump Ends Health Payments:
[P]eople benefiting from these "cost-sharing" subsidies, which reimburse insurers for absorbing the deductibles and co-payments of low-income customers. The Affordable Care Act requires that these customers' out-of-pocket costs be lowered one way or another. If the federal government stops reimbursing insurers, many insurers have said they will make up for it by raising premiums.
Paradoxically, that will primarily hurt not poor customers but millions of middle-class people like the Gorens, who earn too much to qualify for premium assistance under the law and will bear the full brunt of any rate increase.
Across the nation, individual market customers like them are seeing signs of big premium increases, which insurers are largely attributing to the possibility of losing the federal cost-sharing subsidies and of Mr. Trump's not enforcing the health law's mandate that most people have coverage or pay a penalty.
* * *
Even as Mr. Trump has remained coy about whether to continue the cost-sharing reductions next year — or even, for that matter, after this month — some powerful Republicans in Congress have begun lobbying for him to do so. They include Representative Kevin Brady of Texas, the chairman of the House Ways and Means Committee, and Senator Lamar Alexander of Tennessee, chairman of the Senate Health Committee, who urged in a hearing last week that the payments be extended through 2019.
"The payments will help to avoid the real possibility that millions of Americans will literally have zero options for insurance in the individual market in 2018," Mr. Alexander said, adding that Republicans should "do some things temporarily that we don't want to do in the long term."
Some Senate Republicans criticize own party's healthcare process:
"Healthcare is such an important thing. I think we should have debated it in open, in committee hearings, have both sides bring in witnesses," Sen. Rand Paul (R-Ky.) said Tuesday.
"I would like a more open process, that's for sure," said Sen. Lisa Murkowski (R-Alaska), another key vote on the bill.
Republican leaders plan to call a vote on the healthcare measure next week even though there is not yet legislative text; lawmakers still don't know the entirety of what will be in the legislation.
Senate Republicans also did not hold any committee hearings on their bill, instead crafting it behind closed doors.
Conservative Sen. Mike Lee (R-Utah) delivered perhaps the sharpest critique of the secretive process.
"Even though I've been a member of this working group among Senate Republicans assigned to help narrow some of the focus of this, I haven't seen the bill," Lee said in a video on his Facebook page.
"And it has become increasingly apparent in the last few days that even though we thought we were going to be in charge of writing a bill within this working group, it's not being written by us, it's apparently being written by a small handful of staffers for members of the Republican leadership in the Senate."
Lee added that if the vote is going to be next week, "we should have been able to see it weeks ago."
Yet despite the complaints from GOP senators, none have said they will vote against the bill because of the rushed process. Many could end up voting for the legislation anyway.
Like Arizona's angry old man, Senator John McCain. McCain: No American has seen healthcare bill, but I'm sure Russia has: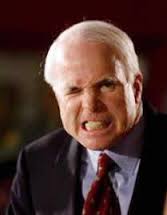 Sen. John McCain (R-Ariz.) said he hasn't met an American who has seen the Senate Republicans' healthcare bill yet, though he's "sure the Russians have" gotten their hands on it, Bloomberg reported.
Asked Tuesday whether he has seen a copy of the legislation, McCain said he has not.
"Nor have I met any American that has," he added, according to Bloomberg. "I'm sure the Russians have been able to hack in and gotten most of it."
Oh, John McCain told a funny! Do you know what is not funny? The fact that, despite his criticism of this un-American and anti-democratic process employed by evil GOP bastard Mitch McConnell, Sen. McCain will vote for anything that McConnell puts in front of him, sight unseen, because he is not a man of principles and courage but rather is just a partisan war horse who plays to his GOP crazy base and his Plutocratic campaign donors. He does not care in the least how many of his constituents' lives will be threatened by this disastrous GOP health care bill.
For his part, evil GOP bastard Mitch McConnell has hit the gas on ObamaCare repeal: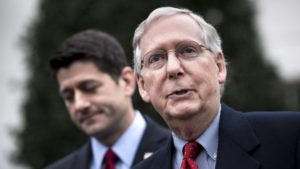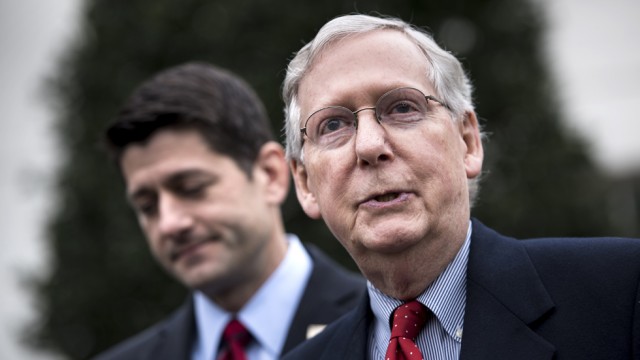 Senate Majority Leader Mitch McConnell (R-Ky.) on Tuesday formally set an ambitious schedule for his conference to repeal and replace ObamaCare, promising his members will get draft legislation on Thursday with a floor vote next week.
"I expect to have a discussion draft on Thursday and we will go to the bill obviously once we get a CBO score, likely next week," McConnell told reporters, referring to a cost projection and analysis from the Congressional Budget Office.
In putting his foot on the gas pedal, McConnell is pressuring centrists and conservatives alike to rally around ObamaCare repeal, a top priority for President Trump that congressional Republicans have been promising to deliver for years.
McConnell seems to have some momentum, though he can only afford two defections and lawmakers across his conference are nervous about the vote.
One source familiar with the private deliberations of moderate Republicans agonizing over whether to support the bill said the legislation hasn't improved over the past two weeks of talks and, if anything, has gotten somewhat worse.
Conservatives are also disgruntled, according to a source familiar with internal deliberations.
Sens. Mike Lee (R-Utah) and Ted Cruz (R-Texas) have insisted on including language that would exempt states from the ObamaCare regulation that requires insurance companies to sell affordable plans to people with pre-existing medical conditions.
McConnell has so far refused to put language in the bill that would eliminate the so-called community rating regulatory requirement that conservatives say has caused insurance premiums to soar.
Instead of letting up in the face of complaints, McConnell is effectively daring his Republican colleagues to derail legislation they have promised to pass since 2010, when Congress first passed ObamaCare.
One centrist Republican senator said McConnell is forcing the conference to vote on the legislation before many lawmakers feel comfortable doing so. But at the same time, the source acknowledged that McConnell has warned his conference "for months" to expect a vote before July 4.
"When the leader says something, he likes to stick to it," said the senator.
* * *
The legislation is moving under special budget rules that prevent a filibuster and will limit floor debate to 20 hours.
* * *
Republicans must wait for the CBO's score before they can proceed.
None of the Republicans airing process grievances has said that they will vote against the bill, however, giving the complaints a more theatrical than threatening appearance.
All it would take to stop this disastrous bill that is opposed even by a majority of GOP voters, 63 percent of Republicans in deep-red districts don't like the AHCA (63 percent of Republicans in deep-red districts dislike the House-proposed AHCA legislation and 67 percent of all those surveyed — Democrats, Republicans and Independents — oppose the key provisions of the bill outright), is for three GOP senators with a conscience and a soul to step up for their "profiles in courage" moment and to vote against this bill.
But as you can see from the reporting above, not one GOP senator so far has made a commitment to vote against this disastrous bill.
The draft language of the bill reportedly will be available tomorrow. You will have about a week to convince three GOP senators to "do the right thing" and to vote against this disastrous bill that will harm millions of Americans and throw the health insurance market into chaos. Senators can earn a nomination for the "Profiles in Courage" Award, or they can be remembered as the sniveling cowards we believe they are for having voted to destroy health care in America.