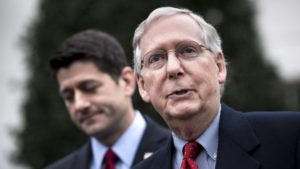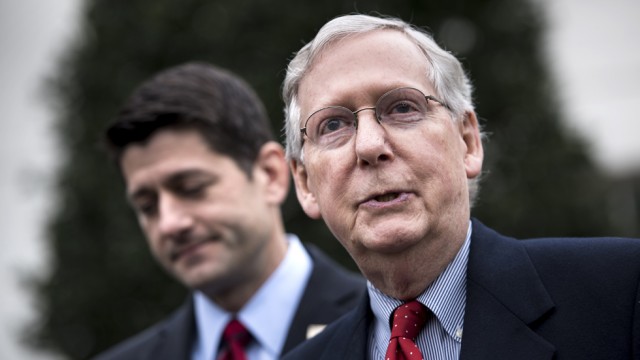 The House and Senate conference committee will be meeting this week to hash out the differences between the House and Senate GOP tax bills to come up with a conformed bill that still must be passed by both chambers to become law.
There is a scenario or two in which this terrible tax bill falls apart. Jim Newell writes at Slate, How the Tax Deal Could Fall Apart:
The biggest development this week was that negotiators, for the first time in the process, seriously looked at reinstating some version of the state and local income tax deduction. There appear to be two reasons for this. The first would be the sizable, and mercurial, California GOP delegation in the House. Eleven out of 14 of these members voted for the original House bill—an odd move, since one of the bill's ambitions is to redistribute Californian wealth elsewhere. Rather than flex their leverage in the original fight, though, they put their faith in Majority Leader Kevin McCarthy to ensure it's fixed in conference. The second reason—and the one that explains why Californians might prevail—is that they appear to have an even greater ally in this fight than McCarthy: President Trump. The Washington Post reported this week that Trump's rich friends in New York have been bitching to him about the SALT elimination. That goes a long way.
Even a modest retention would be costly. Eliminating the deductibility of state and local income taxes is a major revenue-raiser in both the House and Senate bills. Other pay-fors that were included in both the House and Senate bills might not last in the joint negotiations as well. There is a flat-out error in the Senate bill regarding the corporate alternative minimum tax, and the Senate's last-minute decision to keep the individual AMT is meeting resistance as well. The House bill, which more aggressively pursued deductions for graduate students and those with major medical expenses, is also expected to be tamed.
What all this means is that conference negotiators are under pressure to find some hundreds of billions of dollars in new revenue to keep the bill's net cost within $1.5 trillion over the next decade.
Conferees could try to make up much of this by fiddling with the new tax brackets—something they'll need to do anyway, since the House and Senate bills have quite different bracket structures. Or they could give in to pressure to increase their beloved 20 percent corporate tax rate to 22 percent—an option that, at the very least, is not off the table. This would irritate both the supply-siders for whom the nice, round 20 percent figure is the whole point of this exercise, as well as senators like Florida's Marco Rubio and Utah's Mike Lee, who were told by those supply-siders during the child tax credit debate that any increase in the corporate rate to help working families would formally mark the end of the American experiment.
If none of these other options work, the negotiators could always resort to further budget gimmickry. The Senate bill, in order to comply with reconciliation rules, already sunsets the changes on the individual side of the tax bill in 2025. Republicans argue that Congress, in a future bill, would likely extend those popular provisions when the time comes—thus masking the true cost of the bill. If negotiators need to mask further costs, they could always just move the sunset up a year or two.
Let's say that the conferees do safely navigate their way through this maze. There is still a path through which the bill fails that has nothing to do with what's produced in conference. Republicans currently have 52 votes in the Senate. They lost Tennessee Sen. Bob Corker on the original tax bill. If Democrat Doug Jones finds a way to defeat Roy Moore in the Alabama Senate election and is seated before the conference committee can strike a deal, then they'll be down to 50 votes.
That could leave it up to [the mythical moderate from] Maine Sen. Susan Collins.
Collins' support for the Senate bill hinged in part on a pledge from Majority Leader Mitch McConnell that two bipartisan health care bills—the Alexander–Murray stabilization bills, and the Collins–Nelson re-insurance proposal—would be passed and signed into law by the end of the year. House Speaker Paul Ryan, though, has suggested he wasn't party to that deal, and House conservatives are drawing a hard line against supporting any end-of-year package that includes "propping up" Obamacare. If Moore wins on Tuesday, Collins could just get rolled, since the Senate could pass the conference report without her. If Moore loses, however, then Collins is suddenly in the driver's seat. Either House Republicans fulfill her requirements—or their entire tax plan fails.
Politico adds, Collins' Obamacare deal faces moment of truth:
Sen. Susan Collins is barreling toward yet another health care showdown with her own party. But this time, she might not have the leverage to get what she wants.
Republicans who watched Collins lead the rebellion over the GOP's Obamacare repeal effort just three months ago are playing tough on yet another high-stakes bill, wagering they can do without the Maine moderate's swing vote and still claim a narrow year-end legislative win on tax reform.
Collins went along with the tax bill that repeals Obamacare's individual mandate after Senate Majority Leader Mitch McConnell pledged to pass a pair of bills propping up Obamacare's shaky insurance markets, including a bipartisan deal resuming payments on key subsidies that President Donald Trump halted in October.
But Speaker Paul Ryan has made clear he's not bound by the deal, and there's little urgency among House Republicans to do much of anything on health care before the end of the year.
* * *
That could cost Collins' support after she signaled that her vote on the final bill may hinge on the fate of the health care measures.
She told a Maine CBS affiliate Thursday night that she'd wait to see the final language from the conference committee working on the tax bill before committing her vote.
"I won't make a final decision until I see what that package is," Collins told CBS WABI 5.
Jim Newell concludes, "It's still unlikely that Republicans would come this far on their tax plan only to let it fail. But it's not the sure thing that many assumed after the Senate passed its bill last week. This is still a live process with lots of moving parts."
It is important to note that this GOP tax bill is not what candidate Trump promised his personality cult of MAGA supporters, it is quite the opposite. The Washington Post reports, As tax plan gained steam, GOP lost focus on the middle class:
The GOP tax plan on the cusp of becoming law diverges wildly from the promises President Trump and top advisers said they would deliver for the middle class — an evolution that shows how traditional Republican orthodoxy swamped Trump's distinctive brand of economic populism as it moved through Washington.
The bill was supposed to deliver benefits predominantly to average working families, not corporations, with a 35 percent tax cut Trump proposed on the campaign trail as part of the "Middle Class Tax Relief and Simplification Act."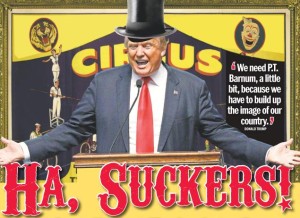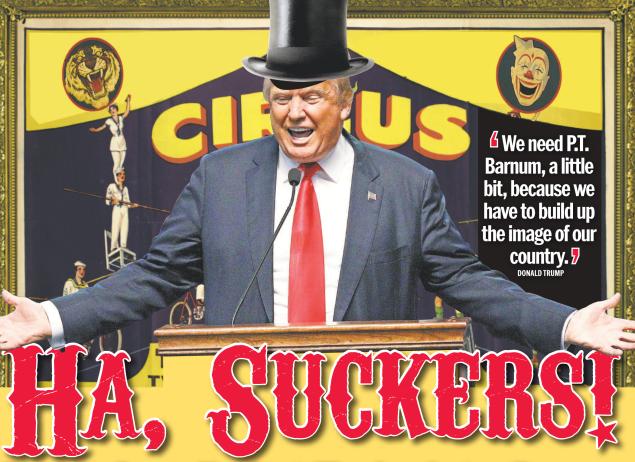 "The largest tax reductions are for the middle class, who have been forgotten," Trump said in Gettysburg, Pa., on Oct. 22, 2016.
But the final product is looking much different, the result of a partisan policymaking process that largely took place behind closed doors, faced intense pressure from corporate lobbyists and ultimately fell in line with GOP wish lists.
As top lawmakers from the House and the Senate now rush to complete negotiations to push the tax plan into law, it amounts to a massive corporate tax cut, with uneven — and temporary — benefits for the middle class that could end up increasing taxes for many working families in future years.
All told, the plan would cut taxes for businesses by $1 trillion, would cut an additional $100 billion in changes to the estate tax for the wealthy, and spreads the remaining $300 billion over 10 years among all households at every income level. [The middle-class tax breaks are only temporary and will expire.]
* * *
[A] review of more than 40 public statements that stretch back to the 2016 campaign and interviews with key officials in the White House and Congress shows how Trump and his top advisers have continuously prioritized corporate cuts — even though they have promised that middle-class cuts would be their focus.
Over several months, tax cuts for families were either stymied or scaled back. And corporate benefits only grew, a development that increasingly made some Republicans nervous as they saw the bill's true impact.
"Fundamentally, the bill has been mislabeled. From a truth-in-advertising standpoint, it would have been a lot simpler if we just acknowledged reality on this bill, which is it's fundamentally a corporate tax reduction and restructuring bill, period," said Rep. Mark Sanford (R-S.C.). "I think they were particularly concerned about innuendo and what that might mean, so it was labeled as a middle-class tax cut."
Big promises
After Trump was elected, his transition advisers faced immediate questions about whether he'd hold true to his promise of a tax cut focused on the middle class.
They could not have been clearer.
"Any reductions we have in upper-income taxes would be offset by less deductions, so there would be no absolute tax cut for the upper class," Steven Mnuchin, Trump's national finance chairman and future Treasury secretary, told CNBC.
Sen. Ron Wyden (Ore.), the ranking Democrat on the Senate Finance Committee, dubbed it the "Mnuchin Rule."
* * *
At a meeting in April, White House chief strategist Stephen Bannon urged that the Trump tax plan create a new 44 percent tax rate on income above $5 million, said three people briefed on his proposal who weren't authorized to talk about Oval Office discussions. He argued that this was a way to ensure that the wealthiest Americans didn't benefit too much from any changes and that working-class Americans could support the proposal.
* * *
Mnuchin and National Economic Council Director Gary Cohn, both former bankers at Goldman Sachs, argued against the 44 percent tax rate, saying such a high rate would harm investment, pile up costs for small businesses and ultimately hurt growth.
* * *
Trump ordered Cohn and Mnuchin to present a version of the tax plan to the public by April 26. They scrambled to put together a one-page blueprint that called for lowering tax rates on all Americans and exempting more income from federal income taxes. The document said it would "provide tax relief to American families — especially middle-income families."
But there was no mention of a 44 percent rate. Rather, the document revealed other clues that foreshadowed how the tax plan would take shape. It called for eliminating the estate tax and the alternative-minimum tax and lowering the top income tax rate — changes that would all benefit the wealthy.
As they faced questions about those provisions, White House officials began to walk back the promises about the wealthy not winning in the tax plan.
"What I said is the president's priority has been not cutting taxes­ for the high end," Mnuchin said in May at the Peter G. Peterson Foundation's 2017 Fiscal Summit. "His priority is about creating a middle-income tax cut. So we'll see where it comes out."
* * *
GOP leaders began to make a priority of what they thought the entire party could rally around: big corporate tax cuts. The idea of reducing tax rates on American businesses had been core to the identity of the Republican Party ever since President Ronald Reagan did it as part of a comprehensive tax overhaul in 1986.
Within the White House, Cohn and Mnuchin were running the show. Bannon, a deeply controversial figure in the administration, had left, a voice for a more populist tax plan exiting with him.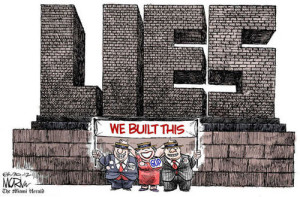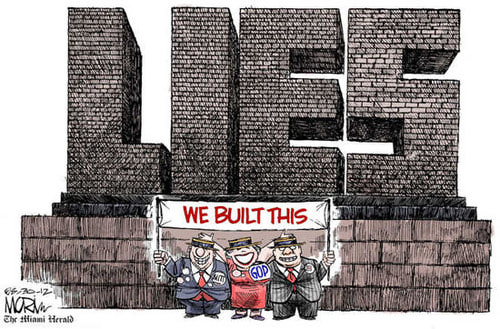 On Sept. 27, the White House and GOP leaders issued another tax blueprint, this one called the "Unified Framework for Fixing Our Broken Tax Code." It proposed reducing the current seven brackets in the individual tax code to as few as three, dropping the corporate tax rate from 35 percent to 20 percent, and creating a new rate of 25 percent for millions of companies that pass their income through to partners and sole proprietors, changes that could help small businesses but also law firms and professional sports teams.
Nonpartisan tax experts estimated the vast majority of the plan's benefits would flow to the wealthy. Trump, by contrast, [kept shilling] that it would help the average worker.
* * *
His advisers couldn't say the same.
"When you're cutting taxes across the board," Mnuchin told Politico, "it's very hard not to give tax cuts to the wealthy with tax cuts to the middle class."
Seeking balance — and failing
Until now, Republicans had the benefit of not explaining how they'd pay for their tax overhaul, which was going to cost trillions of dollars without offsets. Ultimately, Republicans agreed to borrow up to $1.5 trillion to finance the tax cut.
The $1.5 trillion ceiling on borrowing would ultimately force Republicans to make tough trade-offs between helping the middle class on the one hand and the wealthy and corporations on the other.
As always, wealthy plutocrat GOP donors and corporations won.
GOP leaders are now working to resolve differences between the House and Senate bills, but the broad contours have come into focus.
The legislation would lower taxes for many in the middle class, but mostly temporarily, and fall far short of the 35 percent cut for everyone in the middle class that Trump promised last year.
For example, the nonpartisan Tax Policy Center has estimated that in 2019, a household earning between $50,000 and $75,000 would save $780 a year if the Senate bill's changes become law. This is essentially an 8.9 percent tax cut.
Beginning in 2023, households that bring in less than $30,000 would all average a tax increase, according to the nonpartisan Joint Committee on Taxation, Congress's official scorekeepers. And by 2027, all income groups that earn less than $75,000 would see their taxes go up.
* * *
Asked if the tax package in aggregate would mean a middle-class tax cut, Edward Kleinbard, a former chief of staff for the Joint Committee on Taxation, said: "That's delusional or dishonest to say. It's factually untrue."
He added, "The only group you can point to that wins year after year and wins in very large magnitude is the very highest incomes."
One would think that even Trump's sycophant MAGA cult of personality supporters would turn on him after learning how they have been so blatantly lied to and played for fools by this grifter and con man — they will be paying more in taxes and receiving less in government benefits, e.g., health care —  so that Trump's wealthy plutocrat friends can enjoy a huuuge and undeserved tax cut, and accumulate even more of the nation's wealth.
This week is your last chance to derail this terrible GOP tax bill. Call your representative and senators now.