Donald Trump and his allies just can't stop using the anti-semitic "dual loyalty" trope to attack Jewish Americans.
Recall that back in August, not that long ago, Donald Trump "doubled down on referring to Jews who vote for Democrats as 'very disloyal' to Israel, invoking a dual loyalty trope widely viewed as anti-Semitic." Trump doubles down on calling Jewish Democrats 'disloyal' to Israel.
When President Trump said in August that American Jews who chose to vote for Democrats were being disloyal, he was flirting with a notion that has fueled anti-Semitism for generations and has been at the root of some of the most brutal violence inflicted upon Jews in their history. The Toxic Back Story to the Charge That Jews Have a Dual Loyalty:
"This has got a very bad, toxic back story to it," said Aaron David Miller, a veteran Middle East peace negotiator who served in administrations of both political parties. "The words 'disloyalty' or 'dual loyalty' cannot appear within the same sentence as the words 'Jews' or 'American Jews' without legitimately raising the question of whether or not what is intended is to level that pernicious charge."
It happened again today with the Republican questioning of Lt. Col. Alexander Vindman during the impeachment hearings. First, some background: Lt. Col. Alexander Vindman and the Questioning of an American Jew's Patriotism (excerpt):
Lt. Col. Alexander Vindman was born in the Soviet Union in 1975 before emigrating with his family to the U.S. four years later. His family, which was Jewish, fled the institutionalized, official anti-Semitism of the Soviet Union as refugees—a heritage he didn't speak about often to colleagues.
* * *
Almost as soon as news of Vindman's planned testimony broke, Trump's allies seized on Vindman's birthplace and language abilities as proof of his disloyalty to the United States. John Yoo, architect of the post-9/11 torture program [and unidicted war criminal], even went so far as to accuse Vindman of "espionage" on behalf of the Ukrainians. It was an assertion repeated by a former Republican congressman who is now a CNN commentator.
While Trump has a history of attacking anyone who questions his power, there is a particularly insidious history to questioning the loyalty of Jewish émigrés. According to a source who knows the family, Vindman's grandfather died fighting for the Soviet Union in World War II. After the war was over and the state of Israel was founded, Stalin unleashed a bloody and ruthless campaign against Soviet Jewry… This constant harassment and discrimination, combined with Western pressure, triggered a mass exodus, with millions of Jews leaving the Soviet Union because it had decided that they were second-class citizens and not to be trusted. The Vindmans were part of that exodus.
All three Vindman brothers—Leonid, Yevgeny, and Alexander—did ROTC and joined the U.S. military.
* * *
Of course, the president's defenders had no issue with Soviet-born Lev Parnas and Igor Fruman, two men arrested earlier this month for allegedly funneling Russian money to Republican candidates. Nor did they criticize Flynn, who regularly worked for foreign governments and pleaded guilty to lying to the FBI about his contacts with the Russian ambassador to Washington.
Zach Beauchamp writes at Vox, The GOP counsel's xenophobic attack on Vindman's patriotism: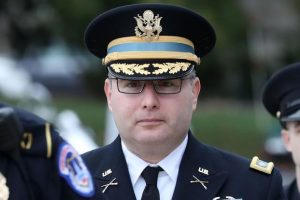 Lt. Col. Alexander Vindman, one of the key witnesses in the House Democrats' impeachment hearings, is an Iraq war veteran and Purple Heart recipient who has served honorably in the U.S. Army for the past 20 years.
He also emigrated from the Soviet Union in 1979, when he was 4 years old — a fact that the attorney for House Republicans played on during a line of questioning during Vindman's Tuesday morning's hearing that seemed to imply he was unpatriotic and untrustworthy.
Vindman is important because he was a high-level US official on Ukraine who listened to President Donald Trump's now-infamous July 25 call with Ukraine President Volodymyr Zelensky and, afterward, raised concerns with his superiors about the appropriateness of Trump's "demand" (his words) that Ukraine investigate the Bidens. As a veteran, he's one of the Democrats' most credible witnesses — proof that Trump's behavior really was troubling. It's vital for the Republican cause to discredit him.
Steve Castor, the Republican attorney, tried to do this by asking Vindman about a visit to Ukraine for Zelensky's inauguration earlier this year. He specifically focused on a job offer Vindman received from Oleksandr Danylyuk, the former head of Ukraine's National Security and Defense Council. Apparently, Danylyuk offered Vindman an opportunity to become Ukraine's defense minister three times during the trip — and, each time, Vindman declined.
"Upon returning, I notified chain of command and the appropriate counterintelligence folks about this, the offer," Vindman said.
But Castor wasn't satisfied. He continued to press Vindman on whether he ever considered the offer, resulting in an exchange in which he appeared to call Vindman's patriotism into question:
CASTOR: Ukraine's a country that's experienced a war with Russia. Certainly their minister of defense is a pretty key position for the Ukrainians. President Zelensky, Mr. Danylyuk, to bestow that honor — at least asking you — that was a big honor, correct?
VINDMAN: I think it would be a great honor, and frankly I'm aware of service members that have left service to help nurture developing democracies in that part of the world. It was an Air Force officer that became minister of defense, but I'm an American. I came here when I was a toddler. And I immediately dismissed these offers. Did not entertain them.
CASTOR: When he made this offer to you initially, did you leave the door open? Was there a reason he had to come back and ask a second or third time?
VINDMAN: Counselor, you know what, the whole notion is rather comical that I was being asked to consider whether I'd want to be the minister of defense. I did not leave the door open at all.
CASTOR: Okay. But it is pretty funny for a lieutenant colonel of the United States Army, which really isn't that senior, to be offered that illustrious a position. When he made this offer to you, was he speaking in English or Ukrainian?
VINDMAN: He is an absolutely flawless English speaker.
Castor is arguing that Vindman's loyalties were strained by repeated job offers from the Ukrainians, but also that Vindman was offered a prestigious position that he doesn't deserve (he "isn't really that senior") seemingly because of his background. Castor then highlights Vindman's Ukrainian language skills, reminding everyone that he's foreign-born. The insinuation, that Vindman's background makes him an unreliable witness to Trump's malfeasance, is reasonably clear.
Vindman himself brought up his immigrant background in his opening testimony to highlight his loyalty to the United States, explaining his decision to join the military as a way of giving back to a country that took him in after he fled Soviet totalitarianism. It was a moving story, a preemptive defense of his commitment to his country that by all rights should not have been necessary.
And yet, at the end of the questioning, Castor all but openly accused Vindman of being compromised.
"Did you ever think that possibly, if this information got out, that it might create at least the perception of a conflict?" Castor asked. "The Ukrainians thought so highly of you to offer the defense ministry post. … But on the other hand, you're responsible for Ukrainian policy at the national security counsel."
Castor never outright brought up Vindman's Ukrainian origin (or his Jewish background), but he didn't really need to. The line of questioning served only to suggest that a Ukrainian-born immigrant cannot be trusted to be loyal to the United States even if he was wounded fighting for his country.
This line of argument was deployed by some in the right-wing media when Vindman first emerged as a key witness, like Fox News host Laura Ingraham, but seemed largely abandoned after a significant public backlash.
Castor seemed to be working to bring it back into the conversation, a move correctly diagnosed by Rep. Jim Himes (D-CT) in his questioning of Vindman later in the hearing: Castor's line of questioning, Himes said, "was designed exclusively to give the right-wing media the opportunity to question your loyalties."
It will be a feature of FOX News aka Trump TV this evening.
The Party of Trump is the Party of Putin in America. They want to talk about betrayal, disloyalty, and yes, traitorous conduct? Take a look in the mirror Trumpsters. Your psychological projection of your own conduct onto others should be viewed by all as your public confession.
UPDATE: The U.S. Army will take measures to protect Lieutenant Colonel Alexander Vindman and his family if needed, perhaps by moving them to a military base, after the key witness in the Democrat-led impeachment inquiry against President Donald Trump expressed concerns over his safety, a U.S. official told Reuters. Army assessing impeachment witness Vindman's security:
The U.S. official, who spoke on condition of anonymity, said the Army has been carrying out security assessments since Vindman expressed concerns about his family's safety. Vindman and his family could be moved to a base if the security threat against him mounts, the official added.
The official said the Army would take similar precautions if any service member reached out with such concerns.
The possibility of upgraded protection for Vindman was first reported by the The Wall Street Journal.
Salon adds this highlight from Vindman's opening statement:
Vindman also addressed his family's concerns for his safety in his opening statement. He thanked his father for bringing him four decades earlier to the U.S., where he does not have to worry that "offering public testimony about the president" would "cost me my life."
"I am grateful for my father's brave act of hope 40 years ago and for the privilege of being an American citizen and public servant, where I can live free of fear for mine and my family's safety," he said. "Dad, my sitting here, in the U.S. Capitol talking to our elected officials is proof that you made the right decision forty years ago to leave the Soviet Union and come here to the United States of America in search of a better life for our family."
"Do not worry," he added, "I will be fine for telling the truth."
UPDATE: Donald Trump continues to write his own article of impeachment for illegal witness intimidation. Last week he engaged in witness intimidation of former U.S. ambassador to Ukraine Marie Yovanovitch in real time as she was testifying, and the cowardly "Cadet Bone Spurs" did it again today to attack Lieutenant Colonel Alexander Vindman, using the official White House Twitter account to do it. White House Twitter account slams decorated veteran Vindman during testimony:
Lt. Col. Alexander Vindman had already recounted his unease at President Donald Trump's approach to Ukraine and his actions to report it when his employer — the White House — attacked him on Twitter.
"Tim Morrison, Alexander Vindman's former boss, testified in his deposition that he had concerns about Vindman's judgment," the tweet read.
It was a remarkable broadside from the official voice of the executive branch against the President's own top Ukraine expert, a decorated Iraq War veteran who testified in a public impeachment hearing on Tuesday.
Trump retweeted a White House official's message that Vindman "was offered the position of defense minister for the Ukrainian government THREE times!"
And it continued a pattern, begun by Trump, of lashing out against impeachment witnesses even as they continue to work for him and as Democrats warn against witness intimidation.
The tweet from the official White House account, funded by taxpayer dollars, quoted closed-door testimony from Morrison, Vindman's former superior, who raised concerns about the lieutenant colonel's judgment. It included a specially made graphic using a quote from the interview, which read: "I had concerns about Lieutenant Colonel Vindman's judgment."
Like a tweet Trump sent Friday insulting ousted US Ambassador Marie Yovanovitch during her public hearing, the message was quickly raised by Democrats in their questioning.
They also raised a tweet Trump sent over the weekend directed at Tuesday morning's other witness, a State Department official working as a foreign policy adviser to Vice President Mike Pence.
All three of those individuals still work for the administration, even if the White House's official channels suggest they are not welcome anymore.
* * *
Like some Republicans on the House Intelligence Committee, Trump noted that Vindman wore his Army dress uniform for the hearing. And he commented on Vindman's correction of a questioner during the hearing who addressed him as "Mister" rather than "Lieutenant Colonel."
Both seemed designed to tacitly suggest that Vindman was inflating his self-importance or seeking to exploit his military record. But a US Army spokesperson said later "a Soldier performing duties in an official capacity will normally be in uniform."
I'm sorry, but has everyone forgotten this convicted criminal testifying lying before Congress in his dress uniform during the Iran-Contra scandal? (Oliver North's conviction was later overturned). As with all things Republican, IOKIYAR.
And Vindman seemed prepared to rebut questions about his work history, wielding his own performance reviews that described him as "brilliant, unflappable, and exercises excellent judgment."
Almost eight hours later, as the day's hearings concluded, the tweet reemerged during a second hearing.
Asked whether it was appropriate to criticize Vindman on Twitter as he was testifying, the former US special envoy to Ukraine Kurt Volker said it wasn't.
"I don't think that's appropriate," he said.
Donald Trump has been engaging in illegal witness intimidation in real time as witnesses testify, live on TV. How can any Republican in good conscience not vote yes for an article of impeachment for illegal witness intimidation? They otherwise would be condoning criminal conduct on the grounds that IOKIYAR, pure GOP tribalism, the rule of law be damned.
As Dana Milbank writes at the Washington Post, Republicans portrayed Vindman as disloyal. They have no sense of decency.