Update to Texas Gov. Gregg Abbott Previews GQP Campaign of 'White Fright' For 2022 Midterm Election (excerpt):
White Christian Nationalist Republicans have been projecting for weeks now that their whole campaign this year will focus on anti-immigrant hysteria over "caravans" of brown hordes "invading" the border, as part of their white supremacy great replacement theory, borrowed from European fascism of the the early 20th Century.
As soon as the Biden administration lifts the Title 42 restrictions on asylum seekers "remaining in Mexico" during the Coronavirus pandemic this May, it will be wall-to-wall coverage of "white fright" on Fox News, News MAX and OANN and from every Republican politician running for office. The corporate media has already been laying the groundwork to assist this Republican campaign with numerous reports parroting the GQP talking points in recent weeks. I have seen little responsible pushback from the corporate media.
With everything else going on in this world, this is the issue that motivates white Christian Nationalist Republicans. Ignorance, fear and hatred are their religious tenants, not Christianity. After all, WWJD? Jesus preached welcoming immigrants, since he was once a refugee himself. 22 Bible Verses on Welcoming Immigrants.
The Huffington Post reports, Texas Governor Dumps First Busload Of Migrants In DC For Political Stunt:
Texas Gov. Greg Abbott (R) congratulated himself Wednesday for dumping a busload of immigrants in the heart of Washington, D.C., as part of a political tantrum over President Joe Biden's immigration policies.
The stunt allows the Biden administration "to more immediately meet the needs of the people they are allowing to cross our border," Abbott claimed in a press release.
The migrants arrived at a building near Capitol Hill that is home to the Washington bureaus of Fox News, NBC News and C-SPAN. They were greeted by staff from Catholic Charities DC, a group that offers food assistance, medical care, job training and English lessons, a spokesperson told HuffPost.
Five of the immigrants told CNN they were from Venezuela and had arrived at the southern U.S. border on Sunday, where they were processed by authorities and released while their immigration claims worked their way through the court system. Their bus ride took roughly 30 hours, they said, with food and water provided along the route.
Abbott's office noted that other migrants on the first bus had also come from Colombia, Cuba and Nicaragua. A second bus is en route.
[An] ACLU of Texas staff attorney called Abbott's plan "outrageous and blatantly unconstitutional" when it was first announced, while it was still unclear that the busing would be voluntary. White House press secretary Jen Psaki labeled Abbott's plan a "publicity stunt."Texas state Rep. Matt Shaefer, a Republican, called it a "gimmick."
Texas Democrats said Abbott was merely working "to demonize immigrants."
"For years, Texas Republicans have looked to the Southern Border as a wedge issue, creating a narrative that stirs up emotions but neglects the truth," the Texas Democratic Party said in a Monday statement.
American Enterprise Institute emeritus scholar Norman Ornstein, who tracks political polarization, did not mince words in his criticism.
This is kidnapping across state lines. The Justice Department, via the US Attorney in Texas, should prosecute Abbott and everyone connected to this scheme https://t.co/GInHWVoVgn

— Norman Ornstein (@NormOrnstein) April 13, 2022
The last person anyone should ever want to emulate is the white Christian Nationalist racist governor of Texas. But that is exactly what our pathetic Governor Doug Ducey is doing. His previous border wall stunts on the border were not garnering him any attention, so now he wants in on Gov. Abbott's stunt of busing immigrants to Washington, D.C. for attention.
First it was Texas. Now @DougDucey busing migrants to D.C. at state expense to alleviate burdens on border communities, tho his press aide says it's voluntary for people who want to get close to their destination. https://t.co/U1D7AOG0ou

— Capitol Media Services – exposing BS 50+ years (@azcapmedia) May 12, 2022
Danyelle Khmara reports, Arizona follows Texas, starts busing migrants to D.C.: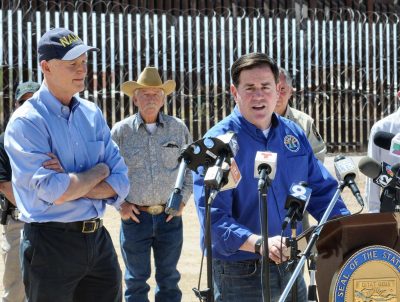 Following Texas' example, Arizona has started busing migrants from the border with Mexico to Washington, D.C., despite the fact the federal government already pays to transport them.
The first bus arrived Wednesday in the nation's capital after leaving Yuma on Monday, said Gov. Doug Ducey's press aide, C.J. Karamargin. He said 20 people, all who volunteered, were on the bus. The migrants were from as far away as Uzbekistan, he said. None was from Mexico.
He did not know how much the program will cost, saying it will depend on how many more migrants seek to take advantage of future transportation. But whatever the bill, Karamargin said it is worth it.
"It pales in comparison to the stress on local resources,'' he said, adding that Ducey intends to send the final bill for the costs to Washington.
When asked why spend state money now for something the federal government is already paying for, Karamargin said, "Our communities are strapped."
So you are wasting taxpayer money for this stunt instead of using the money to assist these "strapped" cmmunities? Fucking genius!
Side Note: I knew C.J. Karamargin back in the day when he used to be a fairly decent reporter for the Arizona Daily Star. He was nothing like what he is now. Ever since he has thrown in his lot being a flak for Republicans, he has lost his mind and his soul.
The federal government allotted $150 million in the spending bill passed in March to fund nonprofits who serve migrants entering the country. Part of what those nonprofits do with those federal dollars is arrange transportation for the migrants to get to their sponsors in the United States.
Nonetheless, the state is paying to transport the migrants and for other border security efforts through the Border Security Fund [slush fund], established in 2021 in partnership with the Arizona Legislature, Ducey's office said in a news release Wednesday.
Pima County, which coordinates funding for a local nonprofit that provides migrant services, was not contacted by the state about the busing decision, county officials said. In March, the county received the first installment of $2.1 million from the latest federal spending bill. The county has received more than $10 million since April 2021, which has covered the services to asylum seekers.
There are plans for future buses, at least out of Yuma. There are no immediate plans to have similar trips originating from Cochise or Santa Cruz counties. "Many of the asylum seekers are coming in through Yuma,'' Karamargin said.
Arizona could send two or three buses a week that can transport as many as 40 asylum-seekers each, and the cost will ultimately depend on how many people volunteer to go.
The move comes as Ducey's fellow Republican governor, Greg Abbott of Texas, said his state has sent at least 10 busloads of migrants to D.C.. Both governors have repeatedly criticized the Biden administration's border policies.
Ducey made his decision because of the impact migrants are having in Arizona, Karamargin said.
Bullshit! He made his decision based upon wanting to get attention on Fox News and doing his part to "catapult the propaganda," as George W. Bush once infamously said, in support of the GQP's 2022 midterm campaign strategy of anti-immigrant hysteria over "caravans" of brown hordes "invading" the border, as part of their white supremacy great replacement theory on Tucker Carlson's "White Power Hour."
"They are taxing the resources, stretching the resources of nongovermental organizations, community-based organizations,'' he said. "And this situation will only get worse if Title 42 is lifted. … We decided to step up and help alleviate the burden on our NGOs and get these folks closer to where they ultimately want to be."
What part of the NGO's have $150 million in federal resources allocated to arrange transportation for the migrants to get to their sponsors in the United States did you not get? You are pissing away Arizona tax dollars for a political stunt by Gov. Ducey, pure and simple.
Title 42 is the public health policy [NOT an immigration policy] put in place because of the pandemic that quickly expels migrants from the country without entering them into the U.S. immigration process. It is set to end May 23, and some speculate the number of migrants coming across the southern border could increase.
Emails we obtained show Trump White House aide Stephen Miller spearheaded the use of Title 42 to expel undocumented migrants at the border under the guise of fighting the pandemic.https://t.co/UJDXHVoVWI

— American Oversight (@weareoversight) May 11, 2022
The actual arrangements, while paid for by the state, are being arranged by AMI Healthcare. It will provide transportation, staffing and meals on the way to Washington.
Karamargin stressed that no one is being forced to do anything and that they are free to get off the bus at any point on the route.
In Washington, he said, they will be met by other nongovernmental organizations "that can help them get to their ultimate destinations.''
The 20 migrants who went on Monday's bus were from Angola, Columbia, Haiti, Peru, Venezuela and Uzbekistan and are headed to the states of Pennsylvania, Florida, New York, New Jersey, Virginia and Maine.
And I'm sure they all said to one another, "I'm glad to get the hell out of Arizona! Those people are all crazy!"
No, that would just be the white Christian Nationalists in Arizona. The majority of Arizonans are not like them.