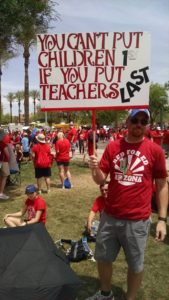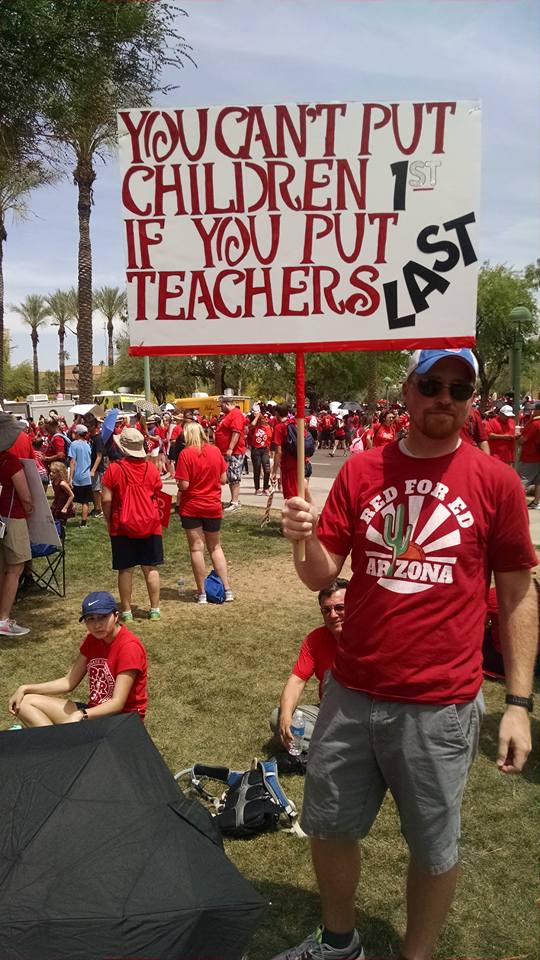 Rebuffing the RedforEd protests by educators picketing the state Capitol, Republican lawmakers took the first steps Monday to providing a 9 percent raise this coming year for teachers. Arizona lawmakers take steps for 20 percent teacher pay hike, but not necessarily for all:
The final version of the budget deal negotiated between GOP leaders and Gov. Doug Ducey – no educators or even the minority Democrats in the legislature – puts $273 million into the $10.4 billion spending plan for the coming year specifically for teacher pay hikes.
But unlike Ducey's original proposal, each school district would get its share in bulk dollars. That leaves it up to board members to decide how to divvy it up.
The Arizona Republic adds:
The additional money for districts would be based on a statewide teacher salary average of $49,000, Stefan Shepherd of the Joint Legislative Budget Committee told House Democrats Monday. Twenty percent of that figure is $9,800.

Districts will get a bundle of money based on that $9,800 figure multiplied by the number of teachers they reported having, Shepherd said.

But, Shepherd said that means districts with higher-than-average teacher salaries would not receive enough money to give all their teachers 20 percent raises.

Conversely, districts with lower-than-average salaries would receive more than enough to give teachers 20 percent raises.

And nothing in the budget bill would require the additional funds be spent on teacher salaries, Shepherd told lawmakers.

"There's no language that says you have to give X percent pay raise," Shepherd said.

In touting his plan on KFYI-AM last week, Ducey said, "Make no mistake. When we pass this plan, every teacher in the state will have a 20 percent pay raise by 2020." (Yeah, he lied).
Last week Ducey said his offer meets the key demand of the educator groups whose members voted last week to walk out beginning Thursday. "So they know it's been delivered on," he claimed. No, it decidedly has not. Ducey's budget "only partially meets one of the five stated demands made by protesters." Facts still trump GOPropaganda..
That same plan for bulk salary grants to school districts also will apply to the 5 percent pay hike proposed for the following school year and an additional 5 percent the year after that.
Along with that flexibility, the spending plan unveiled Monday also calls for more transparency, with new requirements for school districts to annually report on their websites their average teacher salaries. House Speaker J.D. Mesnard said that ensures "this is all out there for people to see."
None of this satisfied educators who remained on strike for a third day on Monday as they marched around the Capitol in what they hope will be a successful effort to persuade lawmakers not to adopt the budget and pay-hike plan that Ducey has proposed. And all indications are that many teachers will remain on strike through at least Tuesday — and possibly until the budget is enacted at the end of the week.
* * *
What's also missing as far as educators are concerned are specific dollars earmarked for support personnel like janitors, reading specialists, counselors and bus drivers.
Ducey counters that his budget includes $100 million in additional district assistance, money that schools can spend on whatever priorities they have, whether repairs or other pay increases. (However, districts could choose to spend the money on other needs, such as salaries or raises for support staff.) But that is only part of $371 million a year schools are supposed to have been getting all along for books, computers, buses and other minor repairs.
But the biggest complaint is that state aid on a per-student basis is less now than it was a decade ago, even before the effects of inflation are considered. The education groups want that $1 billion difference restored.
There are no new taxes in the budget to restore education funding to where it was a decade ago, much less the additional funding that would have occurred over the past decade to meet increased needs if we had a fiscally responsible state legislature that actually followed the mandates of the Arizona Constitution.
Tucson and Tucson Unified School District get screwed over
The GOP's "robbing Peter to pay Paul" plan screws over the Democratic bastion of Tucson, and Tucson Unified School District in particular.
The GOP is once again shifting the tax burden from the state down to local government units rather than raising taxes at the state level, so that GOP legislators can claim that they did not raise your taxes even as your taxes go up. They are all dishonest cowards.
The Arizona Capitol Times reports, Budget includes property tax increase for some school districts:
Homeowners in more than a dozen Arizona school districts will pay additional property taxes if GOP lawmakers approve a maneuver in Gov. Doug Ducey's budget deal.
Those 18 school districts levy additional property taxes to provide funding for desegregation and student achievement efforts. They are programs designed to meet the demands of federal court orders or agreements with the U.S. Department of Education's Office for Civil Rights in districts found to have racial disparities in their schools.
In nine of those districts, the additional levy contributes to taxes that exceed Arizona's 1 percent cap on residential property levies. The state supplements the difference to ensure that taxpayers don't bear the cost of taxes exceeding $10 for every $100 of property value.
But a simple shift in how desegregation taxes are classified will absolve the state of an estimated $18.9 million in supplemental funding in places like Tucson Unified School District, one of the state's largest school districts and also one of the largest beneficiaries of desegregation funding. Budget analysts estimate that state dollars supplement TUSD desegregation funding to the tune of $16.7 million, a majority of the savings to the state.
A provision in the budget deal struck by Ducey and GOP legislators shifts taxes for desegregation programs from the primary to the secondary property tax levy.
The move frees the state from having to provide money to offset taxes that exceed the 1 percent cap — the cap only applies to primary, not secondary, property taxes.
That means that TUSD homeowners would see their property taxes increase — enough to cover the $16.7 million the state would no longer provide to protect them from paying taxes above the 1 percent cap.
Secondary taxes are typically voter-approved measures like bonds for K-12 school construction and maintenance, or overrides to provide schools additional dollars to spend. But language in the budget is said to specify that the desegregation levy doesn't require voter approval.
Other desegregation school districts are also affected, though to a lesser extent, because a portion of their homeowners rebate will no longer apply to the desegregation levy. That's because the homeowners rebate, like the 1 percent cap, only applies to primary property taxes, according to Chuck Essigs, lobbyist for the Arizona Association of School Business Officials.
There is one district's homeowners who won't see property taxes increase: Maricopa Unified School District.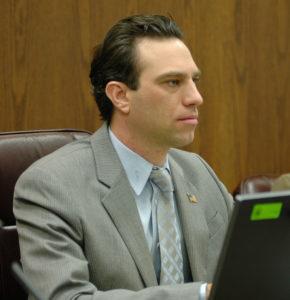 [The two districts most affected are Tucson and Maricopa unified school districts. But a political maneuver by Sen. Steve Smith, R-Maricopa, will protect taxpayers in that district, leaving only Tucson residents with a big hit.]
This asshole is running for Congress in CD 1.
Though the shift in tax structure would cost the district $602,600 in funding that would have been provided from the state, a supplemental appropriation of state aid will match that amount, ensuring that homeowners that live in the boundaries of Maricopa Unified won't see their tax bills increase.
The key difference between Maricopa Unified and the eight other districts affected the most by the desegregation shift? It's represented by Republican legislators, said Senate Minority Leader Katie Hobbs, D-Phoenix.
"It's just partisan dirty tricks. You've got six people representing the small town of Maricopa, and they're all Republicans," she said. "Everybody in Maricopa County loves to hate Tucson, especially Republicans, and loves to screw them over. This is one more way to do that."
We hate you right back! Free Baja Arizona!
Democrats like Rep. Ken Clark, D-Phoenix, likened that argument to "victim blaming."
"This would effectively force those school districts that suffer the most from segregation to pay for desegregation," he tweeted Monday afternoon.
"GOP lawmakers have for years tried to get rid of desegregation dollars for schools, arguing that segregation and racial disparities are no longer an issue in Arizona." Riiight. How detached from reality can they get? This is militant ignorance.
The Arizona Capitol Times adds:
The budget plan also has a variety of odds and ends designed to get votes or solve specific issues.
For example, it would allow Coconino County Community College to ask voters to increase its primary tax levy more than the normal year-over-year amount allowed. Budget staffers said that college started out with a very low levy, making it difficult to keep up with expenses.
But once again there will be no state aid for Pima and Maricopa community colleges.
And there's $1.7 million in the budget in special appropriations to Pinal, Yavapai and Mohave counties.
"Kochtopus" Propaganda Schools to Get Mo' Money
Tucked within the proposed $10.4 billion budget for next year is additional funding for Arizona's three universities, but 20 percent of that higher education funding is specifically earmarked for so-called "economic freedom schools," more accurately described as "Kochtopus" propaganda schools, for which these billionaire bastards can afford to fund them out of their own damn pocket. Proposed budget allocates $2 million for ASU, UofA 'freedom schools':
The budget allocates $1 million each to the University of Arizona and Arizona State University for their so-called "freedom schools," which teach conservative values and were started with high-dollar donations from foundations run by the Koch brothers.
UofA has a Center for the Philosophy of Freedom, a research center that falls under the College of Social and Behavioral Sciences. ASU has a Center for the Study of Economic Liberty and a Center for Political Thought and Leadership. All three of the research centers, which are focused on advancing free-enterprise ideals, rely heavily on conservative donations and do not produce degrees.
ASU will have to use at least $100,000 of the "freedom school" funding for the development of constitution and civics curriculum for K-12 and higher education institutions, according to documents from the Joint Legislative Budget Committee.
In addition to the $2 million for the freedom schools, the universities will split $8 million in new, one-time funding. ASU will get $4.2 million, UofA $2.2 million, and Northern Arizona University will receive $1.6 million.
Last year's budget also came with strings attached for ASU and UofA as both universities received $1 million earmarked for their freedom schools, on top of other one-time funding.
Governor Ducey has to repay his dark money benefactors to keep them happy. Get ready for another dark money campaign in support of Ducey from the "Kochtopus."
Long-term Economic Forecasts Project That The Education Funding is Unsustainable
Taken together, legislative budget staffers predict all the additional revenues will leave the state with a "structural balance" of $150 million by the end of this coming fiscal year. That is the surplus of ongoing revenues compared with ongoing expenses.
But Rep. Eddie Farnsworth, R-Gilbert, pointed out that structural balance is set to decrease to less than $45 million the year after that — and a relatively minuscule $2 million by the following fiscal year.
That, said Farnsworth, is not a good trend line.
"That's a valid point," acknowledged Richard Stavneak, staff director of the Joint Legislative Budget Committee. "The direction is not encouraging."
House Speaker Alfred E. Newman, er,  J.D. Mesnard, R-Chandler, seemed less concerned, saying "What, me worry?"
Governor Ducey and the GOP leadership are not serious. This budget is crap, and the education funding is unsustainable because it is not tied to any sustainable tax revenue source. It will all go away in the next economic downturn if we still have these lawless anti-tax ideologues in control of our state government. Vote them out!
UPDATE: The Arizona Daily Star editorialzes, Star Opinion: Arizona budget targets Tucson Unified.