The Senate Committee on Commerce and Public Safety voted 4-3 on April 19 to advance Governor Ducey's so-called school safety plan, a plan crafted with and endorsed by the NRA. NRA endorses Arizona Gov. Ducey's plan to prevent school shootings; bill passes committee:
The National Rifle Association, the country's most powerful gun-rights lobbying organization, has endorsed Gov. Doug Ducey's plan to prevent mass shootings in schools.
Republican lawmakers in the Arizona Senate announced the NRA's support Thursday during a committee hearing, where Ducey's proposal cleared a crucial first vote.
Sen. Steve Smith, R-Maricopa, the committee chairman, said legislation outlining the governor's plan, Senate Bill 1519, respects Second Amendment rights while taking steps to keep guns out of the hands of dangerous individuals."
"Arizona is listed by many as the No. 1 Second Amendment state in the country. I want to keep it that way," Smith, who's sponsoring the bill, said at the outset of Thursday's hearing.
The Arizona Capitol Times adds: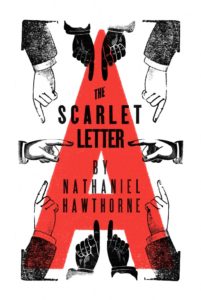 Sen. Steve Smith, R-Maricopa, who chairs the Senate Committee on Commerce and Public Safety, said "Pridefully, mind you, I'm A-plus rated by the NRA," he told dozens of people who came to testify.
"I intend on keeping it that way," Smith said. "I am not going to run a piece of legislation that I think runs afoul to our constitutionally guaranteed Second Amendment rights."
The NRA's "A" grades should become the modern-day version of the Scarlet Letter for public scorn and shunning by a civilized society. Keep in mind that Sen. Smith is running for Congress in CD 1, so he is pandering hard for that NRA campaign cash.
NRA support creates concern for some
Democrats and gun-control advocates, however, said the NRA's blessing underscores their concern that Ducey's proposal is meaningless because it doesn't include universal background checks.
SB 1519 does not address the "gun show loophole" that allows people to buy a gun without background checks in some circumstances.
The Arizona Capitol Times adds "Sen. Steve Smith, R-Maricopa, said it was purposely designed that way."
"Mr. Chair, you've just sucked everything out of me that even made me a possible positive 'yes' vote on this bill with that statement," Sen. Catherine Miranda, D-Phoenix, said of the NRA's backing.
Ducey, a Republican who is seeking re-election this year, has found himself in the center of a polarizing debate over gun control.
He has faced blistering criticism from both parties since his proposal was unveiled last month: Democrats, who say it doesn't go far enough; and Republican lawmakers, who worry it could violate constitutional liberties.
Students across Arizona and the country have led a series of protests in the wake of the Parkland, Florida, school shooting that killed 17 people on Valentine's Day.
In Arizona, March For Our Lives student organizers led a march for gun-control laws outside the state Capitol last month that drew at least 15,000 people. They also staged a raucous sit-in in the lobby of Gov. Doug Ducey's office.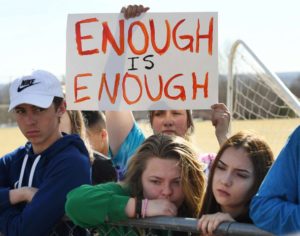 On Friday, students with March For Our Lives plan to stage more school walkouts and will attempt to occupy buildings at the state Capitol.
Mounting tension was evident at Thursday's bill hearing — the first on the governor's plan. Dozens of critics and supporters filled the room; their testimony, often emotional, ran for nearly four hours.
The Arizona Capitol Times adds:
Gerry Hills, founder of Arizonans for Gun Safety, was more direct in her response to Sen. Smith.
"You may be proud of your NRA rating," she told Smith. "But this bill rates a D-minus," saying 40 percent of gun sales are unregulated, not subject to background checks.
"Cash, carry, no questions asked," Hills said.
* * *
Democrats won't support the package as it is, with one key issue being the failure to enact universal background checks.
In proposing the measure last month, Ducey said he wants to be sure that those who should not have access to guns are kept from obtaining one. That's why he wants changes to the system that requires courts and others to report convictions into a national database (NICS), the one used by federal firearms dealers to determine whether they can sell a gun to a customer.
But Arizona law does not require such checks for personal sales. And that includes people selling one or more weapons at gun shows. And Democrats contend it does no good to have someone declared a "prohibited possessor" if that person still can obtain a weapon anyway.
That's only part of the problem.
Sen. Sean Bowie, D-Tempe, noted that Ducey has spoken of his meeting with Florida Gov. Rick Scott whose state enacted its own school safety plan in the wake of the killing of 17 students at a Parkland high school. Yet the Arizona plan does not contain some of the key provisions in the new Florida law, including raising the age to possess a weapon to 21 and a ban on "bump stocks" which can convert a semi-automatic weapon to be able to fire hundreds of rounds a minute.
And Bowie said someone who is subject to a court order [in Florida] must turn over weapons immediately rather than 24 hours later.
That last point got the attention of Deputy Pima County Attorney Kathleen Mayer. She said the legislation permits someone to have his or her guns for 24 hours "after a judge has just said, 'Oh, you're an imminent threat to kill yourself or somebody else."
And then there were, of course, the usual suspects, the lobbyist organizations for the merchants of death:
Dave Kopp of the Arizona Citizens Defense League said there appears to be too much focus on weapons and not enough on school safety. He wants to arm staff, secure school perimeters and have stronger doors and windows, "things like that to make the building a harder target."
Tucsonan Ken Rineer, president of Gun Owners of Arizona, who has advocated for arming teachers, had similar objections to anything he believes infringes on gun rights.
"This bill is more about seizing firearms than about treating mental illness," he told lawmakers.
How the bill would change the law
SB1519 contains provisions that proponents say will help reduce gun violence, particularly at schools.
The heart is the ability of individuals, including family members, school administrators, significant others and those who have cohabited with someone to file legal papers asking a judge to order someone picked up.
What's required is a "credible threat" of death or serious physical injury or some sort of actual or attempted act of violence in the prior six months that was intended to cause death or serious physical injury to self or others.
A judge who determines there is enough in the complaint to pursue the matter can order police to pick up that person for an initial hearing where the person can be present, have counsel and make his or her own case.
A judge who determines there is "clear and convincing" evidence of a threat can to issue a Severe Threat Order of Protection allowing that person to be held for evaluation and that person must surrender a firearm for up to 21 days, a period that can be extended. Having a weapon while under a STOP order would subject the person to felony charges.
In a letter to lawmakers, Keely Hopkins, NRA state liaison, echoed lawmakers' comments that the bill had been improved.
"By requiring high evidentiary standards, the opportunity for a hearing, the right to counsel, the right to offer evidence and the right to challenge the petition against them, Senate Bill 1519 strongly protects due process rights," she wrote.
"For these reasons, the National Rifle Association supports Senate Bill 1519 … without any further amendments the NRA considers weakening."
But opponents argue "red flag" restraining orders are unenforceable if the state doesn't have universal background checks to ensure the dangerous individual can't buy another gun.
In addition to closing the "gun show" loophole, they said the state should focus on preventative measures such as funding for school counselors.
Ducey's bill includes $3 million to fund behavioral counseling in schools through the Arizona Health Care Cost Containment System, which is expected to draw a $6 million federal match. However, the money would only provide counseling for low-income students who qualify for Medicaid.
A representative of AHCCCS said the system will try to use other funding sources to help non-Medicaid eligible students. The state hasn't said how much other funding is available.
The legislation also contains NRA-approved proposals for "hardening" school safety, including:
– Age-appropriate school safety training, including "active shooter" drills.
– Campus visitors having to provide identification.
– A central telephone hotline for students, teachers and others to notify of potential threat.
– Reporting incidents as appropriate to police and parents.
And schools would need a safety plan, one that Smith said could include arming school employees.
As noted above, Dave Kopp of the Arizona Citizens Defense League wants to arm staff, secure school perimeters and have stronger doors and windows, "things like that to make the building a harder target."
Tucsonan Ken Rineer, president of Gun Owners of Arizona, advocates for arming teachers, something Governor Ducey has opposed.
The Arizona Capitol Times adds:
Sen. Bowie pointed out that some things that Gov. Doug Ducey first proposed, things he likes, have fallen off the table. For example, the governor sought to hold adults responsible when children get guns and to deny permits to carry concealed weapons to those with outstanding arrest warrants.
Anni Foster, one of Ducey's attorneys, conceded the point. But she said her boss jettisoned those provisions to come up with a "workable" bill that could get the necessary votes – in this case, Republican votes given Democrat opposition.
Will Gaona, an attorney with the American Civil Liberties Union, objected to a proposal to put more police "school resource officers" into schools.
He said the evidence is that putting police into schools ends up entangling them in discipline issues, with some things that should be handled by administrators instead becoming criminal matters. More significant, Gaona said minorities are far more likely to end up arrested than others.
These points have been well documented across the country for some years now. And the student led protest movements this year are opposed to this as well.
Smith reacted angrily, saying that armed officers are a key way of dealing with an armed criminal on campus. And he said these are crucial given that police are usually "minutes away" from an active shooting situation.
"You have to have someone meeting force with force," he said.
The old "good guy with a gun" nonsense from the NRA. How did that work out in Parkland, Florida where armed school resource officers stood around outside of the building waiting to go in? Fla. school officer waited outside building for 4 minutes as killings happened, sheriff says.
Bumper sticker agitprop frequently fails the test of reality.