Calling the governor's plan not fiscally sustainable, the Arizona PTA has withdrawn its backing for Gov. Doug Ducey's teacher pay hike plan. PTA group withdraws support from Ducey's teacher pay hike plan: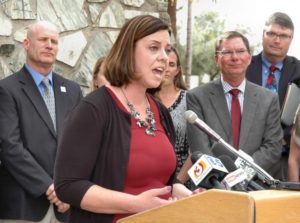 Beth Simek, the organization's president, told Capitol Media Services this afternoon that her own research shows there is no way Ducey can finance both the pay raise and restoration of capital funding without cutting the budget for other needed programs. And Simek said she believes some of what the governor plans to slice could end up hurting the very children her organization is working to protect.
* * *
Simek said that she was not given all the relevant information about how Ducey plans to finance his plan when the governor first asked for support. So, what she did was strike out on her own and gather as much in specifics as she could from various other sources, including other state agencies.
Most crucial, she said, are the cuts being made elsewhere in the budget.
For example, Simek said, Ducey's plan cuts $2.9 million that had been allocated for skilled nursing services in both the state Medicaid program and the Department of Economic Security. Also gone is $1.8 million aid for "critical access hospitals" and $4 million that the governor had proposed in additional dollars for the developmentally disabled.
"We can't support that," Simek said. "That hurts kids and it hurts families."
The governor's plan also cuts back $2 million in arts funding, which arts advocates say would decimate grants that fund programs that benefit pupils.
The change of heart comes just two days after Simek stood with the Arizona School Boards Association and other school groups to give their blessing to Ducey's proposal.
Potentially more significant, one purpose of that press conference was to convince teachers to vote against a strike. And her new decision comes even as teachers are voting through today on whether to walk out.
And what is her message to teachers now?
"If they feel like they cannot afford in their personal financial household to walk out, then they should follow their heart," Simek said. "If they feel they can afford this, or that it's something they feel morally strongly about, then they should follow their heart and walk out."
Note: Even GOP apologist at the Arizona Republic, Robert Robb, who supports everything Republicans do, warns that Gov. Ducey's plan is fiscally unsustainable. Ducey's teacher pay plan could haunt state for decades: "Gov. Doug Ducey's teacher pay proposal is imprudent, if not reckless, budgeting. And it is terrible public policy, setting two precedents that could haunt the state for decades."
Even Robb concedes that a tax increase is "the only fiscally responsible way to get K-12 funding back to prerecession levels."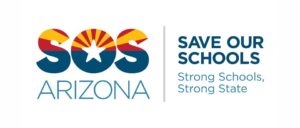 UPDATE: Support for Ducey's plan is quickly eroding under closer scrutiny of how he intends to pay for his plan. Save Our Schools, Arizona PTA drop support for Ducey's teacher pay-raise plan:
Both groups, Save our Schools Arizona and the Arizona Parent Teachers Association, released statements on Wednesday withdrawing their support for Ducey's plan to give teachers a 19 percent raise over the next three years.

The statements from the groups criticized the funding of the plan, calling it unsustainable.
Organizers with Arizona Educators United, the teacher-led grassroots group, will announce the results of the vote for a walkout Thursday night. Results of #RedForEd teacher walkout vote to be announced Thursday: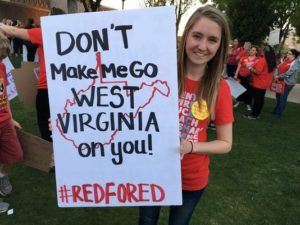 Educators between Tuesday and Thursday have been casting ballots in person. Organizers first announced a walkout vote Sunday, days after Gov. Doug Ducey announced a proposal to increase teacher pay by 20 percent by 2020.
The AEU group has not specified when, exactly, they would set a date for a walkout if educators voted in favor of one.
The organizers also haven't said how many votes favoring a walkout would be enough for them to move forward with a job action.
But Arizona Educators United organizers appear to be laying the groundwork for a potential walkout.
The group secured permits to stage #RedForEd rallies at the Arizona Capitol on Friday and four days next week. Teachers set for days of rallies at Capitol:
Arizona Educators United have permission to rally at the Capitol all day Friday and most of next week.

An announcement on the results [is expected Thursday] and subsequent action is not expected until Friday.

"We are preparing for all options" said AEU organizer Noah Karvelis in a text to the Arizona Capitol Times.

He would not say if this is a sign that AEU leaders anticipate members of the group will vote to walk out of schools in protest of low-teacher pay and despite Gov. Doug Ducey's proposed 20 percent teacher pay raise by 2020.

"I won't know until I see the results," Karvelis said. "We have a massive group so it is difficult to gauge."
An application submitted to the Arizona Legislative Council notes that the Friday rally would be from 7 a.m. to 6 p.m. with an estimated crowd of 3,000 to 5,000 people.
There is potentially some overlap on Friday for the National School Walkout protest at the Capitol and a #REdForEd teacher walkout protest at the Capitol. Students and teachers, the two groups most often ignored by our GOP-controlled state legislature for years.
Schools preparing for possible walkout
After the voting window ends Thursday afternoon, organizers with Arizona Educators United and the Arizona Education Association, the state's teachers' union, will verify and count the ballots.
Sheenae Shannon, spokeswoman for the Arizona Education Association, said in an email Wednesday afternoon that the voting results would be announced "sometime after 8 p.m." Thursday at the AEA's headquarters near downtown Phoenix.
Schools also appear to be preparing for a possible walkout. Superintendents of several districts, including those in Tempe's Kyrene Elementary School District and Mesa Public Schools, notified parents this week about what would happen if teachers walked out.
Mesa, for example, said it would close its schools. Teachers would still be paid but support personnel and hourly employees such as aides and custodians would not be. Schools would add additional school days to the end of the year, if necessary.
Stay tuned.
UPDATE: Gov. Doug Ducey hopes to fund part of his teacher pay package through a new form of gambling (Keno) that may be illegal, is opposed by a key backer of the governor – and also could blow up the deal Arizona negotiated nearly two decades ago with Indian tribes. Ducey mulls gambling to help fund teacher raises.
After his unconstitutional Prop. 123 political theater, why does anyone take this fool seriously?
UPDATE: Pres release from the Arizona State Senate Democratic Caucus:
"Senate Democratic leadership requested and has received from the Joint Legislative Budget Committee an updated long-term forecast of Governor Ducey's budget plan based on this month's Finance Advisory Committee revenue forecast. This forecast projects a cash shortfall of $265 million for FY20, increasing to $302 million by FY21. These numbers are in sharp contrast to the governor's claim of a $73 million balance in FY20 and $3 million in FY21."