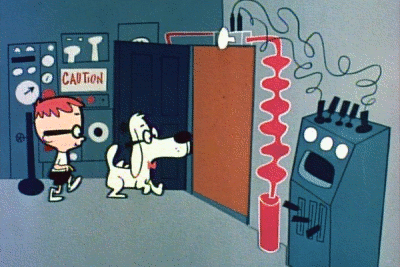 We first have to take a trip in Mr. Peabody's time travel WAYBAC Machine, to 2011 when Arizona's leading anti-immigrant racist, then Senate President Russell Pearce, unsuccessfully tried to prohibit undocumented immigrant children from receiving a public school education, even though it was a violation of  a 1982 Supreme Court decision. Pearce moves to officially ban illegal immigrants from schools, driving:
The president of the state Senate introduced legislation Monday to ban illegal immigrants from state universities and community colleges, make it a crime for them to drive in Arizona and include new public school reporting requirements that could induce the parents of children not here legally to keep them home.
SB 1611 also would put companies that do not use a federal database to check the status of new workers out of business. And it would require cities to evict anyone in public housing who cannot prove legal presence in this country.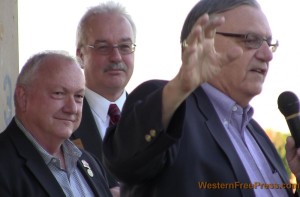 [P]earce said SB 1611 [immigration omnibus bill] is not [directly] challenging a 1982 U.S. Supreme Court ruling which forbids schools from refusing to enroll students who cannot prove they are legal U.S. residents. But he said nothing in the ruling prohibits schools from asking, as long as no student is turned away for failing to provide the documentation.
"We're just counting citizens," Pearce said.
But the effect could be the same.
Under current law, parents need provide only some proof of a child's age, such as a certified copy of a birth certificate. But nothing requires that birth certificate be from the United States.
SB 1611 alters that list, with a parent now having to provide a birth certificate from U.S. states or territories, a U.S. passport, a certificates of naturalization or one of several other documents.
What could make it a deterrent is existing law which says if a parent doesn't provide the document — in this case, one of the new documents — the school is required to notify law enforcement.
The bill never even got out of the Senate that Pearce unbelievably presided over.
Why am I taking this trip down memory lane? First, because nothing has changed in Republcan Party politics over the past 30 years or so, going back to California Gov. Pete Wilson's Proposition 187 (aka the Save Our State (SOS) initiative) in 1994. The cruelty has always been the point.
Second, because the leaked draft opinion of Justice Samuel Alito in the abortion case of Dobbs v. Jackson Women's Health Organization contains extremist and illogical legal reasoning which can be used by the New Right to attack numerous other longstanding Supreme Court precedents in which there has long been a "reliance interest."
I don't care how the draft leaked. That's a sideshow.

What I care about is that a small number of conservative justices, who lied about their plans to the Senate, intend to deprive millions of women of reproductive care.

Codifying Roe isn't enough. We must expand the court.

— Adam Schiff (@RepAdamSchiff) May 4, 2022
In fact, the two-term white Christian Nationalist governor of Texas, Greg Abbott, who engages in as many or more anti-immigrant racist stunts as Arizona Sen. Russell Pearce ever did, recognizes this possibility and is reviving what Sen. Pearce attempted to do more than a decade ago, but he wants to go bigger and get this reactionary radical Republican Supreme Court to actually overturn the 1982 Supreme Court decision.
The New York Times reports, Texas Governor Ready to Challenge Schooling of Migrant Children:
With the Supreme Court signaling a willingness to reverse decades-old precedents like the Roe v. Wade decision on abortion, Gov. Greg Abbott of Texas said on Thursday that he would seek to overturn a 1982 court decision that obligated public schools to educate all children, including undocumented immigrants.
Gov. Abbott's comments opened a new front in his campaign to use his powers as governor to harden Texas against unauthorized migration. And they demonstrated just how expansively some conservatives are thinking when it comes to the kinds of changes to American life that the court's emboldened conservative majority may be willing to allow.
The latest proposal for closing public schools to undocumented children significantly widens the range of precedents up for debate. After a draft opinion that would overturn Roe v. Wade leaked this week, focus had been primarily on other rights that could be legally linked to the 1973 decision, such as access to contraception and same-sex marriage.
Little has changed in the legal landscape surrounding the education of undocumented children since 1982, when the court issued a 5-to-4 decision to strike down a Texas law allowing schools to refuse admission to unauthorized migrant children, legal experts said. Several attempts over the years to chip away at the decision in the case known as Plyler v. Doe have been unsuccessful, including an effort by Alabama more than a decade ago and in California in the 1990s.
"If Abbott is serious about raising a challenge to it, this would be the first time that this has been done in many years," said Preston Huennekens, a spokesman for the Federation for American Immigration Reform, which advocates for limits on both legal and illegal immigration.
What has shifted is the composition of the court and, Gov. Abbott said, the number of new migrants arriving from a diverse range of countries, a situation that he said had placed an "extraordinary" burden on Texas schools. The migrants now arriving speak many different languages, "not just Spanish," he said. The governor said educating undocumented children would soon become "unsustainable and unaffordable" if the federal government lifts its pandemic policy of turning back many migrants at the border, known as Title 42.
Gov. Abbott, a Republican running for a third term, said on Wednesday during a radio interview that he would "resurrect" the Plyler case and "challenge this issue again," though he did not give a time frame for doing so. Asked about his comments at a news conference on Thursday, the governor, a former attorney general of Texas, provided details of his argument.
"The real crux of the challenge would be to say, listen, we are dealing with billions more a year just in education expenses, so you the federal government, it's only because of you, and it's your responsibility to pay for that," Mr. Abbott said.
He added that he would like to see the Supreme Court reverse another precedent, Arizona v. United States, that in 2012 held that authority over immigration enforcement belongs to the federal government and not the states.
"Either the Arizona decision will have to go — giving states full authority to enforce U.S. immigration laws — or Plyler will have to go," Mr. Abbott said, adding he would prefer to see both overturned.
[Gov.] Abbott said recent Supreme Court decisions enforcing the "anti-commandeering" provisions of the U.S. Constitution, which prevent the federal government from imposing coercive duties on the states, would help his case against Plyler. Under that doctrine, he said, Texas could argue that the federal government had improperly commandeered state education resources to pursue its immigration policies.
Record numbers of migrant children, many of whom arrive with little schooling, have created challenges for schools around the country, with districts having to expand bilingual services, transfer teachers and prepare to help students who may have been traumatized in their home countries.
The children of undocumented immigrants have been crucial to maintaining healthy school enrollments in states with shrinking populations of native-born young people, such as Iowa.
But because it is against federal law to record the immigration status of students in school, the number of students in question is not precisely known. An overwhelming majority of children of undocumented migrants were born in the United States and are citizens. Researchers have estimated there are about one million undocumented young people in the country.
Undocumented immigrants are ineligible for many public benefits. And Texas offers fewer than most states.
Edna Yang of American Gateways, an immigration legal services provider in Texas, said that undocumented immigrants in the state qualified for only a small number of benefits, including emergency medical services, food aid for children and public education.
The governor's office has said that the cost of each additional student enrolled in Texas public schools is about $6,100 per year, not including the cost of providing bilingual and special education services, which add more than $2,000 in additional spending.
The last time the state's comptroller studied the issue was in 2006. The report found that while undocumented children cost about $1 billion to educate at the time, unauthorized migration into the state had an overall positive effect on the Texas economy. Mr. Huennekens, of the immigration reform group, said the state's programs for students with limited English proficiency cost more than $7 billion in 2016.
But barring undocumented students could upend the system for everyone, said Zeph Capo, the president of Texas AFT, a teachers' union, who said schools could lose the per-pupil state funding that accompanies those students as well as the additional money sent by the federal government. "All undocumented kids are not all in one school or in one school district," he said. "It's going to hurt everybody."
Attitudes about immigration have shifted in Texas, where former Republican governors like George W. Bush and Rick Perry adopted relatively moderate tones. Gov. Perry, during his term, signed a law allowing undocumented college students access to in-state tuition and financial aid at public universities in Texas.
But taking a hard stance on immigration has been a politically comfortable place for [white Christian Nationalist] Gov. Abbott. He used the issue to beat back challengers in the Republican primary, and has returned to it in his general election contest against Beto O'Rourke, the Democrat and former congressman from El Paso.
The governor has already deployed state police to arrest migrants for trespassing and the National Guard to monitor illegal border crossings; in recent weeks, he has considered formally declaring an "invasion" to seize war powers for Texas.
"I don't consider this a new front," said Thomas A. Saenz, the president and general counsel at the Mexican American Legal Defense and Educational Fund. "I consider his comments to be a desperate dog whistle to bolster his re-election prospects."
The Plyler case grew out of a 1975 law, passed by the Texas Legislature, that barred the allocation of funds for the education of noncitizens and allowed school districts to deny enrollment to unauthorized migrant children.
Under the law, a school district in the East Texas town of Tyler began charging $1,000 in annual tuition for unauthorized migrant children. The move was challenged all the way to the Supreme Court.
The decision was a close one, with the five justices in the majority determining that the Texas law had violated the Equal Protection Clause of the U.S. Constitution. The court found it would cause "lifelong hardship" to the children, who were being punished for the actions of their parents, and concluded that allowing the law to stand could create a "shadow population" whose children would not be in schools. Even the dissenting justices agreed that the Texas law was bad policy.
"I view Plyler v. Doe as among the most significant constitutional decisions in the Supreme Court's history," said Justin Driver, a professor at Yale Law School and the author of a book about public education and the Supreme Court. "That is because the decision succeeded in interring this sort of legislation and keeping it from spreading all around the country."
Mr. Driver noted that Chief Justice John G. Roberts Jr., when he was a legal aide in the Reagan administration, co-wrote a memo faulting the administration for not having strongly supported Texas in the Plyler case. Mr. Driver added that it was not clear whether Chief Justice Roberts held the same view of the case now, four decades later.
But the dissent in the 1982 case echoed the kind of historical and textual reasoning found in Justice Samuel A. Alito Jr.'s leaked draft opinion that would overturn Roe v. Wade. While the justices who dissented did not like the policy, they said the Constitution did not bar a law like the one in Texas and called the court's decision an "unwarranted judicial action."
"We've all been wondering whether, beyond abortion, the Alito draft opinion has implication for other rights — and all of a sudden we have one," said Jeffrey Abramson, a professor of law at the University of Texas at Austin.
Education Week reports, Texas Governor Sparks Backlash With Talk of Rolling Back Free School for Immigrant Kids:
Gov. Greg Abbott has infuriated immigration advocates and educators by suggesting Texas may challenge a longstanding U.S. Supreme Court decision that says states and localities can't bar unauthorized immigrant children from attending public schools.
On Thursday, critics assailed the Republican governor as "hare-brained" and "cruel."
Beto O'Rourke, Abbott's Democratic opponent in the November election, went further.
"He's trying to defund our public schools," O'Rourke said at a news conference in Austin.
Abbott is already underfunding our classrooms by $4,000 per student.

The last thing we need is to have him take our tax dollars out of our kids' schools and send them away to private schools. https://t.co/MThxlULXA0

— Beto O'Rourke (@BetoORourke) May 10, 2022
O'Rourke blasted Abbott for threatening settled constitutional law that has opened K-12 classrooms to all youngsters, regardless of immigration status.
"This is very telling, and I want everybody to pay specific attention to the phrasing of this," O'Rourke said at a news conference at the Texas Capitol. "Governor Abbott is against providing public education to all the children of the state of Texas. Now he's saying out loud what we know he's been working on ever since he became governor — he's trying to defund our public schools." O'Rourke noted that teacher salaries in Texas badly lag those of their counterparts in other states.
* * *
The criticisms followed Abbott's appearance by phone on a San Antonio radio talk show, during which he agreed with the host that the costs of educating a growing number of immigrant children in public schools and in many languages "are extraordinary."
Also, Abbott said "times are different" from four decades ago, when the high court ruled unconstitutional a Texas law that allowed school districts to charge tuition to parents of unauthorized immigrant school children — in effect, a blockade.
Tyler schools sought to impose annual tuition per child of $1,000, the equivalent today of about $5,300.
Other than to say that migrants are entering Texas from 155 countries and speaking many languages, Abbott did not elaborate on what's changed that would persuade the Supreme Court to overrule its 1982 decision in Plyler v. Doe.
* * *
Thomas A. Saenz, president and general counsel of the Mexican American Legal Defense and Educational Fund, or MALDEF, slammed Abbott as an "irresponsible" and "desperate" practitioner of "dog-whistle populism" in the mold of former President Donald Trump.
"First, Abbott needs some remedial education on Plyler itself," Saenz said in a written statement.
"This was a case brought against Texas, not by Texas, as Abbott asserted. The case was filed by MALDEF on behalf of students threatened by a Texas statute allowing schools to exclude undocumented students from public school."
In the four-decade-old ruling, the Supreme Court split 5-4 on declaring the Texas law unconstitutional. But even the four dissenters agreed with the majority that Texas was unwise to pass the law, Saenz noted.
"All of the justices, including then-Associate Justice William Rehnquist, agreed that the Texas law seeking to exclude undocumented children from school was bad public policy," he said.
Asked about Abbott's remarks, White House press secretary Jen Psaki said, "That's ultra-MAGA right there. … Denying public education to kids, including immigrants to this country, I mean, that is not a mainstream point of view."
Abbott's stance, she added, is "way out of the mainstream."
* * *
David Leopold, an immigration attorney and legal adviser to the advocacy group America's Voice, said Abbott has helped build an "anti-immigrant judicial pipeline" [The Texas Pipeline: Texas federal district courts, to the Fifth Circuit, to SCOTUS] and can now "confidently broaden his war on immigrants to a brazen attack on undocumented children," knowing "his judicial challenge to Plyler will land in the courtroom of one of his Republican political allies."
Zeph Capo, president of Texas AFT, a teachers' union, lashed Abbott's remarks as "cruel, small-minded thinking."
"If the governor succeeds, he would be disrupting thousands of Texas school campuses, thrusting them into a world where spiteful adults target children with questions about their legal status," Capo said in a written statement. "Students would face speculation over the color of their skin or their accent, even if they are legal residents."
According to the late University of Houston Law Center professor Michael Olivas, who wrote the 2012 book No Undocumented Child Left Behind, the Texas Legislature held no public hearings in 1975 on the provision letting school districts charge tuition to parents of unauthorized school children.
"Certain border Texas school superintendents had supported the legislation, which was enacted without controversy as a small piece of larger, routine education statutes," Olivas recounted in a 2010 article previewing his book.
Tyler, where the superintendent was James Plyler, had about 60 unauthorized immigrants enrolled out of total student population of about 16,000. Invoking the new state law, Tyler began charging $1,000 annual tuition for each unauthorized immigrant student. According to Olivas, a Catholic lay worker objected to a local lawyer, who with MALDEF filed a case in federal district court on behalf of four families, whom the court allowed to be identified using pseudonyms.
Though the district court judge in 1978 found both the state law and Tyler's policy unconstitutional, as violating the 14th Amendment's equal protection clause, appeals took four years to resolve. The Plyler case and a similar one from Houston went to the U.S. Supreme Court for arguments in 1981.
The next year, five justices affirmed the district court, saying Texas had failed to show its denial of a K-12 education to some children "furthers some substantial state interest." Barring unauthorized immigrant children from school is "an 'ineffectual' means of deterring unlawful immigration, at least when compared to a prohibition against the employment of illegal aliens," said Justice William Brennan, writing for the majority.
Because of "circumstances beyond their control," the unauthorized immigrant children would be accorded second-class status, a "treatment that the 14th Amendment was designed to abolish."
Brennan warned, "The stigma of illiteracy will mark them for the rest of their lives."