The state of California will join the state of Oregon in implementing universal (automatic) voter registration. It's time for voter advocacy groups in Arizona to file a bill in the legislature and to file a ballot measure for universal voter registration in Arizona.
The San Jose Mercury News reports, Gov. Jerry Brown signs 'motor voter' law, voter registration through the DMV: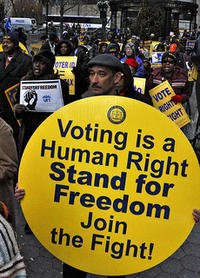 Legislation Gov. Jerry Brown signed Saturday requires California drivers who are eligible to vote to be signed up automatically when they get a new license — a dramatic expansion of voting rights that could grow the state's voter rolls by millions of people.
When Assembly Bill1461 takes effect in January, California will become the second state in the nation to adopt an automatic voter registration system at a time when many states are restricting their citizens' right to vote. Oregon enacted a similar law earlier this year.
Secretary of State Alex Padilla first promised to expand access to the polls last year as a candidate on the campaign trail.
He sponsored the legislation and applauded Brown for taking swift action to help the 6.6 million Californians who are eligible but not yet registered to vote, noting that citizens need not "opt-in" to other fundamental rights such as free speech or due process.
"In a free society, the right to vote is fundamental," Padilla said. "The New Motor Voter Act will make our democracy stronger by removing a key barrier to voting for millions of California citizens."
Under the legislation, which was authored by San Diego Assemblywoman Lorena Gonzalez, a Democrat, Californians who are legal residents and who visit the DMV to apply for, renew or change the address on a driver license would be registered to vote by the Secretary of State's Office.
Voters would still retain the right to cancel their registration or change their party affiliation at any time. The new law also would continue to protect those covered by existing confidentiality policies, such as victims of domestic violence, sexual assault and stalking.
Republican lawmakers voted against the measure, but its only other opponent was the American Civil Liberties Union. Since California's DMV now issues driver's licenses to immigrants who are living in the country illegally, the group fears those drivers will be registered to vote mistakenly, risking their ability to stay in the country. State and federal laws strictly forbid illegal immigrants from voting.
Wow, ACLU. Out of fear that some bureaucrat at the DMV will mistakenly register someone who is DACA/DAPA eligible for a license, and that an ineligible person might cast a vote, you would deny millions of eligible Californians the ability to register to vote automatically and to participate in elections.  I am disappointed in you.
UPDATE: A cursory review of Arizona newspapers and a Google search reveals that this landmark piece of legislation is not being reported in Arizona, other than here, unless you have better luck finding it (provide a link).  Is it just me, or has anyone else noticed how little actual news gets reported in the GOP-friendly news media in Arizona, unless it is to promote GOP candidates or elected officials.