First term Rep. David Stringer, R-Prescott, is under fire after he was filmed saying immigration is an "existential threat" that will change the face of the United States because "there aren't enough white kids to go around." He made the comments Monday at the Yavapai County Republican Men's Forum. The Arizona Capitol Times reports, GOP lawmaker: Not 'enough white kids to go around' in Arizona schools: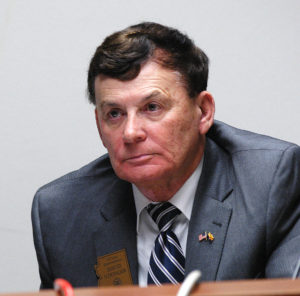 Rep. David Stringer, R-Prescott, said his comment that "there aren't enough white kids to go around" in Arizona's minority-laden public schools was an attempt at an honest discussion on race.
Stringer said today he wants people to hear his full speech rather than the 51-second snippet making the rounds on social media, so he plans to re-post the entire 17-minute video in which he also says immigration is "politically destabilizing" and "presents an existential threat."
He means an "existential threat" to white majority white privilege, and white supremacy.
He said while his comments were well received by people at the June 11 meeting of the Yavapai Republican Men's Forum's, the video recording of his speech was later taken down after he received heat from teachers who felt that his remarks were racist.
"Sixty percent of public school children in the state of Arizona today are minorities. That complicates racial integration because there aren't enough white kids to go around," Stringer said on the video.
"If we don't do something about immigration very, very soon, the demographics of our country will be irrevocably changed and we will be a very different country and we will not be the country you were born into," Stringer said.
GOP code translation: a white majority country.
Stringer's GOP seatmates Rep. Noel Campbell and Sen. Karen Fann also spoke at the event.
The obvious question that all the reporting on this story has not answered: Did Rep. Noel Campbell and Sen. Karen Fann express disapproval and chastise Stringer for his comments? Or did they agree with him? Or did they simply remain silent in the face of audience approval of Stringer's comments from the Yavapai County Republican Men's Forum? Silence is consent. And cowardice. The voters have a right to know.
Stringer said his intent wasn't to make a racially charged statement and while he apologized to anyone [who was] offended [by] his comments — the classic non-apology apology — he said pointing out that 60 percent of students in Arizona's public school are children of color is "not a racist comment, it's a statement of fact."
"I maybe touched a third rail of politics but what I said is accurate," he said. "Anybody that talks about this in this way is shut down and called a racist. I'm speaking the truth. Diversity may be a great thing, there might be a lot of advantages, I'm not arguing against diversity at all, but no country can be demographically transformed without any political or social consequences."
GOP code translation: we're losing our white majority country, and with it white privilege and white supremacy.
He said the country's high level of immigration over a short period of time has "gotten out of hand." He said so many people have immigrated to the United States in the last few decades that there hasn't been enough time for people to assimilate, which can be costly, has led to unrest, and has led to changes in the country's cultural and social identity.
"This is unprecedented in world history. We kind of take it for granted because we see it all around us. But it is unprecedented for one society to demographically change in such a short amount of time," he said.
Again, GOP code translation: we're losing our white majority country, and with it white privilege and white supremacy.
ProgressNow Arizona, a Democratic advocacy group, denounced Stringer's comments. The organization's co-director, Josselyn Berry, said his comments embody Republicans' "true colors," and she described the Republican party as the party of "radicalism, xenophobia, and frankly, racism."
"Stringer's racist and paranoid comments that we must protect the white race or America will be taken over are dangerous, fear mongering and hateful," Berry said in a statement. "That he thinks it's acceptable to attack children in our schools is despicable and he should be ashamed. It should go without saying that all children deserve an education, regardless of their skin color."
Still, Stringer said while his comments may have made some uncomfortable, it's a conversation that needs to be had.
"Race is a difficult issue we have not yet resolved in this country and we should be able to have an honest conversation without being called out as a racist," he said.
Apparently Governor Doug Ducey and the chairman  of the Arizona Republican Party didn't get that memo. GOP leaders call for lawmaker to resign over racial comments:
Gov. Doug Ducey and the chairman of the Arizona Republican Party have called for Rep. David Stringer's resignation following racial statements the Prescott Republican made about immigration.
Jonathan Lines, chairman of the AZGOP, asked that Stringer resign immediately "in light of today's reports" detailing comments he made at the June 11 meeting of the Yavapai Republican Men's Forum in which he said "there aren't enough white kids to go around" in Arizona's minority-laden public schools.
"These words have no place in our party, or in our state," Lines said in a statement today.
In a tweet, Ducey spokesman Daniel Scarpinato said the governor agreed with Lines and supported his call for Stringer's resignation.
Stringer did not immediately respond to a request for comment.
I'm sorry, "these words have no place in our party?" In what alternate universe does this guy live?
Just this week, Congressman Steve King retweeted a self-described 'Nazi sympathizer.' His party did not rebuke him.
Republican Rep. Steve King of Iowa is drawing scrutiny after sharing a social media post from a British white nationalist who has described himself in the past as an admirer of Hitler's Germany and a "Nazi sympathizer."
King, whose racially inflected comments on subjects such as immigration and Western culture have drawn headlines for years, retweeted the British white nationalist Mark Collett, who had shared a statistic from Breitbart News on Tuesday morning about opinions of "mass immigration" in Italy.
"Europe is waking up," King wrote, above Collett's tweet. "Will America … in time?"
King's retweet drew outcry from liberal commentators and websites for its substance, as well as the relative silence of his Republican colleagues in the House. House Speaker Paul D. Ryan (R-Wis.), who has rebuked King in the past, did not immediately return a request for comment sent to his office.
The Republican Party has found itself with a resurgent and increasingly visible extremist wing, empowered in part by Donald Trump's election on a spate of racially charged policies and rhetoric.
Just this week in Virginia, Corey Stewart, who has championed the Confederate flag and called a Republican congressional hopeful known for tweeting racist and anti-Semitic statements a "personal hero," will be the party's nominee to challenge Democratic Sen. Tim Kaine after winning its primary this week. While the National Republican Senatorial Committee sought to distance itself from Stewart, Trump Endorses Corey Stewart, the Alt-Right's Favorite Candidate.
There is also Arthur Jones, a longtime neo-Nazi, who is the Republican nominee for a seat in Congress representing parts of Chicago and its suburbs. Jones ran unopposed in the GOP primary. Holocaust Denier Arthur Jones Wins Illinois GOP Congressional Primary.
There is also Paul Nehlen, an American white supremacist and candidate in the Republican primary for Congress from Wisconsin's 1st congressional district, which is being vacated by House Speaker Paul Ryan. The Huffington Post reported on Nehlen's history of appearing on fascist white power podcasts and making racist and anti-Semitic remarks on social media. Paul Nehlen Is Now The Frontrunner In His GOP Primary, Still A White Supremacist for the August 14 primary.
Note: Arizona's Kelli "Chemtrails" Ward, who is running from the far-right in the GOP primary for U.S. Senate, only belatedly distanced herself from Wisconsin white supremacist Paul Nehlen this week:
Months after a white supremacist in Wisconsin tweeted his support for Arizona U.S. Senate candidate Kelli Ward, she has begun distancing herself from him.
Describing her relations with congressional candidate Paul Nehlen to CNN, Ward acknowledged "our paths crossed a few times," but cited Nehlen's "recent views" for her decision to disavow his support.
Just weeks ago, Ward's campaign would say only that there was "no association" with Nehlen in an interview with The Arizona Republic for a story that noted her more problematic supporters. This week, she elaborated for CNN."Recent views espoused by Nehlen are outrageous and antithetical to my own,"
Ward told CNN in a statement. "Nehlen and other fringe elements who hold similar views have absolutely no place in the Republican Party. I disagree with his statements — none of which have anything to do with me — and remain committed to running a positive campaign to support hardworking Arizonans and help President Trump drain the swamp."
* * *
In 2016, Ward hosted Nehlen on "The Kelli Ward Connection," her radio show on KFNX-AM (1100).
In January 2017, Ward noted it was "great to see" Nehlen at a Washington-area political event [#DeploraBall] and tweeted a photo of them together. On the October day Flake announced he wouldn't seek a second term last year, Nehlen praised Ward as a friend.
Meet the White Nationalist Running for Congress in Pennsylvania, Sean Donahue, running to replace Rep. Lou Barletta (R-PA). Last year, Donahue was convicted of making terroristic threats against a local district attorney.
Shiva Ayyadurai, an Indian American running against Senator Elizabeth Warren in Massachusetts, has made a fast friend of Charlottesville tiki-torch-holder Matt Colligan, who has said repeatedly that "Hitler did nothing wrong." Ayyadurai has also issued campaign pins featuring Groyper, a cartoon toad that's become a white-nationalist symbol. His candidacy occurs in an international context in which far-right, anti-Muslim politicos in India have aligned themselves with Nazism.
The Nation provides information on additional white nationalist candidates.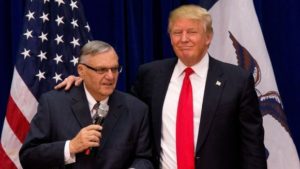 And how are Gov. Doug Ducey and Jonathan Lines, chairman of the Arizona Republican Party, not aware that Arizona's very own star racist, crazy Uncle Joe Arpaio is running in the GOP primary for U.S. Senate? As Huffington Post points out:
[Arpaio] gained national notoriety for terrorizing Maricopa County's Latino population. He unlawfully rounded up and detained people he accused of being in the U.S. illegally, segregating Latino inmates into a jail he called a "concentration camp."  (Some 160 people died in Arpaio's jails, many of them by suicide.)
In a January interview with HuffPost, Arpaio repeatedly refused to condemn the American Free Press, an anti-Semitic publication founded by a Nazi sympathizer that claims the Holocaust never happened. Arpaio has granted five interviews to the American Free Press, most recently in January.
Why have Governor Ducey and Jonathan Lines not condemned Joe Arpaio and insisted that the Arizona GOP disown him? Because he is racist-in-chief Donald Trump's best buddy? Are they cowered by Trump?
As the Arizona Republic's E.J. Montini writes, Sorry, GOP, but Rep. Stringer's racist comments DO have a place in your party. You own them.