Reminder: Today is another #RedForEd Wednesday, wear red in support of Arizona's embattled teachers.
The Arizona Capitol Times reports, Ducey to meet with 'decision makers,' not teachers to talk about salaries: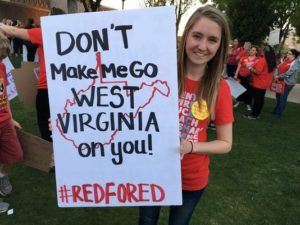 Gov. Doug Ducey won't meet with the leaders of two teacher groups to talk about salaries and related issues even as they are taking the first steps toward a walkout.
The governor's statement comes less than a week after a request by Noah Karvelis of Arizona Educators United and Joe Thomas of the Arizona Education Association "to begin a negotiation process to resolve the #RedForEd demands."
That includes not just the 20-percent salary increase to compete with neighboring states but also restoring education funding levels to where they were a decade ago.
It also comes as Arizona Educators United, a grassroots group of teachers, is working with its member teachers to set a date for walkout to get the attention of Ducey and legislators and show they are serious.
Ducey, in essence, has written off both groups as irrelevant to his own education funding plans.
"We're meeting with the decision makers," the governor said, meaning school superintendents and other officials. "And we're going to continue to meet with the decision makers."
The Arizona Republic adds, Ducey says protesters are 'playing games', as teachers rally outside Phoenix radio station:
As 300 teachers marched on a sidewalk outside a Phoenix radio station on Tuesday, Gov. Doug Ducey — who was on the air inside the station's studio — suggested the problem with teacher pay was largely one of communication.
"I'm just misunderstood!" Riiight.
Ducey, in his monthly interview on KTAR, 92.3 FM, said he has already boosted teacher pay – a whole two percent: one percent a year for 2 years! – and expects to pass a budget to increase it more.
That message was not getting through to teachers being egged on to protest as part of a "political movement," he argued.
"If (teachers) can understand where we are and where we're going to go, not only will they see that we respect them, but we want them to get higher pay," the governor said.
Ducey said he wanted teachers to "understand there is a plan." He said he was "working hard to communicate, so they can see what the plan is."
You don't demonstrate that you "respect" teachers by failing to meet with them, and insisting on only meeting with administrators from school districts. And aren't Republicans always bashing money wasted on "administrators" rather than on classroom spending?
Ducey, in comments to reporters after the on-air interview, said the increase in the amount of money flowing to schools under his watch has been misreported or underreported. He said there had been a 9 percent increase in dollars available for teacher pay since 2015.
Wrong! Arizona Capitol Times fact checks our lying governor:
More than half of that, however, is for new teachers necessary just to stay even with student growth.
There's also the $1.7 billion cumulatively that Ducey said has been added to K-12 funding since he took office in 2015.
But here, too, that reflects money the state is required to add simply to keep pace with inflation and student growth. It also includes more than $300 million a year the state is providing to make up for money illegally taken from schools in the first place in violation of state law requiring annual inflation adjustments.
The Republic adds, "That money is the total compensation for teachers, though, which includes funding for hiring new teachers. Not all of it went to raises."
Ducey also questioned statistics that he said wrongly place the state at or near the bottom in teacher pay.
"We want to make sure they have the proper information," he said. "They can see what's going to happen in the future and the commitment that we have for teacher pay."
Dude, any statistics you use puts Arizona in the bottom tier of states. Whether Arizona is 50th or 46th does not matter. We have an education funding crisis that is the making of years of GOP tax cuts resulting in a structural revenue deficit in Arizona. And because of the "Two-thirds For Taxes" Amendment, Prop. 108 (1992), it is an education funding crisis that cannot easily be resolved.
Ducey not interested in meeting with 'political operatives'
The governor said he would be willing to speak with decision makers to help solve the education funding problem. But, he said, he was not interested in meeting with those involved in the #RedForEd movement.
"What I don't want to do is get into these political operatives' political circus," he said on the air during the "Mac and Gaydos" show.
Ducey said the organizers of #RedForEd, on the day of their first protest "endorsed my potential political opponent for governor.
"Why would I sit down with someone who wants to play games?" he said.
After the interview, Ducey clarified. He said the #RedForEd movement was being led by a political operative, seeming to reference Noah Karvelis, a 23-year-old music teacher in Tolleson.
Karvelis is the campaign manager for Kathy Hoffman, a Democrat running for Superintendent of Public Instruction.
#RedForEd (also known as Arizona Educators United) is nonpartisan and leaders have said it will not endorse any political candidates.
On the first day of the #RedForEd protest, the president of the Arizona Education Association, Joe Thomas, held a news conference endorsing David Garcia, who is running as a Democrat for governor.
Ducey seemed to conflate the two. (Because he's uninformed and indifferent).
Representatives for the teachers' union and the #RedForEd movement said the announcements were coincidental and entirely separate from the other.
Neither Karvelis nor Hoffman was at the news conference where the AEA endorsed Garcia.
'Our kids deserve funding'
Outside the radio station Tuesday, teachers — who have said they are planning a "long-term" school walkout —paused their marching to listen to the governor's interview. There were some sarcastic laughs at Ducey's answers.
The self-described "Education Governor" has become a cartoonish parody of himself, he is a running gag joke.
Some shook their heads in disapproval when they heard the governor's remarks that much of the movement has been spurred by political operatives.
"This is not a political circus," said Lise Spangenthal, a teacher in the Tempe Elementary School District as she listened to the interview through her cell phone.
"This is a bipartisan movement that is trying to get things settled for our kids, who deserve way better than what they're getting right now," she said.
Preparing for a 'long-term walkout'
The teachers' latest protest comes as parents, educators, school boards and superintendents are preparing for a likely teacher walkout.
Organizers told educators through the Arizona Educators United about their intention to set a date for what they said would be a "long-term walkout" in a video message posted on the group's private Facebook page Monday. The page has more than 42,000 members.
Organizers urged teachers to work to get their school boards and superintendents on board.
"We are still focused on the walk-ins right now," said Noah Karvelis, a teacher and AEU organizer, "but clearly we need escalated action to have our voices heard by our legislators and governor."
Wednesday, educators in more than 1,000 Arizona public schools are expected to participate in non-disruptive, #RedForEd "walk-in" demonstrations organizers said are intended to build support from parents and school administrators.
The Republic further reports, Arizona teachers plan walkout; date to be announced: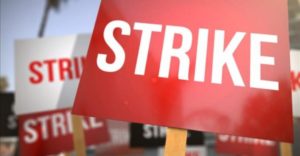 Late Monday, organizers with Arizona Educators United, the teacher-led grass-roots group that launched the state's #RedForEd movement, said they will move forward with a walkout.
Organizers and teacher Derek Harris in a Facebook video to educators said the group did not have a date set. Harris told members to prepare for "a long-term walkout" and said teachers should work on getting their school boards and superintendents on board.
"We are still focused on the walk-ins right now," said Noah Karvelis, a teacher and AEU organizer, "but clearly we need escalated action to have our voices heard by our legislators and governor."
Will Arizona teachers walk out next?
Teachers and their supporters have discussed the possibility of staging a walkout since the #RedForEd movement spontaneously erupted in early March.
But Monday was the first time organizers said they will walk out.
Arizona is following West Virginia and Oklahoma, where teachers have publicly revolted over the low pay that ranks them among the worst compensated in the nation and years of cuts to education funding following the recession.
Since early March, Arizona educators have swarmed the state Capitol in protest and threatened to walk out if Gov. Doug Ducey and the Legislature don't act on their demands for pay raises and the restoration of $1 billion in education funding cuts.
Frustration from teachers
The push from teachers for a walkout seemed to grow following the March 21 teacher sickout that closed nine West Valley schools, and again after Oklahoma teachers first walked out on April 2.
Some educators on the private Arizona Educators United Facebook page said they were ready to take action. Some seemed frustrated over what they felt was a lack of direction by group organizers or at the thought of potentially losing momentum.
* * *
Rebecca Garelli, an AEU organizer and teacher in Phoenix's Alhambra Elementary School District, told the Facebook group in a March 21 video that Arizona teachers were not yet ready to walk out at that time.
"If we want lasting change to happen, we cannot just pull the trigger," Garelli said. "It takes careful and adequate planning. We have to create a visual presence. We have to invite our communities to come and learn about what we're fighting for."
In the past week, educators have planned walk-in demonstrations and gatherings with parents and community members to make signs and write messages with red paint on their cars calling for more school funding.
Garelli, who participated in the 2012 Chicago teachers' union strike, told The Arizona Republic the effort to build community support is working.
"The awareness is finally there. It took us that long to really make ourselves known and make our force known," Garelli said. "But I feel like the public is finally catching on."
Acting with urgency
Organizers have acknowledged their window for action is narrowing.
"I think the time is now," Garelli said.
The Legislature is expected to adjourn its session in the next few weeks and is already in the midst of budget negotiations.
And the academic school year ends in less than two months.
But state testing throws a wrench into the timing because organizers have said they do not want to interfere with students' exams. Throughout April, students are taking AzMERIT, the state's standardized test that determines high-stakes school letter grades.
* * *
Superintendents are preparing
The state's school leaders have mostly been silent about the educator movement.
Mark Joraanstad, executive director of Arizona School Administrators, said administrators are hoping teachers don't walk out of classrooms and that state lawmakers resolve the issue.
But behind the scenes, superintendents are discussing the logistics of a work stoppage.
They've been meeting among themselves and talking to lawyers and school leaders in Oklahoma and West Virginia, to figure out their legal options surrounding the likely possibility of teachers not accurately reporting their reasons for missing work.
They are also determining how many days they'd be willing to support a teacher walkout.
Joraanstad said he doesn't know of any superintendents who oppose the #RedForEd movement, adding that most superintendents are "very sympathetic" about educators' frustrations over underfunded schools.
Among the pressing questions for school leaders is whether they would continue to pay classified staffers, such as bus drivers and cafeteria workers, during a walkout. These employees are paid hourly wages dependent on normal school operations and are likely to "really depend on their paychecks," Joraanstad said.
Another factor school superintendents are weighing is whether they would have to reschedule missed time to meet the state's requirements for instructional hours.
For example, If enough Mesa teachers called in sick to close the district, Mesa Education Association President Joshua Buckley said students would likely have to make up the days missed at the end of the school year.
"We're trying to figure out what it's going to look like," Buckley told The Arizona Republic.
The Governor and GOP legislative leaders are likely to announce their budget soon, so we will have hard numbers from which embattled teachers can make a informed decision whether and when to strike.