Governor Ducey delivered his State of the State address this week. It was full of platitudes and lofty goals about public education, but woefully short on any substance and specifics. Lynda Lyon covered the address here, They can have their own opinions, but not their own facts, and our colleague David Safier covered the address at Tucson Weekly's The Range. Ducey 'Next Step' Watch: Day 237—Talk Is Cheap Edition. Ducey's Funding-Lite, Destructive Education Proposals.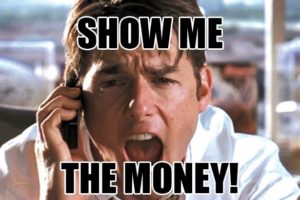 Democrats, education advocates, and editorial boards applauded the governor's "modest" education proposals (the media is redefining "largely symbolic" as "modest" to put a positive spin on what in actuality is a middle-finger from the governor).
The unanswered question was "how does he intend to pay for it?" Our View: Ducey gave a good speech, but where's the money? In other words, the governor faced a Jerry Maguire test: "Show me the money!"
The answer came with the governor's proposed budget on Friday: largely symbolic increases in education funding and moving pots of money around (robbing Peter to pay Paul), based upon the governor's office unrealistic revenue assumptions (Ducey is a true believer in the false religion of faith based supply-side "trickle down" economics), and no new taxes for additional sources of revenue. Governor Ducey failed the Jerry Maguire test.
The highlights of the budget below are cobbled together from reporting by the Arizona Capitol Times, Howard Fischer at CapitolMedia Services, and The Arizona Republic.
Following Ducey's State of the State, the biggest question circulating at the Capitol was how the governor planned to pay for what sounded like an expensive and ambitious agenda, given that the Joint Legislative Budget Committee had estimated only $24 million in additional revenue for new spending.
The governor's budget anticipates a little over $90 million that's available to spend in FY2018 while keeping the state's spending plan structurally balanced. That's roughly $70 million compared to JLBC's earlier estimate of $24 million.
[Note: The governor's office has for years projected higher estimates than the conservative estimates from the JLBC. Governor Ducey, in particular, believes in the trickle-down fairy.]
Howard Fischer adds some context:
[A]fter accounting for one-time expenditures, Ducey's $9.78 billion budget for the new fiscal year is just a 1.8 percent increase. That's less than what would be normal spending growth just to keep pace with inflation and population growth.
Factoring for inflation,  the initial FY2007 budget would be closer to $11.2 billion today. The governor's FY2018 budget is well below that mark. This is not just an "austerity" budget, it is a Grover Norquist "starve the beast" budget that locks in the draconian budget cuts over the past decade. In reality, the governor is not restoring budget cuts with any "new money" as some in the media have inaccurately suggested.
The Arizona Republic adds additional context:
The nonpartisan Joint Legislative Budget Committee expects Arizona's budget will reach $10.5 billion in 2020, suggesting the growing state will continue to offer less to its residents long after the funding crisis has ended. And Arizona has added more than 500,000 residents just since 2010, meaning leaner budgets have provided services to a state that has grown by more than 8 percent.
At a time when Arizona has huge unmet needs in basic government services, our GOP governor and legislature are refusing their duty under the Arizona Constitution to meet these needs, because of their anti-tax, anti-government ideology.
Ducey's budget includes $76 million in baseline funding for K-12 schools to keep up with inflation and student growth, along with $318 million from Proposition 123. But it comes with strings attached …
The largest chunk of new K-12 spending will go toward a "results-based funding" proposal that would increase per-pupil funding for high-performing schools. Ducey wants $38 million for the program, in which schools whose AzMerit test scores in the top 10 statewide would receive an additional $225 per student, with the number jumping to $400 for low-income schools where at least 60 percent of students are receiving free or reduced-price lunches. District schools currently receive $3,681 per student.
The Arizona Republic adds:
The Arizona Schools Now coalition, which is pushing for a sustainable, substantive boost in education funding, says K-12 spending today has only recovered 18 percent from what it was prerecession. A lawsuit settled last year by Prop. 123 gave the schools [only] 70 percent of the interest they were shorted during the lean years, but the $3.5 billion from the measure doesn't help baseline spending.
Karen McLaughlin, director of budget and research for the Children's Action Alliance, which advocates for family issues such as health, education and security, sees little progress.
"Revenues have not returned (to prior levels). State-agency budgets in total are $970 million lower than they were before the recession," she said. "Universities have been decimated. Community colleges have been cut. We have a long way to go."
Ducey is proposing a two-percent pay raise for teachers that would be phased in over five years. Ducey budgeted $13.6 million for the first phase of that pay hike in FY2018, and it's estimated to cost $68 million per year once fully implemented.
The media calls this pay increase a "modest" proposal. In reality it is a middle-finger to Arizona teachers who are already among the lowest paid teachers in the nation. As Howard Fischer points out:
The governor's big promise during his State of the State speech earlier this week of "recognizing and rewarding the work of our teachers" would produce just $13.6 million this coming year.
The National Education Association puts the average teacher salary in Arizona at $45,477 a year, the lowest in the nation. With close to 60,000 teachers in the state, that first-year funding comes out to just $225 per teacher.
Laurie Roberts of The Arizona Republic correctly points out that this is less than 50 cents a day — even before taxes and factoring for inflation. Is Ducey joking? A 4/10th's of a percent pay raise for teachers? Are you "feeling the love," Arizona teachers?
Ducey is also proposing $6.4 million to give $1,000 signing bonuses to teachers who agree to teach at low-income schools.
Ducey proposed $10 million for full-day kindergarten funding in FY2018, which would go only to schools where at least 90 percent of students are eligible for free or reduced lunches. The funding would jump to $20 million in FY2019 and beyond.
Again, this comes with a caveat …
However, the Governor's Office said the funding does not necessarily have to be used for kindergarten, and can instead go toward other literacy programs aimed at boosting reading levels. And while the full-day kindergarten coalition has advocated for a five-year phase-in of the program, the Ducey administration is not committing to expanding kindergarten in future budgets.
***
Ducey is also proposing a one-time appropriation of $20 million to aid schools where enrollment fell below budgeted estimates. Another one-time appropriation of $17 million would go to the School Facilities Board for school building renewal projects. That money would be used for existing facilities.
Howard Fischer adds some context:
Ducey is putting just $17 million is funding for construction of new schools statewide and repairs to existing ones.
Lawmakers assumed that responsibility after the Supreme Court ruled more than two decades ago that leaving that to local taxpayers resulted in gross inequities.
[T]he Arizona Center for Law in the Public Interest, which got that historic 1994 ruling voiding the state's school financing scheme, is weighing whether to challenge the system as again being so out of balance to be unconstitutional.
The Arizona Republic adds:
The School Facilities Board, which provides maintenance support for schools, received $186 million less in the current budget than it did a decade earlier. None of the state's largest agencies suffered a deeper cut than the 45 percent decline there.
[House Speaker J.D. Mesnard] wants to see some money directed toward school construction and repairs, which have gone unattended for years. The Arizona Center for Law in the Public Interest has been threatening a lawsuit on the lack of funding for more than a year, and many are expecting it to hit this year unless the Legislature takes action.
BOOM! goes the governor's budget.  And we will have another constitutional crisis on our hands with a GOP governor and legislature who defy the courts and refuse to perform their constitutional duty to adequately fund public education because of their anti-tax, anti-government ideology.
The state's three public universities have seen the biggest drop in cash support from the state since 2007, $247 million less from the general fund, according to JLBC figures. That amounts to a 26 percent cut, some of which has been offset by increased tuition costs for students and their families.
Governor Ducey wants to redirect $37 million in transaction privilege taxes paid by the universities back to them, $30 million of which, along with a match from the universities, would enable higher education officials to issue up $1 billion in bonding capacity for research and development facilities and deferred maintenance projects.
The new money would free up resources that the universities would be able to use for other projects. Ducey wants the other $7 million in TPT, which would come from local governments' portion of state-shared revenue, to go toward general operating expenses for universities.
And there it is: the GOP budget gimmick of robbing Peter to pay Paul by moving around pots of money. Howard Fisher points out:
[I]t also comes at a $7 million loss in sales taxes to cities where the universities are located.
***
Sen. Steve Farley, D-Tucson, pointed out something else: About $89 million of what the governor is calling new spending actually is coming from shifting gasoline taxes and vehicle registration fees from the account that otherwise would fund road construction and repair.
[T]here is a one-time $15 million no-strings-attached appropriation that the universities can use for whatever they believe are priorities (nowhere near close to the $99 million Ducey cut in his first term.)
And part of this university funding will be redirected to advance a pet project of our "Glorious Leader" (like the bogus freedom schools aimed at advancing free-enterprise ideals at Arizona State University and University of Arizona from last year):
One project that the new money could potentially open the door for is Ducey's proposal for an Arizona Teachers' Academy. Ducey touted the academy as a tuition-free institution where people could be trained to become teachers and graduate debt-free.
The Ducey administration is leaving it up to the state's universities and community college to figure out the details. Among the possible requirements for students in the academy would their commitment to teach in Arizona schools for an as-yet unspecified period of time. Ducey wants the new academy to be in place by fall of 2018.
The governor also has directed the universities to provide scholarships to those who are willing to teach for at least four years. But Ducey's budget includes no new money for what that would cost the schools.
There are revenue-side time bombs out there that Governor Ducey failed to address, which would blow up his budget. One is the headlong rush of Tea-Publicans in Congress to repeal the Affordable Care Act aka Obamacare this month without any replacement plan.
This year, the insurance-premium tax is expected to bring in $516 million, enough to overtake corporate income as the third-largest source of state revenue. Over the past three years, it has risen 28 percent.
Even so, the outlook for the insurance-premium tax may be getting hazier.
The bulk of the increase in revenues from insurance is due to the Medicaid expansion as part the federal health-care overhaul, known as the Affordable Care Act. Trump and the Republican leadership in Washington have vowed to repeal that system, though the timetable for this is unclear and the promised replacement is unknown.
The JLBC ran through four scenarios, gauging their effect on health-care coverage in Arizona and their budget cost. In all cases, the state's general-fund revenues would shrink. At one extreme, the general fund would fall $97 million if Medicaid coverage were dropped for 550,000 residents. At the other end, the general fund would lose $1.4 billion to keep coverage untouched.
Governor Ducey also did not address his position on renewing Prop. 301 education funding in 2020. The Arizona Republic reports:
Proposition 301, which has added 0.6 percent to the state's sales tax, is set to expire in mid-2020. Stakeholders in business and education have been working on plans for a long-term solution that could renew that tax or broadly remake the way K-12 schools are funded.
It is going to be a tough sell.
According to the nonpartisan Tax Foundation, Arizona had the 11th-highest local and state sales-tax rate in the nation in 2016.
However these changes unfold, Arizonans can probably expect more state-budget volatility.
The claim of limited tax revenue is self-inflicted, due to a series of tax breaks approved over the past 24 years. The result is that corporate income tax collections, which were $571 million last year, will be less than half that much by 2020.
The Arizona Republic reports:
A decade ago, corporate income-tax collections approached $1 billion annually. This year, the state expects to take in about $454 million. Tax cuts enacted in years past will shave nearly $100 million from corporate returns and even more in the years to come, according to the JLBC.
While corporate income-tax revenue has plummeted, other revenue sources have helped stabilize the general fund.
For three years ending in 2013, the state charged an extra penny on its sales tax, which raised about $900 million annually. It helped bridge the worst of the downturn and voters long ago rejected extending that tax.
Governor Ducey led the effort to defeat Prop. 204 in 2014 to extend that one cent sales tax dedicated to education. "I think it's a rejection of a bad idea and a bad tax," said state Treasurer Doug Ducey, who led the anti-Prop.204 coalition.
Ducey convinced voters last year to boost payments from the state's land-trust fund for 10 years with nearly all of the extra money going to public K-12 education. That is expected to pour $3.5 billion into education over a decade without raising taxes on most residents.
Individual income-tax collections fell off sharply when the downturn began, in part because they reflect the capital gains from investment and real-estate markets. But they have largely rebounded.
In fiscal 2007, for example, the state collected $3.7 billion from individual taxpayers. By 2010, that had fallen to $2.4 billion. By 2015, the state collected more income tax than it had before the crash. The tax collections continue to grow, though more slowly.
* * *
And Ducey has not backed off his campaign goal of reducing the state's individual income-tax rate to as close to zero as possible. He didn't mention it during his State of the State speech on Monday, but it could represent another major shift in the budget at some point.
The income tax is expected to bring in more than $4 billion this year and represents about 40 percent of the general fund.
This is a $4 billion structural revenue deficit hole that Governor Ducey dreams about at night. And it would effectively become permanent because of the GOP's weapon of mass destruction, Prop. 108 (1992), the "Two-thirds for Taxes" Amendment.
This year the governor proposed a small tax cut, about $2.8 million, by indexing the amount of the standard deduction on Arizona's personal income tax form. But this is still adding to the state's structural revenue deficit hole. And there are other legislative tax cut proposals circulating that could do more harm if enacted.