The Arizona Republic reports that Arizona's explosion of COVID-19 cases since Governor Ducey falsely claimed that the state was on the downward-side of the curve (Arizona did not meet any of the White House Guidelines for reopening the economy) when he reopened the economy in mid-May, has forced the governor to backtrack on reopening. Arizona Gov. Ducey orders bars, gyms and theaters to close at 8 p.m. tonight; large gatherings restricted, school start delayed:
Facing mounting pressure to respond to Arizona's ballooning COVID-19 numbers, Gov. Doug Ducey on Monday announced he would again shut down bars, gyms and theaters in Arizona.
His forthcoming executive order, which also will cover water parks and tubing, is expected to take effect at 8 p.m. It will not affect churches or restaurants. WTF?!
"I think we saw the photos and videos of some of the things that were happening around our state this weekend (at bars and clubs), and the result of that (type of activity) has been an increase in the spread," the Republican leader said at an afternoon briefing.
"With this targeted approach, we know that we can pump the brakes."
Ducey said the state's "aspirational goal" was to have the COVID-19 situation sufficiently under control to allow those establishments to reopen in 30 days.
The governor also announced limits on large gatherings, saying those involving 50 or more people would be prohibited. And he said the first day of in-person instruction for K-12 schools would be delayed until at least Aug. 17.
Arizona has confirmed more than 74,000 cases of COVID-19 to date, with more than 3,000 new cases reported on five of the past seven days. As of Sunday, 84% of current inpatient beds and 88% of ICU beds were in use for COVID-19 and other patients.
The Republic's E.J. Montini is right, Ducey is in over his head and Gov. Doug Ducey is not up to dealing with COVID-19, Arizona. You're on your own (excerpt):
Gov. Doug Ducey is in over his head.
It's not his fault. He got into politics with the idea that he could run state government like a business, and voters fell for it.
And who knows, maybe it would have worked if there were no actual crisis to face. If nothing came along that put people's lives at risk.
But the coronavirus pandemic did come along. And dealing with a health crisis is not like running a business.
And Ducey has not been up to the task.
And he hasn't surrounded himself with people who can deal with it.
We're setting the worst kind of records
Instead he has followed the disastrous example of President Donald Trump in dealing with it.
And so we've gone from the governor's claim in May that we are "clearly on the other side of this pandemic."
To his claim earlier this month that "we are not in a crisis situation."
And a record 3,858 cases reported Sunday.
And the governor was STILL saying, "This is not another executive order to post. This is not about closing businesses. This is about public education and personal responsibility."
It's about responsibility all right. But government responsibility, and its failure to act.
Even now.
We need a governor, not a businessman
That didn't happen here.
It's still not happening to any meaningful degree in most states, including ours. And there is no overarching federal plan. The governor is trying to remain upbeat, tweeting:
Fine. But the plan should be reducing the number of individuals who need care. The need is for a strategy that might keep a state like Arizona, with one-seventh the population of a place like South Korea, from having 60,000 more COVID-19 cases and 1,200 more deaths.
And we're getting to the point where hospitals here are so over-taxed that a kind of a scorecard may need to be used to see who gets life-saving treatment and who doesn't.
California has reinstituted some closures in order to slow its virus spread. Arizona should have done that weeks ago. And more.
Gov. Ducey tried to please Donald Trump and to please elements of the business community by opening up the state when they wanted it to open. When you run for governor as a businessman looking to run the state like a business, he must have figured that's what you do.
It has been a disaster.
We don't need a businessman now.
We need a governor.
Until we get one, you're on your own. We are all on our own.
This is a developing story.
UPDATE: Dr. Cara Christ, the Arizona Department of Health Services director, declared on Monday that hospitals could activate "crisis care standards" (i.e., triage) that guide the allocation of scarce resources to patients based on factors such as their likelihood for survival. Arizona hospitals can start activating 'crisis care' standards due to COVID-19 surge:
The announcement was met with criticism by advocates for people with disabilities who say the state's current Crisis Standards of Care could result in discriminatory denial of life-saving health care during the COVID-19 pandemic.
Disability advocacy groups, including the Arizona Center for Disability Law, the Arc of Arizona and the Arizona Center for Law in the Public Interest, say the state's crisis standards need to explicitly prohibit making health care decisions based on disability, perceived quality of life, age, underlying conditions and a person's need for disability-related accommodations.
The advocates said in a written statement Monday that earlier this year they asked the Arizona Department of Health Services to clarify language in the crisis standards, but that nothing changed.
Activating crisis standards of care would, among other things, protect hospitals from legal liability for triaging patients, according to a set of guidelines that take into account a person's likelihood of survival, the extent of their sickness and other factors.
Decisions on who to treat or not treat happen when there are not sufficient resources to take care of all patients. A scenario of overrunning hospital capacity is what many feared could happen if places did not successfully slow the spread of COVID-19.
Christ's decision to activate crisis standards of care comes after a Friday recommendation from the State Disaster Medical Advisory Committee, a group of health care experts that comes together to make plans for care and use of scarce medical resources during public health emergencies.
Christ said the goal was to address space, staff and resource constraints within hospitals and to prepare for hospitals to surge and activate full staffing. She said it also gives health care workers some liability protection. In crisis mode, elective surgeries will be paused except essential procedures that do not impact the care of other patients.
"It gives the hospitals a framework that allows them to determine if they do get short of resources, how they can allocate those," Christ said. "Not all of our hospitals actually meet crisis standards of care just yet, so it was a proactive step by our hospitals."
* * *
A petition dated Monday and signed by more than 1,000 Arizona medical providers asked state leaders to allow for "crisis care standards" and to reinstate a stay-at-home order that expired in May.
Crisis care is "something that most of us, when choosing our career, thought we would never be doing," the letter says.
Cases and hospitalizations of COVID-19 patients in Arizona have been spiking in recent weeks.
Phoenix family physician Dr. Christine Severance, who authored the petition, collected 1,064 signatures from physicians, nurses, physician assistants and pharmacists in less than 24 hours, she told The Arizona Republic on Monday.
"Historically, our use of crisis care standards in the United States has been limited to terrorist attacks, mass shootings, battlegrounds, and aviation accidents," it says. "What pains us most is that this was avoidable."
The letter, addressed to Ducey and Christ, says that when Ducey lifted the executive stay-at-home order he did it without a "staged re-opening," which meant people "returned to crowded bars and restaurants, had large social gatherings, and did not wear masks."
The letter says that health providers are now "forced to operate in crisis mode, placing a huge strain on an already stressed hospital system. … Families will lose loved ones. Difficult choices will be made, and there will be untold emotional and mental consequences for every healthcare worker on the front lines."
The letter asks that Arizona leaders:
Reinstate the stay-at-home order and enforce it.
Close bars and nightclubs.
Limit restaurants to take-out only and require transparency regarding employees testing positive for COVID-19.
Mandate masks statewide and communicate concrete consequences for those refusing to wear masks in public.
Increase testing capacity.
Expand contact tracing.
Enforce quarantine for those with suspected or confirmed COVID-19.
Ducey did not reinstate the stay-at-home order on Monday, but did issue additional, new restrictions for Arizonans, including the closure of bars, gyms, movie theaters, water parks and tubing for one month beginning at 8 p.m. Monday.
Reached after the news briefing, Severance said that while Ducey's latest restrictions were a step in the right direction, Arizona still needs stricter guidelines. Reinstating the stay-at-home order would have been a better option, she said.
"Just given the resistance to wearing masks and avoiding social gatherings, I kind of feel people need rules in place," she said.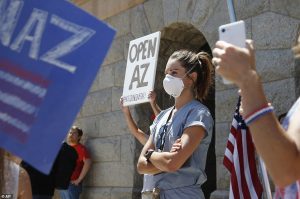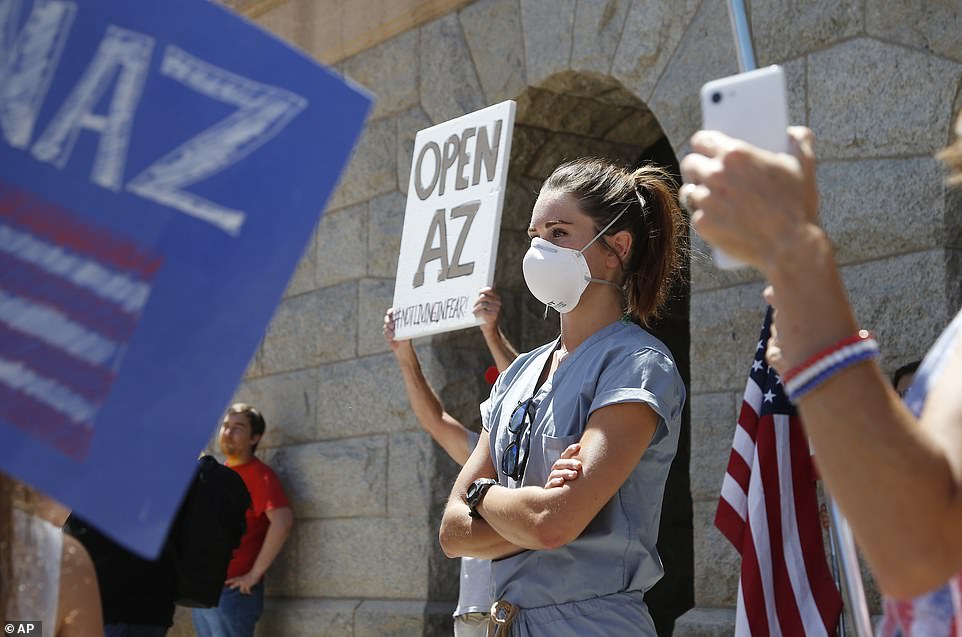 "I think we're past the point of education. I think we've tried to educate people until we're blue in the face, and some just refuse to believe it or refuse to do the right thing. That's why we felt that a stay-at-home order was the answer."
Severance said she is hoping the public takes into account the extreme strain on health care workers.
She pointed to ongoing reporting by Kaiser Health News and The Guardian that has identified 703 U.S. health care workers who likely died of COVID-19 after helping patients during the pandemic.
"We're asking the front line workers to make a tremendous sacrifice and I think it needs to be recognized," Severance said.
What does crisis care look like?
For crisis care to take place in hospitals statewide, the state health department would have to activate a plan it developed for this scenario back in mid-April. The plan was created by medical representatives from hospitals statewide as part of the health department's broader preexisting crisis care guidelines.
A document provides a plan for how hospitals will allocate scare resources for treating COVID-19 patients if that becomes necessary.
The April COVID-19-specific plan was an addendum to a broader plan regarding crisis standards of care in general.
Hospital systems across the state intended to collaborate so that no hospital would reach crisis care unless all do. If all hospitals face scare resources or a lack of time to collaborate, ADHS would coordinate and call for statewide crisis care.
The plan outlines "statewide triage protocols for acute care facilities." If there are not enough resources, patients will be individually assessed to decide how to divvy up treatment.
The plan says no one will be denied care based on "stereotypes, assumptions about any person's quality of life, or judgement about a person's 'worth' based on the presence or absence of disabilities. All patients, regardless of resource availability, will be treated with respect, care, and compassion.
"Triage decisions will be made without regard to basis of race, ethnicity, color, national origin, religion, sex, disability, veteran status, age, genetic information, sexual orientation, gender identity, quality of life, or any other ethically irrelevant criteria."
Patients would be given scores based on a range of criteria and ranked for highest, intermediate and lowest priority for critical care resources. Those initial scores would be based on years the individual may live after treatment and underlying conditions.
Then, if two or more patients need one resource, these additional factors may be considered as priorities, in the following order:
Pediatric patients under the age of 18.
First responders or frontline health care workers.
Single caretakers for minors or dependent adults.
Pregnant women.
Younger individuals.
Triage scores would be recalculated daily for hospitalized patients based on their condition, according to the plan.
State could consider crisis standards
An update sent Friday to members of the Arizona Hospital and Healthcare Association said the State Disaster Medical Advisory Committee met to discuss activating contingency and crisis standards of care. When the committee is activated for a disaster response, it serves as the statewide policy group for the Health Emergency Operating Center, which is managed by the state health department.
"After much discussion, the committee agreed that most, if not all, hospitals are currently operating under crisis standards of care and recommended that the Arizona Department of Health Services declare this to be the case," the association's update said.
"Moving to crisis standards of care will allow consideration of regulatory waivers as well as additional liability protections. A decision on activation is expected to be made within the next few days."
Will Humble, the executive director of the Arizona Public Health Association and a former director of the state health department, said officially activating these standards would protect hospitals from liability while acknowledging that the state's hospitals are at this point of needing such protection because they need to triage patients.
"It's the only time that this has happened in my lifetime. I mean they used it in Vietnam, and they use it in war. But for civilian purposes, I can't think of a time when this has been implemented," Humble said.
Most doctors and health care providers don't expect that this is how they will have to treat patients at any time, unless perhaps they are front-line military providers, he said.
Humble recalled times, such as during H1N1, when hospitals were given some regulatory reliefs or waivers of parts of the administrative code.
"I think it's really important for everybody to know about this," Humble said. "It's the reality. It's what's coming. And it's a result of the decisions that have been made. This isn't bad luck."
Dr. Marjorie Bessel, chief clinical officer for Banner Health, which is the state's largest health system, said it's up to the state to make a declaration of crisis care standards.
Some of the indicators for crisis care are already happening inside Banner Health in Arizona, including having two patients per room instead of one, pausing elective surgeries and bringing in outside labor to help with increased patient capacity.
In light of the additional patients, Banner Health has started to "really focus on maximizing our space," Bessel said.
"The (Arizona) Crisis Standards of Care is a plan that was written years ago, way before the pandemic, to be available for use at the state level, for those of us in health care delivery if needed."
"This is something that the state would declare. So I'm hopeful that when that happens, that information and declaration will come from them. … I'm hopeful that the state will inform and educate on this."