During a radio interview Monday evening, Governor Doug Ducey said he will ask lawmakers to adopt a law that would allow courts to take guns away from people who are violent or mentally ill. With backing of Governor Ducey, Arizona could be on verge of stricter gun laws: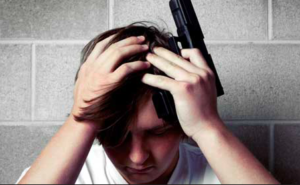 Citing the massacre in Florida and other recent mass shootings, Ducey said parents and police need a tool so they can ask a judge to intervene in cases where a person has shown signs that they are a danger to others.
"If we can prevent it and use the power of the office and the law… that's what we're going to do and I intend to do it," Ducey said during the interview on KTAR (92.3 FM). "I think we need to act in those situations."
The interview came after governor held nine meetings last week about the issue. He met with lawmakers, educators, prosecutors, students and other groups to hear their ideas about how to improve school safety after the shooting at a high school in Parkland, Florida, that killed 17 people.
Legislation Ducey described Monday could be part of a compromise proposal.
Well, governor, do your research. You do not have to reinvent the wheel because there already is model legislation from other states that addresses this issue.
In 1999, Connecticut became the first state to pass a law that allows police to preemptively remove firearms from persons deemed at risk of causing serious injury to others or self. The statute, C.G.S. § 29-38c, authorizes time-limited gun removal (for up to one year) under a civil court "risk warrant" process based on probable cause, even if the person of concern has no record of a gun-disqualifying mental health or criminal adjudication.
Duke University sociologist Jeffrey Swanson writes, Risk Warrants: A New Tool For Keeping Guns Out Of Dangerous Hands:
In the outrage over yet another tragic school shooting, most lawmakers continue to offer divisive policy choices: either curtail access to firearms or allow more guns in more places. We believe a new policy called "risk warrants" could help break through this political paralysis.
Nearly everyone, including President Donald Trump and the NRA, seems to agree that people at genuine risk of harming themselves or others should not have guns. Background checks alone will never fix this problem, because background checks catch only a fraction of the people who truly pose a risk. That's why bipartisan support is growing for laws authorizing judges to issue "risk warrants" — also called "gun violence restraining orders" or "extreme risk protective orders" — that temporarily remove firearms from those at risk of harming someone.
In gun policy debates, risky people who should not possess guns are often called "the mentally ill." This phrase – used by all sides — is highly misleading, however. Forty million Americans have diagnosable mental health conditions yet pose no danger to anyone. Disqualifying all those people from gun ownership would be ineffective, unfair and stigmatizing. It would also exclude large numbers of people who are not mentally ill, but who do pose a danger.
Most mass shooters have no histories of treatment for mental illness. However, many have exhibited extreme anger, loss of control and other behaviors that worried their families, co-workers, teachers or neighbors. We need laws allowing citizens to bring concerns about a person's dangerous behaviors to the attention of law enforcement, who can then seek a judicial order temporarily restricting the person's access to firearms. Such laws allow orders to be issued when evidence shows a person is suicidal or has exhibited alarming behavior, signaling they are likely to hurt someone else.
Five states — Connecticut, Indiana, California, Washington and Oregon — have enacted laws authorizing such pre-emptive, risk-based, time-limited gun removal orders. These civil orders neither require, nor produce, a criminal record. They simply give police officers clear legal authority to search for and remove firearms when the officer has probable cause to believe someone poses an imminent risk of injuring someone. Typically, a judge issues a risk warrant for immediate gun removal in such cases. Then, within two weeks, a court hearing takes place at which the state must show clear and convincing evidence that the person continues to pose a significant public safety risk. If the state meets this burden, it may retain the firearms for up to one year. These procedures fully respect the Second Amendment and the requirements of "due process."
A recent study evaluating Connecticut's law analyzed suicide mortality between 1999 and 2013. The researchers estimated that for every 10 to 20 risk warrants issued, one life was saved by averting a suicide.
Risk protection order laws can be fairly administered and will save lives. Recent national polling shows these types of laws are supported by about two out of three gun owners and three out of four non-gun-owners. And national and state lawmakers increasingly appear ready to sign on to risk-based, time-limited gun removal as a concept. It is heartening that this approach has finally become part of the national conversation.
States are best suited to enact and carry out such laws, using state courts to issue risk warrants and local police to serve them. Congress should create incentives for more states to do so, however. The federal government should also bar people who are subject to risk protection orders from purchasing guns under the national instant background check system.
With about 100 people dying from gunfire in the United States every day, finding common ground on gun policy has become a moral imperative. Risk warrant laws are an important piece in the puzzle of gun violence prevention.
HB 2140 (.pdf) introduced by Rep. Doctor Randy Friese (D-Tucson) would permit a family member or law enforcement to go to court and get an injunction to take away weapons, at least temporarily, from someone who she said is suffering an "acute mental health crisis." A companion Senate bill SB 1347 does the same. Neither received a hearing in the Arizona legislature.
There already is a bill ready to go, governor. Work with Rep. Friese on his bill.
So what is Governor Ducey contemplating proposing?
The plan may also include stricter background-check laws for gun purchases and more police officers for schools, according those familiar with the talks.
Wrong answer. Gov. Ducey is part of the problem, and is a hypocrite on this issue. Student, lawmakers call for changes to gun laws:
[O]nly one measure dealing with weapons got a hearing this year. And that was a bill to override rules by the Department of Child Safety that spell out that foster families cannot have loaded weapons in their homes.

That measure seems to have stalled in the wake of the latest outcry over gun violence. But other bills introduced by Democrats in the Republican-controlled Legislature have been unable to get even an airing.

* * *

In fact, Gov. Doug Ducey actually signed legislation just last year to prohibit any sort of background check on individual sales, including precluding cities from having their own requirements for checks when the gun show is being operated on city property.

Speaking with reporters later Monday, the governor said his administration is "taking a look at background checks," including how information about local violations end up in the national database [i.e., the National Instant Criminal Background Check System (NICS)].

But Ducey gave no indication he is interested in closing what some call the "gun show loophole."

* * *

But none of that affects the ability of anyone else to transfer a weapon without a check. In fact, the law Ducey signed specifically overruled a Tucson ordinance that said a licensed dealer had to perform a background check for those person-to-person sales.

* * *

[T]he governor's record on the issue — and his repeated claim to be a strong supporter of the Second Amendment — leaves questions.

Aside from banning background checks on person-to-person sales, the governor also penned his approval to a measure which allows lawsuits against cities that enact their own gun laws beyond what the Legislature permits. Ducey also signed a law allowing gun owners to carry their weapons on public streets and sidewalks near and through college and university campuses.
While Ducey hasn't released specific proposals, he said a "framework" of the plan is sitting on his desk.
His attention to the issue is a significant development. Efforts to tighten gun restrictions in Arizona have fallen flat in the Legislature for years.
This year, not one of the 10 gun-related bills Democrats sponsored — including one similar to Ducey's proposal to stop mentally-ill people from possessing guns — haven't received a public hearing [i.e., HB 2140 above].
Ducey's comments and his meetings about the issue with leaders from both political parties suggests a new momentum around the school and gun-safety debate.
Because the children are rising up and coming for them with their March For Our Lives: "vote them out."
UPDATE: If you want to know why nothing ever gets done in the Arizona legislature on common-sense gun safety regulations, it is because of the undue influence this absolutist lobbyist exercises over Tea-Publican legislators:
Charles Heller, spokesman for the Arizona Citizens Defense League, a gun-rights advocacy group, said while he supports efforts to make schools safer by improving building security and training for teachers, efforts to restrict guns are a non-starter.
"There is zero impairment of any right that will improve school safety," Heller said.
He said the Citizens Defense League hasn't been invited to be part of talks with Ducey, adding that "Ducey's administration has not been terribly friendly to the right to keep and bear arms."
Heller said the group views a potential plan like the Florida proposal as "surrender" not compromise, though said he's confident that Ducey and the GOP-led Legislature support gun rights more than Florida leaders.