Sunday was the first full weekend of the NFL season, something to which I look forward, with my Minnesota Vikings playing in the morning and their division rivals Greenbay Packers and Chicago Bears playing in the evening. Sweet!
But my football binging experience was ruined by Governor Doug Ducey's hateful ads scapegoating "brown people" and fear-mongering over the Mexico border, and a smear campaign against his Latino Democratic opponent, David Garcia.
I warned you that this was the GOP strategy. The GOP's 'ICE, ICE Baby' campaign strategy: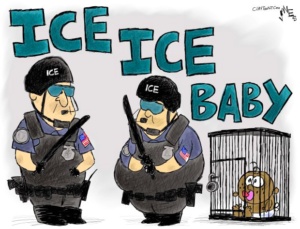 Arizona Republican candidates for office at every level of office are — once again, as they have in every election cycle since 2004 — running on anti-immigrant hysteria ala Russell Pearce and Jan Brewer and Donald Trump.
Scaring old white people who vote Republican with scapegoating "brown people" and fear-mongering over the Mexico border is all they have.
Sadly, this has too often succeeded in Arizona. There are a lot of scared old white people who vote Republican in this state.
Governor Doug Ducey kicked off his reelection campaign by using your taxpayer dollars to film a campaign ad to praise his leadership on border security. Ducey uses taxpayer-funded event on border security to shoot campaign video.
Arizona's Governor does not want to talk about the teacher crisis in Arizona, Arizona teachers make 36 percent less than peers in other careers. Don't forget that, or the GOP's decade plus of underfunding public education in Arizona. Arizona's Governor does not want to talk about how he supported the lawsuit by "Kochtopus" organizations – his benefactors who got him elected four years ago with a deluge of dark money – to knock the InvestInEd ballot measure off the ballot that hundreds of thousands of Arizonans supported. Arizona's Governor does not want to talk about how his supposed 20 percent pay raise for all teachers does no such thing. 20 percent pay raise for Arizona teachers was 100 percent bull.
No, Governor Ducey has has embraced Donald Trump's fake border 'crisis' as his ticket for reelection.
Ducey's ads tout the Arizona Border Strike Force that he created in 2015 so that he could  have his own border patrol – a federal government function – so he could politicize its work.  His ads hope people forget that Arizona sheriffs opposed Ducey's border-security strike force:
Arizona sheriffs are revolting against Gov. Doug Ducey's proposal to permanently fund a state border strike force to combat drug and human trafficking.
In an open letter, the Arizona Sheriffs Association said years of inadequate funding for the state Department of Public Safety has challenged its ability to patrol state highways, oversee a crime lab and complete other core responsibilities. The group said the sheriffs' ability to respond to border communities "has been severely hampered" because of the state's sweeps of county funds.
"Thus, before placing another responsibility on the Arizona Department of Public Safety by creating a 'Arizona Border Strike Force' we encourage the state to address the following issues, which the sheriffs believe to be critical, before implementing a new program," the two page letter states.
The association, which represents the state's 15 sheriffs, says DPS should fill its 100 vacant positions with officers who can "adequately handle their regular patrols" on state roads, "relieving the counties of having to fill those gaps especially in rural communities." The state should also improve its aging radio system "so that it is capable of communicating" with other law enforcement and emergency personnel, upgrade and fully staff the Arizona Counter Terrorism Information Center to vet intelligence information, improve the crime lab, which "is plagued by long turnaround times for evidence analysis" that affects timing of prosecutions, and restore funding to counties that have been swept in years past.
Just last year, Arizona's Sheriffs Ask Where's Their Share of Border Strike Force Money:
"When you all passed the border strike force funding, it was $28 million-plus. The four (border) counties – Yuma, Santa Cruz, Pima, and Cochise – received just $1.2 million of the $28 million. That's all we got," Cochise County Sheriff Mark Dannels told the Senate Commerce and Public Safety Committee Monday.
* * *
Pinal County Sheriff Mark Lamb joined that chorus at the Senate committee meeting.
He told committee members that taking money from counties for state purposes hurts the counties.
"Last year we took a $7 million hit, which equated to about a $1.8 million budget hit on our sheriff's office. So we have to go through and find ways we are either going to eliminate jobs or find savings, and we have pretty much worked through all those savings," said Lamb.
Well it's an election year, so in July Governor Ducey announced a $2.9 million funding boost for the Arizona Border Strike Force – far short of his originally proposed $28 million plus in 2015 – included in the state's 2019-20 budget, which will add 12 Department of Public Safety troopers to the strike force to help it reach the goal of having daily around-the-clock coverage along the border. Funding boost will increase staffing for Arizona Border Strike Force.
Naturally, Republican Sheriffs put aside their funding complaints and fell in line because it's an election year:
"In the 34 years I've worked in Cochise County, I've personally witnessed the evolution of border security," Cochise County Sheriff Mark Dannels said at Wednesday's event.
Dannels said that developing a multiagency security initiative such as the Border Strike Force has helped counties more successfully protect the border.
"We have sent a strong message to the cartel," Dannels said. "Smuggling in Cochise County will not be tolerated."
Pima County Sheriff Mark Napier said authorities estimate nearly 40 percent of the lethal narcotics that come through the United States illegally enter Pima County at some point.
"We are on the front line of this battle," Napier said.
Properly funding county sheriff departments and the Arizona Department of Public Safety rather than diverting those funds to the governor's personal Arizona Border Strike Force is a legitimate issue for debate, but that is not how it is being portrayed in Ducey's attack ads.
Governor Ducey's attack ads also take issue with David Garcia's opposition to Trump's border wall. Let's be clear: the reason Trump's border wall has not been approved and funded by Congress is because of opposition from Republicans in Congress.
Governor Ducey himself opposes Trump's border wall. Arizona Gov. Ducey Distances Himself From Trump's Border Wall Plan:
Arizona Gov. Doug Ducey is putting some distance between him and Donald Trump when it comes to cultivating better relations with Mexico.
[T]he governor said he does not believe a physical barrier is necessary.
"This is his campaign. I'll let him speak for himself," Ducey said. "But we can use technology to do this. We can use border enforcement. We can use border agents to do this. We can use the Department of Public Safety. We can use county sheriffs."
And what about the real immigration policy issue in this campaign: Trump's zero tolerance family separation policy to punish immigrant refugees legally seeking asylum in the United States? Governors in U.S.-Mexico border states largely absent on migrant family separation: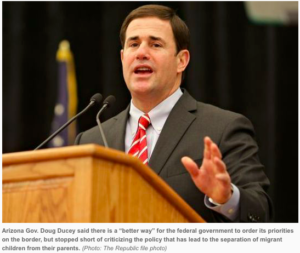 Republican Gov. Doug Ducey of Arizona said at a press conference on Friday that he thought there was a "better way" for the federal government to order its priorities on the border, but stopped short of criticizing the policy.
"I don't want to see children separated from their parents," Ducey said. "My heart breaks for these families. At the same time, we need to look at the role of parental responsibility when an adult is approaching our border conducting illegal activity with a child."
Governor, seeking asylum is legal under U.S. and international law. These immigrant refugees are required to present themselves to law enforcement in order to seek asylum. What they are doing is not "illegal activity."
It is the Trump administration which is illegally defying a lawful order of the federal court to reunify the families that they illegally separated under its zero tolerance family separation policy. But you don't seem to have any problem with this lawlessness, do you governor?
Nancy LeTourneau at the Political Animal blog writes, Cruelty Is Still the Administration's Response to Asylum Seekers:
Judge Dana Sabraw ordered the Trump administration to reunite the migrant families that were separated as a result of their zero tolerance policy by July 26th. It's now been 42 days since that deadline passed and here's where things stand:
According to the most recent numbers, the Trump administration continues to have 497 children under U.S. custody, including 22 kids age 5 and under. The parents of 322 children have already been deported, including six kids age 5 and under.

Under the previous update, the Trump administration had 528 children under custody, including 23 kids age 5 and under. The numbers are barely moving, and when every day in custody is another day of trauma, this is unacceptable.
That represents a colossal and cruel failure on the part of this administration. But rather than focusing their energy on correcting that inhumane mistake, they are going to try another route to accomplish the same ends.
The Trump administration said Thursday it is preparing to circumvent limits on the government's ability to hold minors in immigration jails by withdrawing from the Flores Settlement Agreement, the federal consent decree that has shaped detention standards for underage migrants since 1997.

The maneuver is almost certain to land the administration back in court, where U.S. District Court Judge Dolly M. Gee, who oversees the agreement, has rejected attempts to extend the amount of time migrant children can be held with their parents beyond the current limit of 20 days.

But under changes proposed Thursday by the Department of Homeland Security and the Department of Health and Human Services, the administration said it would issue new regulations that "satisfy the basic purpose" of the Flores settlement and ensure migrant children "are treated with dignity, respect and special concern for their particular vulnerability as minors."

"Today, legal loopholes significantly hinder the Department's ability to appropriately detain and promptly remove family units that have no legal basis to remain in the country," said DHS Secretary Kirstjen Nielsen, in a statement. "This rule addresses one of the primary pull factors for illegal immigration and allows the federal government to enforce immigration laws as passed by Congress."…

Homeland Security officials say that will ensure that those families, many of whom are Central Americans seeking asylum, appear in immigration court.
Allow me to translate what Sec. Nielsen is actually saying: According to this administration, the migrant families that are coming to this country to seek asylum from violence are such a threat to us that we need to be as cruel as possible to scare off future potential refugees. One of the ways we plan to do that is to toss out the standards for how we treat their children and detain them indefinitely because, otherwise, they won't show up for court hearings that will order their deportation.
Getting rid of the Flores agreement, which they refer to as a "loophole" rather than guidelines that protect migrant children, has been a priority for this administration from the beginning. Having failed to get Congress to eliminate it during the debates about DACA, it looks like they are just going to toss it and challenge the courts to do something about it.
The result is that the administration plans to detain migrant families with children indefinitely, and we are supposed to believe that these folks will treat them with dignity and respect—even as they openly admit that this move is all about reducing the so-called "pull factor for illegal immigration." In other words, it's all about sending a message to potential refugees that they're better off dealing with violence in their home country than coming here to seek asylum.
Beyond the cruelty involved in all of this, it is important to keep in mind that everything this administration is doing on this front is based on lies. Just yesterday we learned that they summarily rejected data suggesting that refugees don't pose a threat to this country.
The Trump administration has consistently sought to exaggerate the potential security threat posed by refugees and dismissed an intelligence assessment last year that showed refugees did not present a significant threat to the U.S., three former senior officials told NBC News.

Hard-liners in the administration then issued their own report this year that several former officials and rights groups say misstates the evidence and inflates the threat posed by people born outside the U.S. …

A current DHS official defended the administration's response to the intelligence assessment, saying immigration policy in the Trump administration does not rely solely on "historical data about terrorism trends," but rather "is an all-of-the-above approach that looks at every single pathway that we think it is possible for a terrorist to come into the United States."
There is also the lie about how asylum-seekers need to be detained in order to ensure that they appear in court.
Empirical research has found, however, that asylum seekers fleeing persecution arrive predisposed to comply with legal processes and trust the system to provide them a fair hearing, even if they might lose. If the U.S. government treats asylum seekers fairly and humanely—i.e., releases them following their apprehension and provides legal assistance before their hearing—evidence suggests that they will be likely to appear for proceedings. Put simply, a humane approach can work.
The message sent by this new initiative to abandon the Flores Agreement is that, even after the outcry over their family separation policy, the heart of this administration's response to asylum-seekers along our southern border is to create an issue based on lies and then inflict cruelty as a deterrence.
Governor Doug Ducey is OK with this cruelty to families, because his reelection campaign is built upon scapegoating "brown people" and fear-mongering over the Mexico border.
It is long past time that Arizonans reject the overt racism of Republican campaigns in this state. Kick them all out of office!
---
Support volunteer citizen journalism at the Blog for Arizona with a donation today. Your secure contribution keeps the Blog online and sustains a free press in Arizona.
---