Yet another Donald Trump conspiracy theory is thoroughly rebuked by the Russia investigation. Rod Rosenstein and Robert Mueller officially rebuke a major Trump conspiracy theory: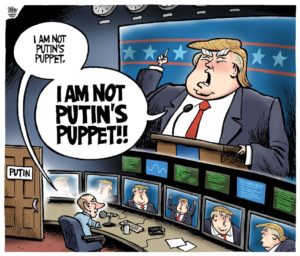 Trump has regularly cast doubt upon the idea that the Democratic National Committee was hacked by the Russians — or that it was hacked at all. At one point he even reportedly dispatched a conspiracy theorist to meet with then-CIA Director Mike Pompeo. (Pompeo is now secretary of state.)
At his first presidential debate with Clinton in September 2016, Trump added a number of other potential perpetrators, despite clear indications from the intelligence community that it was Russia.
"I don't think anybody knows it was Russia that broke into the DNC. She's saying Russia, Russia, Russia, but I don't — maybe it was," Trump said. "I mean, it could be Russia, but it could also be China. It could also be lots of other people. It also could be somebody sitting on their bed that weighs 400 pounds, okay? You don't know who broke into DNC."
He said something similar in the second debate, just two days after the intelligence community issued a joint statement saying it was "confident" Russia was responsible. He expanded his doubts to suggest there wasn't any hacking.
"I notice, anytime anything wrong happens, they like to say the Russians are — she doesn't know if it's the Russians doing the hacking," Trump said of Clinton. "Maybe there is no hacking. But they always blame Russia. And the reason they blame Russia is because they think they're trying to tarnish me with Russia."
Today, Robert Mueller said "I'll see your idiot conspiracy theory and raise you a dozen Russian intelligence agents. (Say hello to your pal Putin for me in Helsinki)." Mueller probe indicts 12 Russians for hacking Democrats in 2016:
A dozen Russian intelligence officers have been charged with conspiring to hack Democrats during the 2016 presidential campaign, according to a new indictment in the probe led by special counsel Robert S. Mueller III.
The indictment includes charges of conspiracy by the Russian intelligence officials against the United States, money laundering and attempts to break into state election boards and other government agencies.
The 12 were members of a Russian military intelligence agency known as the GRU and are accused of engaging in a sustained effort to hack the computer networks of Democratic organizations and the Hillary Clinton campaign.
Deputy Attorney General Rod J. Rosenstein detailed the new charges at a midday news conference. Mueller, as has been his practice, did not attend the announcement. Court records show that a grand jury Mueller has been using returned an indictment Friday morning.
The announcement comes days before President Trump is due to meet with Russian President Vladi­mir Putin in Finland. Rosenstein said he briefed Trump earlier this week on the charges.
Wait, so he was briefed before the GOP kangaroo court show trial of the FBI on Thursday? That information was almost certainly shared with Trumps sycophant defenders on the congressional committees.  Yet Trump's fellow travelers attacked federal law enforcement agents anyway trying to discredit the Russia investigation as a "hoax" and "witch hunt." Every one of these traitors needs to be removed from office.
The 11-count indictment spells out in granular detail a carefully planned and executed attack on the information security of Democrats, implanting hundreds of malware files on Democrats' computer systems, stealing information, and then laundering the pilfered material through fake personas and others to try to influence voters' opinions.
Rosenstein said the suspects worked to "hack into computers, steal documents, and release those documents with the intent to interfere with the election."
The hackers also created the false online personas DC Leaks and Guccifer 2.0 to try to disguise the Russian origins of their work, Rosenstein said.
He said the hackers interacted with some Americans in the course of their efforts, but noted that those people had not been charged with a crime — yet.
The "speaking indictment" is rich in detail and contains clues to the next set of indictments to come — the Americans who conspired with the Russians.
This is long-time Trump adviser and GOP ratfucker Roger Stone, who is a subject of Mueller's Russia investigation. Roger Stone Communicated With Russian Hackers, Mueller Indictment Suggests:
Among the revelations in special counsel Robert Mueller's indictment of 12 Russian intelligence officers on Friday involved in hacking the Democratic National Committee was that the hackers communicated with individuals in the United States — including "a person who was in regular contact with senior members of the presidential campaign of Donald J. Trump."

Although not named in Friday's documents, that person is widely known to be Trump confidant Roger Stone, who has previously posted screenshots of his interactions with one of the hackers, Guccifer 2.0.

Stone has also admitted to communicating with WikiLeaks' Julian Assange, who published the leaked DNC emails.

The events laid out in Mueller's indictment resemble details from previous reporting about Stone and his communications during Trump's 2016 campaign.
"Organization 1" is Wikileaks, which the Russians coordinated with in the timing of the release of the documents.
It is not clear who the congressional candidate is, although we have some idea (see below),  but the "registered lobbyist and online source of political news" is Aaron Nevins, who I have posted about. GOP operative colluded with Guccifer 2.0 – Russian stolen info was used by the GOP, and Why Florida Tea-Publican congressmen are leading the charge to discredit the Special Counsel's investigation.
This indictment does not go into the details the New York Times reported about the use of the stolen materials by the NRCC in congressional races. Democratic House Candidates Were Also Targets of Russian Hacking:
The intrusions in House races in states including Pennsylvania, New Hampshire, Ohio, Illinois, New Mexico and North Carolina can be traced to tens of thousands of pages of documents taken from the D.C.C.C., which shares a Capitol Hill office building with the Democratic National Committee.
* * *
Guccifer 2.0 followed up on the release of lawmakers' personal data with large caches of internal party documents, starting with some documents related to House races in Florida.
The seats that Guccifer 2.0 targeted in the document dumps were hardly random: They were some of the most competitive House races in the country.
Annette Taddeo's Democratic opponent in the August primary, "Joe Garcia, was the first to use the material as a tool to attack his opponent, showing up at a televised debate with a printout of the documents and accusing Ms. Taddeo of hiring a private detective to follow him, an allegation she disputed. It was the first of many attacks based on the leaked material.
After Mr. Garcia defeated Ms. Taddeo in the primary using the material unearthed in the hacking, the National Republican Campaign Committee and a second Republican group with ties to the House speaker, Paul Ryan, turned to the hacked material to attack him.
* * *
After the first political advertisement appeared using the hacked material, Ray Luján wrote a letter to his Republican counterpart at the National Republican Congressional Committee urging him to not use this stolen material in the 2016 campaign.
"The N.R.C.C.'s use of documents stolen by the Russians plays right into the hands of one of the United States' most dangerous adversaries," Mr. Luján's Aug. 29 letter said. "Put simply, if this action continues, the N.R.C.C. will be complicit in aiding the Russian government in its effort to influence American elections."
Ms. Pelosi sent a similar letter in early September to Mr. Ryan. Neither received a response. By October, the Congressional Leadership Fund, a "super PAC" tied to Mr. Ryan, had used the stolen material in another advertisement, attacking Mr. Garcia during the general election in Florida.
AshLee Strong, a spokeswoman for Mr. Ryan, said he did not control how the material was used in the ad, although she did not dispute that the material had been stolen as part of an act of Russian espionage.
The New York Times coverage today adds:
In late July 2016, Mr. Trump publicly encouraged Russia to hack Mrs. Clinton's emails and make them public. The indictment does not mention those remarks.
But according to the indictment, the same day Mr. Trump made those statements, on July 27, 2016, Russian hackers tried for the first time to break into the servers used by Mrs. Clinton's personal offices.
During a rally in Florida that same day in 2016, Mr. Trump said, "I will tell you this, Russia: If you're listening, I hope you're able to find the 30,000 emails that are missing," Trump said in Florida. "I think you will probably be rewarded mightily by our press."
So the Russians were listening!  Trump made his ask to the Russians, and the G.R.U. acted in furtherance of his request on the very same day.  Remember, this followed the Trump Tower meeting in June and numerous contacts between members of the Trump campaign and the Russians regarding "dirt on Hillary." We are only a few yet to be disclosed details away from "collusion" with a foreign government.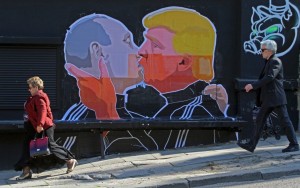 Just hours before Mr. Rosenstein's announcement, Mr. Trump said at a news conference in Ellesborough, England, that the special counsel's investigation was impeding his efforts to get closer to Mr. Putin, and offered his latest attack on the inquiry.
"I think that we're being hurt very badly by the, I would call it the witch hunt; I would call it the rigged witch hunt," Mr. Trump said after meetings with Prime Minister Theresa May of Britain. "I think that really hurts our country and it really hurts our relationship with Russia."
Remember, Deputy AG Rosenstein said he briefed Trump earlier this week on the charges. And yet he still persisted with this "witch hunt" B.S. After being told of Russia indictments, Trump still aspired to be friends with Putin.
Mr. Trump said he believed that the focus on Russia's election meddling, and whether his campaign was involved, was merely a partisan issue that made it more difficult for him to establish closer ties with Mr. Putin.
"We do have a political problem where, you know, in the United States, we have this stupidity going on — pure stupidity," the president said. "It makes it very hard to do something with Russia. Anything you do, it's always going to be, 'Oh, Russia, he loves Russia.' I love the United States, but I love getting along with Russia. And China. And other countries."
* * *
After the indictment was announced, Senator Chuck Schumer of New York, the minority leader, and other Democrats called on Mr. Trump to cancel his one-on-one meeting with Mr. Putin.
"These indictments are further proof of what everyone but the president seems to understand: President Putin is an adversary who interfered in our elections to help President Trump win," Mr. Schumer said in a statement on Friday. "Glad-handing with Vladimir Putin on the heels of these indictments would be an insult to our democracy."
Senator Mark Warner, the top Democrat on the Senate Intelligence Committee, said the president should not meet alone with Mr. Putin.
"There needs to be other Americans in the room," Mr. Warner, of Virginia, said.
Trump is going ahead with his summit with Vladimir Putin in Helsinki. Unless he is coming back with the more than two dozen Russians indicted by the Special Counsel, what is the point?