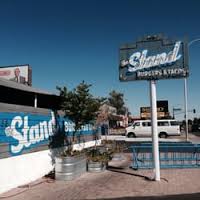 Sorry, but I need to put politics aside for a special report.
A few months ago, I had a conversation with our two youngest, Bennet and Seth, about Whataburger restaurants and how they were disappearing. We decided it would be a good idea to go to one before they were completely gone (It turns out they're nowhere near gone and actually are still selling franchises).
We did, and it evolved into the Great Hamburger Hunt (I never was able to pull off the vegetarian thing completely, but I have cut back).  In order to be considered, there had to be more than one of a restaurant. Specifically excluded were chains like McDonalds, Burger King, and Jack in the Box, because we knew they couldn't win and none of us wanted to die an early death.
The initial list of competitors turned out to be:
Whataburger
Smashburger
Five Guys
HopDaddy
Habit Burger Grill
Shake Shack
In 'N Out
We allowed Tammy and our older son Anders to join in the testing and the discussion, but reserved voting power to the three of us.
In our early discussions, we speculated that Shake Shack and In 'N Out would be the top contenders. We already knew that Whataburger's burgers were mediocre at best. And we decided that shakes and fries should be included in the competition.
We started with Five Guys, which only recently has added shakes to the menu. Turns out, Five Guys was a good pick, because it really set the standard throughout the competition. One warning, though: Stay away from the Oreo Cream Shake. Much to his regret, Seth ordered one and couldn't drink it. We all tried it and agreed it was pretty terrible.
We had decided to end with In 'N Out, but we went there on the night their new location at 20th and Camelback opened. The scene in the parking lot was hilarious from afar, but not one we wanted to experience up close. The drive through line resembled the line to check baggage at Southwest, only with cars instead of people.
So we decided to add a new entrant, The Stand, a local place near our house, on Indian School Road at about 35th Street, and defer In 'N Out for a few weeks until the lines dissipated. The Stand was granted an exemption from the two or more location requirement.
Those readers who follow professional golf likely remember stories of players who qualify for tournaments at the last minute because a prior qualifier drops out, then go on to win.
And so it was with the Great Hamburger Hunt. Last night we made it to In 'N Out and voted afterwards. The Stand was the unanimous overall winner. If you live in the Phoenix area, you need to try it, if you've not already. The burgers are awesome, and the Dulce de Leche shake is an other worldly experience.
There were other notables, however:
The fries at Five Guys are the best of the bunch. And if you order the large size, there are enough for a family of ten. Five Guys' burgers were the runner-up to The Stand as well.
For value, In 'N Out had it hands down. The bill there was barely more than half of the bill at the other competitors (except Whataburger of course). And the Double Double at In 'N Out was awfully tasty. In 'N Out's fries were a bit lacking, but their shakes got high marks.
The Root Beer Shakes at Whataburger were quite tasty, and unique.
The Banana Shake at Smashburger was a big hit.
Of course, nobody should take our word for it. If you have kids who like burger joints, have your own Hamburger Hunt. It's a great family activity.
Next up: The Pursuit of the Perfect Pizza