For all of you who have been posting comments that you will vote for Jill Stein of the Green Party in November, too bad for you!
The incompetent Green Party failed to qualify its presidential electors before the deadline, so Jill Stein will not appear on the ballot in Arizona. Green Party fails to meet deadline for naming presidential electors: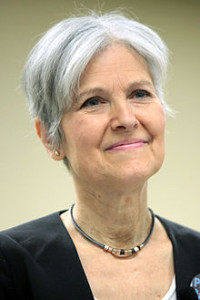 The secretary of state's office said Tuesday the party had not met the June 1 deadline for nominating electors for the Nov. 8 election. Those are the people who will come to the Capitol following the election to cast the state's 11 electoral votes for the Green Party candidate were that person to get the most votes here.
The party holds its national convention in August in Houston. Jill Stein, who won the Arizona primary in March, is the presumptive nominee.
But all that is irrelevant under state law. Instead, it requires whoever chairs each recognized party to choose 11 electors no later than 90 days ahead of the primary election.
That deadline passed at 5 p.m. June 1. And while the Republican, Democratic and Libertarian parties all managed to submit a slate, the Green Party was conspicuous by its absence.
[T]he failure effectively means there is no chance for Arizona to cast its electoral votes for the Green  Party nominee, even if that person outpolls Republican Donald Trump, Democrat Hillary Clinton and Libertarian Gary Johnson.
The Green Party, with just 4,480 registered voters out of more than 3.35 million in the state, has had a history of problems in Arizona meeting deadlines.
* * *
A spokesman for Secretary of State Michele Reagan said there is no legal way to waive the deadline, with the only option now for the Green Party to seek a court order.
Good luck with that, now that Arizona requires strict compliance with its election laws.
Maybe all those purported Democrats who supported Bernie Sanders but now say that they will vote for Jill Stein of the Green Party should, oh I don't know, actually join the Green Party and show them how to professionally manage a political party in the way that you all demand. Hijacking the Green Party should be easy for you.