Oh boy, the flat-earth climate change deniers are going to be "triggered" over Time Magazine's Person of the Year. Greta Thunberg: TIME's Person of the Year 2019:
That Greta Thunberg is the youngest individual ever named TIME's Person of the Year says as much about the moment as it does about her. The 92-year-old franchise is rooted in the so-called Great Man theory of history, the notion that powerful individuals shape the world. Historically that has meant people who worked their way up the ladders of major organizations and were at home in the corridors of power. But in this moment when so many traditional institutions seem to be failing us, amid staggering inequality and social upheaval and political paralysis, we are seeing new kinds of influence take hold. It is wielded by people like Thunberg, leaders with a cause and a phone who don't fit the old rubrics but who connect with us in ways that institutions can't and perhaps never could.
When she first heard about global warming as an 8-year-old, Thunberg says she thought, "That can't be happening, because if that were happening, then the politicians would be taking care of it." That they weren't is precisely what motivated her to act, as it has youth the world over who are forcing us to confront the peril of our own inaction, from the student-led protests on the streets of Santiago, Chile, to the young democracy activists fighting for rights and representation in Hong Kong to the high schoolers from Parkland, Fla., whose march against gun violence Thunberg cites as an inspiration for her climate strikes.
"I'd like to tell my grandchildren that we did everything we could," she told TIME from the coast of Virginia in mid-November, as she prepared to cross the Atlantic by sailboat, "and we did it for them and for the generations to come."
For sounding the alarm about humanity's predatory relationship with the only home we have, for bringing to a fragmented world a voice that transcends backgrounds and borders, for showing us all what it might look like when a new generation leads, Greta Thunberg is TIME's 2019 Person of the Year.
And three, two, one … Trump Flips Out at Greta Thunberg After She Beats Him to Time Person of the Year: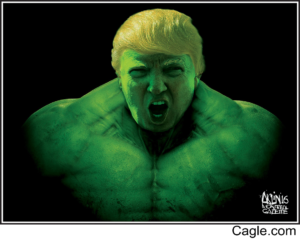 Jealousy is a terrible thing. President Trump, 73, has hit out at 16-year-old climate activist Greta Thunberg in an apparent fit of rage after she beat him to be named Time magazine's Person of the Year. Trump described the decision, which was announced Wednesday, as "ridiculous" in an incredibly petty Thursday morning tweet. The president wrote: "Greta must work on her Anger Management problem, then go to a good old fashioned movie with a friend! Chill Greta, Chill!" Trump has long been obsessed with Time's Person of the Year—in 2012, he tweeted: "I knew last year that TIME Magazine lost all credibility when they didn't include me in their Top 100." In 2015, when he was a candidate for president, Trump reacted angrily when German Chancellor Angela Merkel won the honor, and fake Timecovers showing Trump as Person of the Year have previously been found hanging in at least five of his golf clubs.
Following Trump's tirade, Thunberg changed her Twitter bio to: "A teenager working on her anger management problem. Currently chilling and watching a good old fashioned movie with a friend."
You go, Greta!
Trump counseling about an "anger management problem"? Seriously? Our sociopathic narcissist mentally and emotionally crippled Twitter-troll-in-chief is on a rage-tweet spree — posting more than 70 times before 9 am this morning.
Brad Reed writes, 'Little man is so jealous': Trump torched for whining about Greta Thunberg winning Time Person of the Year:
President Donald Trump on Thursday once again lashed out at 16-year-old climate activist Greta Thunberg after she won Time Magazine's Person of the Year honor.
Trump accused Thunberg of having anger issues called Time's decision to honor her work to push for global action on climate change "ridiculous."
Many Twitter users roasted the president for going after the teen climate activist just because she won an honor that he so desperately covets.