Hey, Saddlebrooke! Your crazy neighbor Cap'n Al Melvin is baaaack! And he still wants to put a nuclear-waste processing plant in your backyard.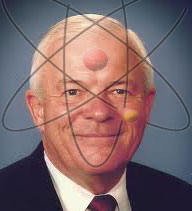 David Safier, when he was blogging here at Blog for Arizona, did a series of posts about "Atomic Al" Melvin and his connections to the nuclear power industry, and his desire to build a nuclear-waste processing plant in Arizona. Here is a sampling of his posts. A mind is a terrible thing to (nuclear) waste; Melvin's Nukes for Schools bill passes in Energy Committee; Don't worry, Atomic Al, you'll always have Paris; Coverage of Atomic Al Melvin's proposed nuclear waste dump; Atomic Al Melvin is baaack.
Jim Nintzel at the Tucson Weekly picked up Safier's "Atomic Al" moniker in this post, How About We Put That Nuclear Plant in Your District, Sen. Melvin?
Just when you thought that we were finally done with this Teabagger, he's back and running for the Arizona Corporation Commission, where he could have a real opportunity to pursue his nuclear dreams. The Arizona Capitol Times (subscription required) reported, Former state senator to run for Corporation Commission:
Former Republican state Sen. Al Melvin is running for the Arizona Corporation Commission.
Melvin, who served six years in the Senate before briefly running for governor in 2014, announced on Thursday that he would be seeking a spot on the commission, which has three seats up for grabs in the 2016 election.
The commission is in charge of regulating and setting rates for public utility companies, among other duties.
The SaddleBrooke Republican has long been interested in energy policy, and was a major advocate at the Legislature of increasing the state's use of nuclear power. He served four years as chair of the Senate Commerce and Energy Committee.
During his first year in the Legislature, Melvin sponsored a bill to establish a committee to "encourage the development of nuclear power in this state."
In 2011, Melvin garnered national attention for proposing Arizona create a nuclear-waste processing plant to collect waste from around the country. His bill would have charged other states and the federal government to send their nuclear waste to Arizona, and used the proceeds to fund public schools.
Sandy Bahr, executive director for the Sierra Club Grand Canyon Chapter, who was frequently at odds with Melvin when he was in the Legislature, said Melvin regularly voted against proposals to expand renewable energy such as solar and wind, while pushing measures to expand "expensive and risky" nuclear energy.
She cited his 2014 measure to define nuclear energy as a renewable energy source. "If you have to mine for your energy source, it's not renewable," she said.
* * *
Melvin was unavailable for comment, but his campaign consultant, Constantin Querard, said Melvin would again be seeking public funding for his campaign. Melvin said in a press release that he plans to file paperwork to run for the office on Monday at the Tucson office of the Secretary of State.
Since stepping away from elected office, Melvin has become chairman of his Legislative District 11 Republican Party.
As with all things Al Melvin, the only appropriate response is "Oh, HELL no!" Don't let this Teabagger back in office.