538's Nate Silver says: "[W]e're now projecting total turnout in the presidential race to be 154 million, with an 80th percentile range between 144 million and 165 million. In 2016, turnout was 137 million, by comparison."
With a full week (or more) of early voting to go before election day, one-third of the projected vote is already in.
The Washington Post reported earlier this week this remarkable headline: In five states, more early votes have been cast than Trump received in 2016:
In five states and Washington, D.C., more votes have been cast early than Trump got there in 2016 overall. Most of them are deep blue, so surpassing Trump's total isn't as big a marker as it might otherwise seem. But it's also true in Texas, a state which has been surprisingly close in the polls and which Trump unequivocally must win if he's to earn another four years in office.
In 10 states, we are able to compare the current number of early votes cast to the number cast at the same point in the 2016 race (that is, about two weeks before Election Day). In each state except Nevada, the number of early votes cast so far is up significantly.
In Georgia, the current number is about double where the state was two weeks before the 2016 election. In Wisconsin, 3.3 times as many votes have been cast relative to that point. In Ohio, it's more than four times as many.
In these 10 states, the early vote is up an average of more than 136 percent relative to the same point in 2016 — more than double, on average. The number of votes cast is, on average, about 37 percent of the total votes cast in the last election.
Again, that's more heavily a function of Democrats casting votes than Republicans, at least according to the five states for which we have data.
On average, the number of ballots returned by Democrats is more than double the number returned by the same point in 2016, while the number of Republican ballots returned is up only about 40 percent. Democrats have returned ballots (or voted early) in these five states equal to about a third of the total votes Hillary Clinton got in the states in 2016, while Republicans have returned ballots equivalent to a fifth of Trump's totals.
POLITICO reports, 'Warning flare': New swing-state data shows massive Democratic early-vote lead:
Democrats have opened up a yawning gap in early voting over Republicans in six of the most crucial battleground states — but that only begins to tell the story of their advantage heading into Election Day.
In a more worrisome sign for Republicans, Democrats are also turning out more low-frequency and newly registered voters than the GOP, according to internal data shared with POLITICO by Hawkfish, a new Democratic research firm, which was reviewed by Republicans and independent experts.
The turnout data does not mean Donald Trump will lose to Joe Biden. Both sides are bracing for a close race and a giant wave of Republicans to vote in person on Nov. 3. Yet the turnout disparity with new and less-reliable voters has forced Republican political operatives to take notice.
"It's a warning flare," said veteran Republican strategist Scott Reed.
"Some Republicans are stuck in a model that we always run up the score on Election Day to make up the difference," Reed said. "I think running an election in a superpolarized electorate, you want to win early voting. Let's go. Let's stop talking and making excuses."
The GOP caught an encouraging glimpse in Florida on Tuesday, when more Republicans began casting in-person, early ballots than Democrats in Trump's must-win state. But Democrats have dominated voting by mail and on Thursday held a historic lead in total pre-Election Day ballots cast of 463,000, or 10 percentage points, according to the state's Division of Elections. Gov. Ron DeSantis this week urged Republicans to vote early in person, a message Trump plans to echo on Saturday, when he's expected to call on his base to get to the polls.
At a glance, the top-line Democratic margins also look huge in Arizona (16 percentage points), Michigan (24 points), North Carolina (14 points), Pennsylvania (46 points), and Wisconsin (22), according to the analysis from Hawkfish, which is funded by billionaire Michael Bloomberg, a Trump foe.
Though the numbers look good for Democrats, they're not cause for complacency for Hawkfish's CEO, Josh Mendelsohn, who echoes Republicans in saying that he expects high-propensity Trump voters to increasingly show up in force. Compared with Republicans, Democrats are exhausting far more of their high-propensity voters and the margins are expected to start tightening, as they have in Florida.
"Democrats are enthused, that's clear," Mendelsohn said, cautioning against a heavy reliance on forecasting models showing the likelihood of a Biden win.
"I find that folks want these models to be forecasts, and they want the forecasts to be like a hurricane forecast and just to be perfect," Mendelsohn said. "And it's not, because it is like hurricanes, you've got a whole bunch of model tracks, of which some are more reliable than others in certain circumstances."
With 11 days left until the election, time appears to be Trump's enemy more than Biden's.
"The concerning thing for Republicans is that once a Democrat vote is cast, or once a vote is cast in general, it can't be taken back," said Chris Wilson, a top Republican data analyst who independently reviewed the Hawkfish numbers for POLITICO. "That to me is the bigger issue here: Our window to message and convert any of these voters away from voting Democrat is shorter than the number of days left in the campaign."
Wilson compared the situation to an analysis for a battleground congressional district he has consulted for in which the Republican leads [in polling] by a point, but Democrats have poured it on so heavily in early voting that his candidate needs to win Election Day by huge proportions.
"Great news. We lead [in the polls]. But if you look at the early vote, we have to win 2-to-1 on Election Day," Wilson said. "And that's probably just about every contested race in America."
While the campaigns and consultants are monitoring the ballots counted by party, the votes will not be tabulated until Election Day, and not every Democrat is voting for Biden nor every Republican for Trump. With some variations, battleground polling indicates each is pulling roughly the same number of votes from his base when averaged out, but Biden has a slight edge among independents, which could prove decisive.
With 47 million votes already cast nationwide in more than half the states, according to the U.S. Election Project, [Update as of this post: Total Early Votes: 52,480,306 • Mail Ballots: 36,288,967 • In-Person Votes: 16,191,339] and as many 100 million more or so to go, the election is now being decided. But more than elsewhere, the presidency is expected to hinge on these six states. Here's what they look like as of now, based on state data and Hawkfish's analysis. It uses publicly available election data, and ascribes scores to voters that are based on demographic research to determine their likely level of support for a candidate:
ARIZONA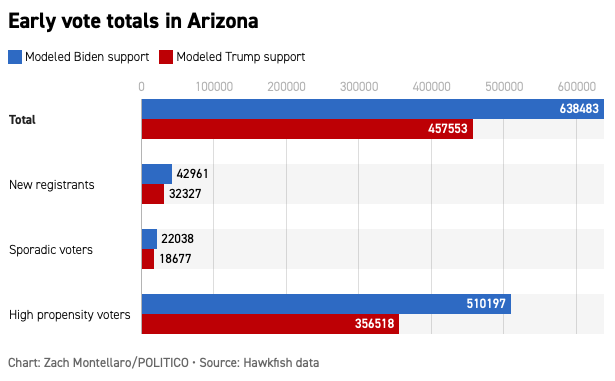 Total ballots cast of 4 million registered voters: 1.1 million for which Hawkfish has support scores. Biden: 58 percent. Trump: 42 percent.
Ballots cast by newly registered voters: 75,000. Biden: 57 percent. Trump: 43
2020 Ballots cast by sporadic voters (registered in 2016 and 2018 but didn't vote): 41,000. Biden: 54 percent. Trump: 46 percent.
Democratic takeaway: Polls show Biden leading as well as Democratic Senate candidate Mark Kelly. Compared with 2016, Democratic returns are 74 percent higher while Republican returns are up 29 percent.
Josh Zaragoza (D), Javelina Strategies: "Both Biden and Kelly have been up in virtually every poll — significantly up in many of those polls. This only reinforces that this is the most favorable political environment for Democrats since 2008 and perhaps ever in Arizona — or at least in the 21st century."
Republican takeaway: More than 200,000 conservatives who either refused to vote in the presidential race in 2016, voted for the Libertarian candidate or voted for write-in candidates have come home to Trump now that he has a record appointing conservative judges and cutting taxes.
Sean Noble (R), Encore Strategies: "That Democrats are turning in ballots at a higher rate than Republicans is not a surprise, because Republicans as a bloc are less confident in the mail system … Republicans are also more concerned about fraud. … So they will either show up on Election Day and vote in person or they will show up and drop off the ballot in person."
Continue reading POLITICO for an analysis of Florida, Michigan, North Carolina, Pennsylvania and Wisconsin.
Be a part of an historical election: if you have not yet returned your eary mail-in ballot, what are you waiting for? Early voting sites have ballot drop-off boxes so you can drop off your ballot if you do not have faith in the U.S. Mail. Check your County Recorder's website for locations.
If every Arizona voter who has requested an early mail-in ballot – today is the deadline – returns it before October 30, the first set of numbers you will see released on election night shortly after 8:00 p.m. will be the early mail-in ballots already processed by election day. The later updates will add same-day ballots cast on election day. That takes a few days. The counting of ballots will take several more days as early mail-in ballots continue to be processed, and provisional ballots cast on election day are also processed.
Just as we saw in 2018, candidates leading after midnight when the updates pause until the following morning may see their lead evaporate and find themselves trailing after a day or two, or more. Do not be fooled by the election night numbers! The vote is going to take weeks to count. There may even be a race close enough for a recount, as we have seen in recent elections in Arizona.
So take a deep breath, relax and be patient.