Justice Samuel Alito suggests in his majority opinion in Burwell v. Hobby Lobby Here (.pdf) that the holding is limited to the issue of the birth control mandate under the Affordable Care Act. Alito assured us that he is not opening the door to future legal challenges to other laws that some find objectionable on religious grounds (wink, wink), as Justice Ruth Bader Ginsburg pointed out in her stinging dissent (the fact that Alito felt compelled to address the dissent numerous times in his majority opinion is a clear indication that Ginsburg cut close to the bone):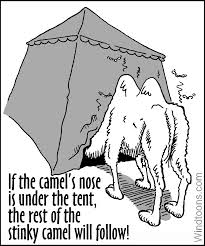 "As this description of our reasoning shows, our holding is very specific. We do not hold, as the principal dissent alleges, that for-profit corporations and other commercial enterprises can "opt out of any law (saving only tax laws) they judge incompatible with their sincerely held religious beliefs." Post , at 1 (opinion of GINSBURG, J.). Nor do we hold, as the dissent implies, that such corporations have free rein to take steps that impose "disadvantages . . . on others" or that require "the general public [to] pick up the tab." Post , at 1–2. And we certainly do not hold or suggest that "RFRA demands accommodation of a for-profit corporation's religious beliefs no matter the impact that accommodation may have on . . . thousands of women employed by Hobby Lobby." Post, at 2."
Justice Kennedy also sought to pooh-pooh the idea that the holding in this case was opening the door to future legal challenges to other laws that some find objectionable on religious grounds: "It seems to me appropriate, in joining the Court's opinion, to add these few remarks. At the outset it should be said that the Court's opinion does not have the breadth and sweep ascribed to it by the respectful and powerful dissent."
The majority is being disingenuous. As Jeffrey Toobin points out, this is the M.O. of the Roberts Court: a little decision now, then cite it for a sweeping decision later. The Trap in the Supreme Court's "Narrow" Decisions:
[T]he Court's decisions in Burwell v. Hobby Lobby and Harris v. Quinn conform to an established pattern for the Roberts Court. It's generally a two-step process: in confronting a politically charged issue, the court first decides a case in a "narrow" way, but then uses that decision as a precedent to move in a more dramatic, conservative direction in a subsequent case.
This is well known to Court observers, and the conservative activist justices of the Court were speaking in code to conservatives. The conservative "dog whistle" was heard loud and clear by the likes of Cathi Herrod and the Center for Arizona Policy.
Howard Fischer, who has Cathi Herrod on speed dial, writes at the Arizona Capitol Times (subscription required) SB1062 backers see 'Hobby Lobby' ruling as potential boon:
Herrod said Monday's decision breathes new life into that effort, with an eye on asking lawmakers – and whoever is elected governor – to revisit the issue when the new session starts in January.
"Obviously, over the next six months or whatever, many legal scholars will be analyzing the opinion, looking at the nuances of the opinion," she said. "We will be doing the same to see are there any indications from the opinion that would apply to Arizona law where parts of the opinion should be codified in Arizona law."
One key issue is the question of whether corporations have a right of religious freedom.
"We still have the Arizona laws that (define) a 'person' as including a corporation," Herrod said. "And that was basically what we were trying to do in SB1062" by extending to them the protections of Arizona's Religious Freedom Restoration Act.
* * *
Herrod said she's not sure whether some new version of SB1062 should again try to provide a religious exemption for all corporations or only the smaller subset of family-owned businesses.
"That's a decision that needs to be made as we really closely analyze the opinion," she said. "We just don't know yet what would make sense on that or what needs to happen."
Remember: this was a national scandal earlier this year for which Arizona took a beating to its already disreputable reputation because of the Religious Bigotry bill, SB 1062. And Cathi Herrod wants to tee it up and do it all over again!
You have in your hands the power to stop the insanity of Cathi Herrod and the CAP dictating policy to the Tea-Publican controlled Arizona legislature. You can elect a Democratic governor and attorney general. And you can kick out of office every Tea-Publican who voted for the discriminatory Religious Bigotry bill, SB 1062. Cathi Herrod has no influence or power over Democrats. You can end her reign of terror in November.
HOW THEY VOTED
Senate
House