In a memorandum filed in support of a motion for summary judgment on Aug. 20, the House Committee on Ways and Means argued that the committee must obtain President Trump's tax returns in order to continue its oversight of and investigation into Trump's financial records. House Ways and Means Invokes 'Centuries' of Congressional Oversight in Tax Returns Case:
The filing argues that the Department of Justice is attempting to limit congressional oversight by not releasing the tax returns to the committee and that sustaining this denial of the tax returns based on these claims is unlawful and would "allow Executive Branch agencies to disregard all manner of Congressional requests for information—requests that, for two centuries, have been regarded as within the heartland of Congress's legislative and investigatory powers."
More importantly, the House Committee on Ways and Means in its memorandum advised the court of the existence of an IRS whistleblower who has made "credible allegations" of potentially wrongful interference with the IRS' presidential audit process. House Democrats say whistleblower bolsters case for getting Trump's tax returns:
The disclosure was included in a motion by House Democrats asking Judge Trevor McFadden to summarily order the Treasury Department to turn over President Donald Trump's tax returns to Ways and Means Chair Richard Neal (D-Mass.). Part of the Democrats' argument in the case is that they need Trump's returns to review the effectiveness of the IRS' routine audits of every president.
The motion included an Aug. 8 letter by Neal to Treasury Secretary Steven Mnuchin saying that Ways and Means received an "unsolicited communication" on July 29 "from a Federal employee setting forth credible allegations of 'evidence of possible misconduct' — specifically, potential 'inappropriate efforts to influence' the mandatory audit program."
He asked Mnuchin to provide documents and communications "of specified Treasury and IRS employees" regarding the matter.
Mnuchin, in an Aug. 13 response that was also included in the Democrats' court filing Tuesday, said Treasury didn't have any pertinent records to provide and suggested Neal take his concerns to the IRS' inspector general.
The allegations of interference in the audit process are a new twist in Neal's effort to obtain six years' worth of Trump's personal returns, along with six years of some of his business returns. In July, Neal filed a federal lawsuit to enforce a subpoena for the returns.
In Tuesday's filing, House Counsel Doug Letter asked for summary judgment in favor of all claims in Democrats' complaint, saying "there are no genuine issues of material fact." The filing included documents that again lay out the Democrats' arguments for obtaining Trump's returns, under a law that allows Neal to request them from Treasury.
"The Committee needs the requested information to evaluate the integrity of the IRS's existing program for auditing Presidents' tax returns — a need only heightened by the Committee's receipt of whistleblower allegations about improper influence in that program," the House attorneys said in a document filed with the motion Tuesday.
Attorneys for Trump, in a filing of their own Tuesday, asked McFadden to delay any decision on the Democrats' request, saying significant legal issues still need to be settled.
"All told, it took the Committee 180 days to bring this suit (and still another 49 days after that before moving for summary judgment), with little to no explanation for its leisurely pace," the attorneys said. "The Committee's purported desire to consider legislation regarding the Presidential audit process does not require that the Court suddenly bring these proceedings to a gallop."
This is a motion for summary judgment. The standard for granting summary judgment is that there are no genuine issues of material fact in dispute, and that the moving party is entitled to judgment as a matter of law. Trump's "Injustice" Department must successfully argue that there ARE genuine issues of material fact in dispute, and that the moving party is NOT entitled to judgment as a matter of law. The above snarky response from the Trump "Injustice" Department does not satisfy this standard in any respect. If this is all they've got, the appropriate response from the judge is "motion for summary judgment is hereby GRANTED."
The Trump administration argues that Neal needs a legitimate legislative reason for seeking the documents and that he has none. His real motivation, Trump's attorneys say, is to politically embarrass the president.
Actually, Sections 6103(f)(1) & (2) of the tax code does not require Congress to state any specific purpose for seeking the tax returns. Nevertheless, some argue that although Section 6103(f) is phrased in absolute terms — it allows the tax committees to obtain tax return information, without qualification — any congressional action, including requests for information, must come within the scope of legislative powers granted by Article I of the Constitution.
Chairman Neal's request to the IRS Commissioner stated the specific legislative purpose that:
Consistent with its authority, the Committee is considering legislative proposals and conducting oversight related to our Federal tax laws, including, but not limited to, the extent to which the IRS audits and enforces the Federal tax laws against a President. Under the Internal Revenue Manual, individual income tax returns are subject to a mandatory examination, but this practice is IRS policy and not codified in Federal tax laws. It is necessary for the Committee to determine the scope of any such examination and whether it includes the review of any underlying business activities required to be reported on the individual tax return.
This is clearly a legitimate legislative purpose of the Committee under Article 1 of the Constitution, buttressed by the recent disclosure of an IRS whistleblower "setting forth credible allegations of 'evidence of possible misconduct' — specifically, potential 'inappropriate efforts to influence' the mandatory audit program."
A Neal aide declined to comment on the whistleblower charge, but a footnote in Tuesday's filing said the committee is prepared to offer the court confidential material on the undue influence allegation.
The Committee's position is further buttressed by this report at The Huffington Post. Trump Inflating Scottish Golf Resorts' Value By $165 Million, Per UK Filings:
President Donald Trump has filed financial disclosure statements that appear to misstate the value and profitability of his Scotland golf courses by $165 million, possibly violating federal laws that are punishable by jail time.
Trump claimed in his 2018 U.S. filing that his Turnberry and Aberdeen resorts were each worth more than $50 million. For that same time period, he filed balance sheets with the United Kingdom government showing that their combined debt exceeded their assets by 47.9 million British pounds ― the equivalent of $64.8 million at the exchange rate on Dec. 31, 2017, the date of the last U.K. filing available.
His 2018 "public financial disclosure" filed with the U.S. Office of Government Ethics also claims those two resorts earned him "income" of $23.8 million. His filings with the U.K. Companies House office in Edinburgh for that period showed the resorts had actually lost 4.6 million pounds ― equal to $6.3 million.
His U.S. disclosure statement also fails to mention $199.5 million in loans Trump has made to those resorts: $54.9 million from him personally to Trump International, Scotland in Aberdeenshire; $144.6 million from his trust to Trump Turnberry in Ayrshire.
Knowingly providing false or incomplete information on that form is a violation of the Ethics in Government Act punishable by up to a year in jail. Signing the form attesting to the untrue information constitutes making a false statement, punishable by up to five years in prison.
"The numbers don't appear to add up," said Virginia Canter, an ethics law expert with Citizens for Responsibility and Ethics in Washington. She added, though, that OGE regulations give filers a fair amount of latitude in determining asset value. "That said, it's not at all clear after reviewing the U.K. balance sheet for Aberdeen how they came to $50 million. … I think it raises legitimate questions."
The White House declined to comment on the discrepancies between the U.S. and U.K. filings. Sheri Dillon, Trump's outside lawyer who handles his financial disclosures, did not respond to HuffPost queries.
Early Tuesday evening, after this article was published and days after HuffPost first sought comment, the Trump Organization, his family business that operates the resorts, responded through Chief Legal Officer Alan Garten, who said the two sets of statements are filed under different accounting and legal standards. "As a result, while both filings provide financial information, the filings each have distinct reporting requirements and standards. Thus, the two filings cannot and should not be compared," Garten wrote in an email.
He did not respond to follow-up questions about the widely divergent claims regarding assets and income and why Trump failed to disclose the two loans.
A History Of Fake Wealth
In any case, the false and missing information on his 2018 filing has been false and missing on Trump's forms repeatedly, since before he even took office.
On May 16, 2016, for example, then-candidate Trump also claimed on his financial disclosure forms that the two Scotland resorts were worth more than $100 million, even though he filed papers with Companies House on Dec. 31, 2015, acknowledging that the courses had a combined value of negative $32.1 million.
U.S. filings also included erroneous information regarding Trump's Doonbeg resort in Ireland, which similarly requires annual disclosures from privately held companies. In 2015, 2016 and 2017, Trump told the Irish government that the course had lost millions of dollars ― $7.2 million in all. In that same period, Trump claimed on his American financial disclosures that the course had provided him tens of millions of dollars in income, totaling $37.4 million.
Trump's golf courses in Scotland and Ireland offer unique insights into the state of Trump's businesses because they are required to submit detailed financial documents annually, even though they are privately held. In the United States, where the vast majority of Trump's businesses are located, there is no such disclosure requirement ― meaning there is no straightforward way of determining whether Trump has similarly misstated the asset value and profitability of his U.S. properties.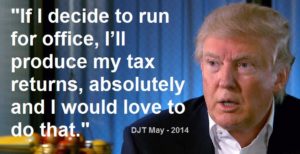 Americans would have a clearer understanding of the actual financial health of Trump's businesses had he kept his initial promise to release his tax returns if he ran for president. But Trump reneged on that pledge almost immediately after entering the race. At first he claimed he would release the returns after "routine audits" had been completed, before eventually arguing that Americans had voted for him anyway and that they were not interested in seeing his taxes. In doing so, he became the first major-party nominee since Watergate to fail to disclose his returns.
Trump's supposed great wealth was a major selling point for him during his campaign in the Republican primaries. Weeks after entering the race in June 2015, Trump declared in a press release that his net worth was "in excess of TEN BILLION DOLLARS." In a recent speech, he claimed the presidency was forcing him to lose billions: "It's probably costing me from three to five billion," he told workers at a petrochemical plant in western Pennsylvania last week. "I don't care. I want to do the right job."
Both of those assertions are almost certainly false.
* * *
If Trump is, indeed, knowingly providing false or incomplete information about his golf courses, it would not be the first time he has violated the plain language requirements of the financial disclosure form.
His very first filing as president, on June 14, 2017, did not mention the $130,000 he owed Michael Cohen for paying hush money to a porn star in the days before the 2016 election. Trump disclosed that loan in his 2018 filing in the form of a footnote.
Cohen, who was Trump's longtime lawyer and "fixer," is now in federal prison after pleading guilty to a variety of crimes, including the election law violation on behalf of Trump.
Cohen himself admitted, "with respect to both payments, he acted in coordination with and at the direction of Individual-1," the prosecutors wrote. "Individual-1" is how Donald Trump is referred to in the pleadings.
The only reason Donald Trump was not charged as a co-conspirator and prosecuted alongside Michael Cohen is the legally flawed Office of Legal Counsel (OLC) policy memorandum which prohibits charging a sitting president with a crime. It is also the only reason Trump was not charged with obstruction of justice by Special Counsel Robert Mueller.