Today is the first anniversary of the mass shooting at Marjory Stoneman Douglas High School in Parkland, Florida. In the year after Parkland, there was nearly one mass shooting a day. "Since Parkland, there have been nearly 350 mass shootings in the US — nearly one a day."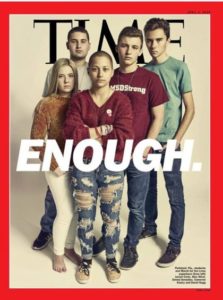 "The shooting inspired a new national movement for gun control, the #NeverAgain movement, culminating in the March for Our Lives in Washington, DC, and sister marches across the country last March."
The student-led movement has had some successes, but there has also been some backsliding. Here is every new gun law in the U.S. since the Parkland shooting:
Legislatures around the country have passed dozens of bills to address gun violence in the year since the 17 people died in a mass shooting at Marjory Stoneman Douglas High School in Parkland, Fla.
In all, 123 new laws were enacted in the 364 days since the Parkland tragedy, according to data collected by the Associated Press. Below is a list of them all, organized by state.
Many of the new laws already in effect added restrictions on owning a firearm. For example, 18 of these laws disqualified more people from owning guns, 11 are so-called "red flag laws" that allow people to petition a court to take away firearms from someone who poses a danger to themselves or others, and nine states passed new prohibitions on bump stocks, a firearm add on that allows a semiautomatic weapon to fire at a rate comparable to a machine.
Yet other states expanded stand your ground provisions and allowed for the carrying of guns in schools and churches.
Can you guess what Arizona did? Oh, no fair, you already knew!
Arizona: Exempts firearms worth not more than $2,000 from being taken to pay bankruptcy debts – calling them personal, family or household items
Arizona: Exempts all state and federal law enforcement officers from restrictions on carrying guns
Arizona: Requires courts to register injunctions against harassment and protection orders with the NCIC database within 24 hours of the filing; critics worry it will take away gun rights for those in disputes
Arizona: Changes the process for setting aside convictions, which can result in the restoration of firearms rights.
Arizona: Requires Department of Public Safety to submit a report to the governor and legislature each year on whether changes were made to reciprocity rules for concealed carry permits with other states
Arizona: Allows off-duty police officers to carry guns into bars and liquor stores
The Parkland students' greatest success to date came last night on the eve of the first anniversary of the Parkland shooting. For the first time since the omnibus crime bill of 1993, if I am not mistaken, the House Judiciary Committee voted for a package of new gun control laws. House Judiciary advances first gun control legislation in decades; House panel advances bill to expand background checks for gun sales:
The House Judiciary Committee on Wednesday advanced legislation that would require universal background checks for gun purchases in the latest sign that Democrats are prioritizing gun control in the first days of their majority.
Lawmakers on the panel voted along party lines to approve the bill, 23-15. Democrats hope to bring the measure to the floor for a vote in the coming weeks.
The committee vote came a day before the one-year anniversary of the shooting at Marjory Stoneman Douglas High School in Parkland, Fla., which killed 17 people.
Rep. Ted Deutch (D-Fla.), whose district includes Parkland, made an emotional plea during the committee markup for the bill's approval if it meant even one mass shooting could be prevented.
"It happened," Deutch said of the Parkland shooting. "Now, our responsibility is to do everything we can to make sure it never happens again."
Deutch wasn't the only lawmaker to become emotional at the markup, the first major gun control legislation advanced out of the House Judiciary Committee in decades.
* * *
Freshman Rep. Lucy McBath (D-Ga.), who lost her son to gun violence, broke into tears after casting a vote in favor of the bill. "For my son Jordan Davis, I vote aye," she said.
Democrats first unveiled the bill last month, less than a week after taking control of the House majority, suggesting the issue has become a higher priority for the party in recent years.
The bill, sponsored by Reps. Mike Thompson (D-Calif.) and Peter King (R-N.Y.), would expand the federal background check system to cover sales by unlicensed gun sellers, including sales at gun shows or online. Current law only requires licensed firearms dealers to conduct background checks before transferring a gun.
People seeking to transfer guns would have to visit a licensed firearms dealer to run a background check. But the legislation offers exemptions for gifts between family members as well as temporary transfers for use at a shooting range or hunting.
"It is time to close this dangerous loophole," said House Judiciary Committee Chairman Jerrold Nadler (D-N.Y.). "This is long-overdue legislation that will help address our national crisis of gun violence."
While the legislation is titled the "Bipartisan Background Checks Act," it does not currently have widespread support on both sides of the aisle. Nearly all Democrats have signed onto the bill, but only five Republicans are listed as cosponsors. Aside from King, the sole Republicans to endorse the legislation are Reps. Brian Fitzpatrick (Pa.), Brian Mast (Fla.), Fred Upton (Mich.) and Chris Smith (N.J.).
* * *
Republicans offered a series of amendments over the course of several hours to loosen the bill's exemptions and establish a "fusion center" within the FBI to combat mass violence that would analyze intelligence on violence, but all were rejected.
Rep. Mike Johnson (R-La.) questioned whether suicidal people who ask trusted confidants to take possession of their guns out of precaution would be in legal jeopardy under the legislation.
"Do we want to create a deterrent to that kind of activity?" Johnson asked.
The legislation does have an exemption for temporary transfers that are "necessary to prevent imminent death or great bodily harm, if the possession by the transferee lasts only as long as immediately necessary to prevent the imminent death or great bodily harm."
The National Rifle Association (NRA) previously endorsed requiring background checks for gun show sales in 1999 in the aftermath of the shooting at Columbine High School. But the NRA has since reversed course to oppose expanding the background check system.
The NRA called the legislation a "broadside against lawful firearm ownership in America, setting cruel traps for common and innocent firearm-related conduct" and ineffective at deterring criminals who "by definition, do not obey the law."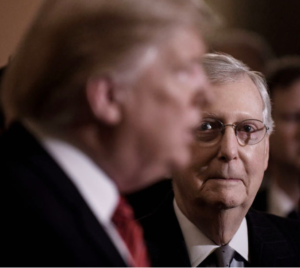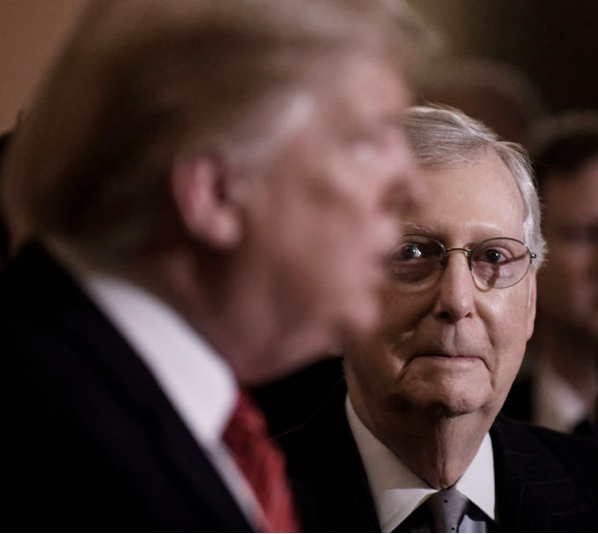 The bill's odds of passage in the Senate are low. The "Enemy of The People," Senate Majority Leader Mitch McConnell (R-Ky.) opposed a background check bill that the upper chamber considered in 2013 and has offered no sign of wanting to bring up the latest background checks expansion measure.
The House Judiciary Committee also approved a bill later Wednesday that would close the so-called "Charleston loophole" that allow a gun sale to go forward if a background check isn't completed within three days. It would instead extend the review period to 10 days and allow a purchaser to request a review if the background check isn't completed by then. If an additional 10 days pass without a response, then the gun purchase can go forward.
Authored by House Majority Whip James Clyburn (D-S.C.), the legislation is designed in response to Dylann Roof, the gunman who opened fire in the 2015 shooting at a historically black church in Charleston. Flaws in communication between local law enforcement and a federal background check system examiner allowed Roof to purchase the gun after waiting the required three business days.
The federal background check system examiner didn't see an incident report showing that Roof previously admitted to possessing drugs, which would have resulted in a denial of the gun sale.
David Meyer writes at the Washington Post, One year after the Parkland shooting, is the #NeverAgain movement on track to succeed?
One year later, the Parkland young people have proved savvy and effective organizers. They haven't stopped mass shootings: There have been more than 300 in the past year, leaving more than 300 people dead and more than 1,300 wounded. And the policies they've promoted and the less dangerous world they imagined are still distant.
That doesn't mean they've failed. Successful social movements grow from years of investment in organizing and education. By looking at where the #NeverAgain movement has invested, we can best assess its potential.
Meyer then examines the historical context and development of other mass movements in American history.
How does #NeverAgain stack up on these three measures?
So far, the Parkland student activists have been tackling all three challenges. First, they took immediate advantage of the spotlight and staged familiar actions: local and national demonstrations, lobbying trips to Tallahasseeand Washington, a televised town hall meeting, appearances on televisionand the covers of major magazines.
But they've also kept up their work as the spotlight shifted. They published a book, orchestrated boycotts and school walkouts, and staged a national road trip to promote voter registration among young Americans.
Second, they've built broad coalitions, sharing their spotlight with young people from very different backgrounds, defining the problem of gun violence to include crime, suicide and police violence. Their organization, March for Our Lives, joined a coalition of other gun-control organizations that formed in the wake of other shootings, including Moms Demand Action, Everytown for Gun Safety and Courage to Fight Gun Violence.
Third, they're strategizing for the long term, not only looking at immediate gains. They've offered an agenda and identified an opponent: the NRA. They've put unusual pressure on companies that do business with it by threatening boycotts.
By keeping gun violence in the news and staging repeated events, the Parkland students helped recruit thousands of new young activists and voters, helping to put new voices in Congress.
For instance, in suburban Atlanta, young activists buoyed the congressional campaign of Democrat Lucy McBath, who had become an activist after her teenage son was shot and killed at a gas station. Aided by unusually high voter turnout, McBath won by just over 3,000 votes in a district that had voted Republican for decades. Since taking office a few weeks ago, she has co-sponsored bills that would mandate universal background checks for gun purchasers and fund research on gun violence.
It's a good start, but many challenges remain. The new Democratic-led House may pass the bills McBath supports, but the Republican-controlled Senate is unlikely to follow, given that GOP lawmakers tend to be proud of "A" grades from the NRA. Nor does President Trump seem likely to cross the NRA by signing such bills into law. Substantial reforms at the federal level are at least an election away.
The revived gun-control movement needs to find ways to continue with a sense of urgency, claim partial victories and navigate a long road forward.
"Let us realize the arc of the moral universe is long, but it bends toward justice." – Rev. Dr. Martin Luther King, jr.