The GOP culture of corruption runs deep in Arizona.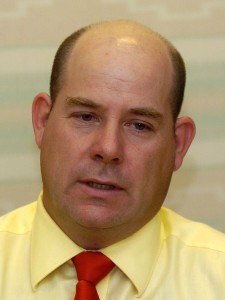 The poster boy for a lack of ethics and corruption is House Speaker David Gowan (R-Sierra Vista), although he has plenty of competition for the title (you know who you are).
Gowan is unbelievably running for Congress, God save us.
As you are all aware by now, the Speaker imposed new "security" background checks last week for capitol reporters to have access to the House floor. Because there is no one more dangerous than a capitol reporter.
This move actually was in retaliation for Hank Stephenson of The Arizona Capitol Times having exposed the Speaker's unethical behavior in using tax dollars to supplement his congressional campaign travel. The Speaker had to pay the money back.
Other capitol reporters refused to go along with the new security background check, and a full-blown First Amendment "suppression of the media" scandal broke out.
The Arizona Republic editorialized, Reporters unmasked Arizona's House Speaker, so they had to be punished:
On Thursday the Speaker of the Arizona House of Representatives barred reporters and photographers from the House floor because they wouldn't submit to the security equivalent of a proctology exam.
David Gowan wants to probe the criminal, civil and driving records of every journalist who seeks access to the House floor.
For as long as anyone can remember, reporters have had entree to the floor to cover the government of the people of this state.
This week that ended.
Gowan told his fellow lawmakers it ended because of security concerns. "I want to make sure you're protected."
You can be assured that's not why it ended.
It ended because David Gowan, who pretends to be a conservative Republican in the light of day, has a huge appetite for your tax dollars when the lights are off.
That's why 14 reporters and photographers were seated for the first time in at least three decades in the House balcony instead of on the House floor.
They were there because they refused to become the pliant little lambs of state leadership, and because they shined a light on the Speaker of the House and revealed this indisputable truth:
David Gowan is a hypocrite.
He has been feasting at the public trough since he entered leadership and his gluttony is still not sated.
Most recently he was caught crisscrossing Congressional District 1 on your dime promising to be the fiscal conservative Republicans require for their next congressman.
In the light of day he told voters, "As your congressman, I will continue working to shrink the size and scope of government."
In the dark of night he was dipping into the state treasury to make you pay for his campaign travel.
You wouldn't know that if it weren't for the people in the press corps he relegated to the rafters.
They had to be punished. They cost him some coin.
Your coin.
Gowan had to refund the House more than $12,000 for the ill-gotten gains he had claimed on travel vouchers.
And when he was caught he wasn't even man enough to own up to it.
He blamed it on his assistant, claiming she filed mileage claims under the false impression he was traveling on state business in his personal vehicle.
One might have given Gowan the benefit of the doubt had he not already bellied up to the trough several times before.
In 2014, when he was speaker-elect, he put his longtime pal Billy Cloud on the payroll as sergeant-at-arms. A job that had roughly paid $40,000 in the past, was jacked up to $80,000 for a crony. Gowan claimed he had expanded the duties of the job.
Not long after that he was caught planning a $2 million renovation to the House basement that would include a new gym for lawmakers. This in a state so cash poor it couldn't properly fund its schools.
This would be a good time for Republican voters in CD 1 to ask themselves:
If David Gowan has so little respect for our tax dollars in Arizona, what happens if we set him loose in Washington?
After taking a well deserved beating in the media since last Thursday, the Speaker today unapologetically relented (sort of). The Arizona Capitol Times (subscription required) reports, House relents on media background checks, restores some access:
Pressured by members of his own party, House Speaker David Gowan this morning rescinded his ban on reporters on the floor who have not first undergone extensive background checks.
But not full access.
In a brief statement, House Republican publicist Stephanie Grisham said the badges that had been given to regular Capitol beat reporters that opened certain doors are not being reactivated. That had provided easier access for reporters to go to lawmakers' offices, including that of the speaker.
Instead, there will be a sign-in process available only when the House is on the floor.
Gowan's reversal comes less than a week after he claimed that House members had demanded he tighten up security procedures. That followed a disturbance in the public gallery.
But it turns out the letter from GOP legislators that Gowan said led to the policy change never actually mentioned concerns about reporters on the floor. Instead, it simply asked Gowan to spend money in the House budget "for the purpose of improving the physical security of the Arizona House of Representatives building."
"The speaker stands by his security plan," Grisham said this morning. But she acknowledged there had been pressure on her boss to reverse his stance, saying he "has a responsibility to his members and public who expressed concern."
Grisham said she did not know if Gowan would be available to provide further explanation of his change of heart.
Aside from restoring floor access, the move also means that, at least for the time being, plans to target any specific reporter are sidelined.
Gowan had demanded not only that reporters consent to examinations of criminal and civil records but also provide information about driver's license and prior addresses. More significant, his policy said anyone convicted of certain specific crimes would never be allowed access (i.e., the crime of trespass — the Class 2 misdemeanor which would have disqualified Hank Stephenson, the Arizona Capitol Times reporter who discovered that Gowan had used $12,000 in state resources for travel for both personal purposes and in his congressional campaign.)
What Arizonans want to hear now is that David Gowan is terminating his campaign for Congress. He has clearly demonstrated his unfitness to serve in higher office. Be gone, and good riddance.