It must be the day for people who should never be a member of Congress to announce that they are running for Congress. Only in Arizona.
The Arizona Republic reports that Arizona House Speaker David Gowan enters race for Congress: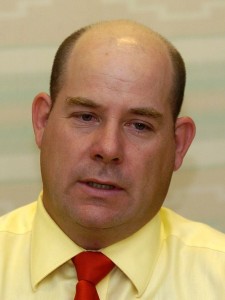 Arizona House Speaker David Gowan announced Monday his candidacy for Congress in eastern Arizona, becoming the third prominent Republican to enter the race for the 1st District seat.
Gowan, who lives outside the district, said his campaign message will be "respect the West." [That's Neo-Confederate secessionist code for a federal land grab and abolish the EPA .]
"While most candidates rely on promises of what they will do, I prefer to be judged on my conservative record and leadership," Gowan said in a written statement. "As your congressman, I will continue working to shrink the size and scope of government, I will fight to restore our Constitutional rights, I will make securing our borders the priority it ought to be, and I will work to ensure that our government's focus is on getting out of the way of the private sector."
Gowan said he would push to defund Planned Parenthood and block the educations standards known as Common Core. He cited as a conservative success helping in the Legislature to cut the state budget by $2 billion over seven years.
Yes, his "success" at Faith based supply-side 'trickle down' economics has made Arizona one of the poorest states in the country. Not exactly something to be proud of.
Gowan painted his competitors — "a good field of nice candidates" — as conservatives in boast only.
"Some have no record, some have small records, and some have mixed records," he said. "The biggest difference between us all is that with me, the voters know they can rely on my campaign promises to be kept."
The Gowan campaign said the speaker does not plan to resign from office to run.
Gowan is the third Arizona House speaker to run for a congressional seat in as many election cycles. Andy Tobin lost in the 1st District in 2014 and Kirk Adams lost in the 5th District in 2012.
Gowan will make the third loss. Gowan is so far-far-right that he falls off the edge of the flat Earth that he lives on in his own mind.
UPDATE: I have heard consistent rumors that his GOP colleagues were contemplating removing him as Speaker over his outrageous use of taxpayer dollars to upgrade his digs. House pegged basement renovation at $1.7 million. See the Arizona Capitol Times (subscription required) Next: Gowan pursues House renovations despite GOP revolt:
Reaction was quick and decisive when House Republicans learned of Speaker David Gowan's plans for a second large-scale renovation of the chamber in the past six months.
The caucus that elected him to lead the chamber barely six months earlier publicly expressed it didn't have confidence in his fiscal management.
In a scathing letter signed by half of the majority, the lawmakers voiced their opposition to the plan and declared that Gowan's spending thus far on renovations and staff pay has been "excessive… at a time when the state is facing a well-known fiscal crisis." While some of the projects he has completed since becoming speaker may have been necessary, "some were merely cosmetic in nature."
"As Republicans, we support limited government and policies that promote fiscal responsibility. This should extend not only to state policy but also to policies within the Arizona House of Representative," they wrote.
The Republican legislators demanded he appoint a bipartisan committee to review and approve any upcoming or recent expenditures in excess of $25,000.
But in the face of a small revolt from his fellow Republicans about his handling of the chamber's checkbook, Gowan is not relinquishing control over the chamber's purse strings. Nor is he backing down on his plans for a large-scale remodel of the House building. That has left many Republicans dissatisfied, with tensions simmering below the surface in the Republican caucus.
* * *
Republican lawmakers have walked out of the project meetings with Gowan with mixed emotions. Many were upset less about the spending than the fact that Gowan didn't give them a heads-up. Some felt the one-on-one with Gowan satisfied their concerns, but others said the meetings were fruitless, and only served to solidify their complaints that communication is lacking and the speaker is unwilling to budge, having ended the meetings with no changes promised.
Still other Republicans, speaking anonymously out of fear of retaliation, say that the letter was about much more than construction. They argued they have been browbeaten into supporting leadership's decisions and remaining quiet about their concerns about policy and the way the House is being run. Finding out about the renovation plans from the media instead of from Gowan or his aides was the last straw, they said.
And they say it brings up a larger conversation about how undemocratically spending decisions are made in the House, where the speaker has the power of the purse and doesn't need to run million-dollar decisions by anyone.
* * *
After his caucus in November decided he would be the next speaker, one of Gowan's first acts was to order a round of renovations to the House of Representatives building. As 2014 came to a close, the chamber spent more than $375,000 on projects to improve the building.
The renovations included more than $200,000 to remodel offices on the second floor and build new offices for several of Gowan's allies, more than $50,000 for carpet for the House floor that Gowan now says will have to be replaced, and more than $13,000 on wood paneling for his office and those of his leadership team.
Gowan later authorized the House to spend more than $17,000 on new furniture for three members of his leadership team. The furniture was delivered just as Republicans were meeting with Gowan to discuss their letter about excessive spending, further exacerbating their concerns that Gowan is wasting money to make improvements for his allies, not for the House itself.
Those expenses, paired with the news that Gowan was planning a large-scale remodeling of the House basement office spaces, rubbed Republicans the wrong way, especially since less than two months ago lawmakers were faced with difficult decisions as they tried to bridge a billion-dollar deficit in the budget.
The latest project included the possibility of putting in showers and a multi-purpose room that several sources with knowledge of the plans said would be used as a workout area. Gowan has since said that there are no plans for a workout room, but said through his spokeswoman that construction will likely continue.
* * *
[T]he political lightning rod Gowan has grabbed ahold of by suggesting increased spending on the House, while essentials such as school needs go unmet, underscore the reasons the chamber is in disrepair in the first place. Politicians who spend money on their own digs, however necessary for the health and safety of staff, strike a chord with the public that they're only looking out for themselves. But Gowan says his desire to keep the staff happy and healthy was atop the reasons why he solicited input from the staff in the first place.
Hmmm, funny how this recent history dod not make it into the reporting about Gowan announcing his bid for Congress.