What took so damn long? This should have happened weeks ago.
Mark Sumner at Daily Kos reports, House files lawsuit demanding Trump's tax forms:
On Tuesday, House Ways and Means Committee chairman Richard Neal filed a lawsuit against the Treasury Department and the Internal Revenue Service and the Treasury Department, demanding the release of Donald Trump's tax forms as required under law. This comes after more than two months of attempting to get the IRS and Treasury Secretary Steven Mnuchin to provide the forms by first request, then subpoena.
Trump has been blocking public transparency on every front. That includes preventing both current and former White House officials from testifying under a greatly expanded view of privilege, instructing staffers to ignore congressional subpoenas, and throwing a big privilege blanket over items as large as the entire Mueller report. But there may be no point where Trump's effort to cover-up is quite so blatant as the refusal by the Treasury Department to hand over Trump's tax forms—a requirement that is absolutely clear under law dating back to 1924.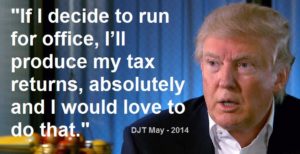 [T]he Trump White House seems to think that law only exists for other people. As The Washington Post reports, acting chief of staff and still, somehow, budget director Mick Mulvaney has declared that Democrats will "never" see Trump's official forms.
Both Mulvaney and Mnuchin have said that the reason representatives have been seeking Trump's forms is "partisan" or "not related to a legislative function." And both are continuing to ignore the fact that the law regarding producing these forms says nothing about either position. House members don't have to prove anything regarding their motives. There are no forms to fill out or hurdles to clear. They only have to request, and the IRS "shall comply." Except they haven't complied, which is why the whole thing is now headed to court.
As tax expert David Cay Johnston explained in an earlier post, Treasury Secretary and IRS Commissioner are in legal jeopardy (excerpts):
Under Section 6103 of our tax code, Treasury officials "shall" turn over the tax returns "upon written request" of the chair of either congressional tax committee or the federal employee who runs Congress's Joint Committee on Taxation. No request has ever been refused[.]
* * *
There are no qualifiers in Section 6103 that shield Trump from delivering, in confidence, his tax returns to Congress. No wiggle room at all.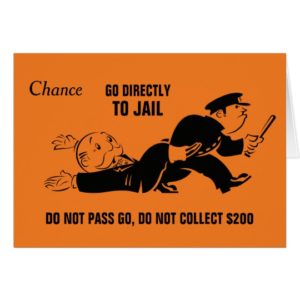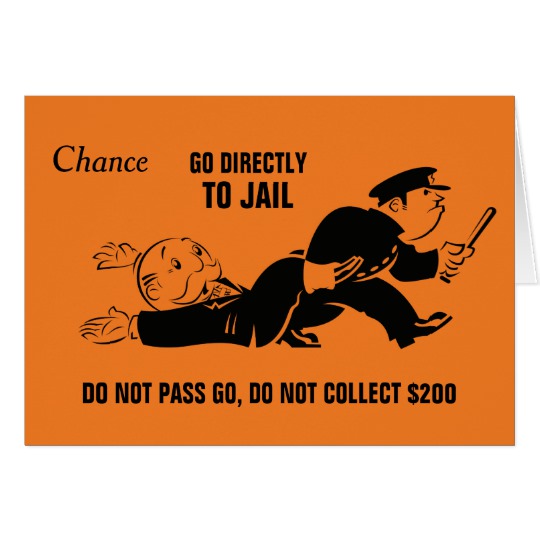 Another provision in our tax code, Section 7214(a), provides that "Any officer or employee of the United States acting in connection with any revenue law of the United States… who with intent to defeat the application of any provision of this title fails to perform any of the duties of his office or employment… shall be dismissed from office or discharged from employment and, upon conviction thereof, shall be fined not more than $10,000, or imprisoned not more than 5 years or both."
* * *
The good-conduct provisions of the tax law are as broad as they are severe.  Significantly, it doesn't just affect IRS auditors and collections officers. It applies to any federal employee—which means Trump as well as Mnuchin and Rettig—who "fails to perform any of the duties" they are assigned.
It also applies to any federal employee "who conspires or colludes with any other person to defraud the United States; or who makes opportunity for any person to defraud" the government. This provision could also hit Mike Mulvaney, the acting White House chief of staff and Trump's budget director, given his reckless statements on Fox News, which some call Trump TV.
The law covers official inaction, too. Anyone who "omits" his duty "shall" be removed and may be prosecuted as a felon.
So any attorney at the Department of Justice and Treasury who foolishly signed their names to this bullshit legal advice to Mnuchin can be charged as well.
Moreover, a confidential Internal Revenue Service legal memo agrees, concluding that tax returns must be given to Congress unless the president takes the rare step of asserting executive privilege, according to a copy of the memo obtained by The Washington Post.
Why Neal waited wasted two months without moving to take the matter to court isn't clear. And it's also not clear how quickly the issue will be taken up by federal courts. But at least this seems to be a move toward seeking a resolution.
In related legal matters the U.S. Court of Appeals for the D.C. Circuit has also agreed to expedite President Trump's appeal of an order allowing Mazars USA to hand over financial records to House Democrats. The court scheduled oral argument for July 12.
The 2nd Circuit Court of Appeals has also agreed to expedite President Trump's appeal of an order allowing Deutsche Bank and Capital One to hand over financial records to House Democrats. The court requested that oral argument in the case be scheduled "for the earliest possible sitting week" after all the court filings are made, which are due by July 18.
These cases are likely to move swiftly by court standards and could set up a decision from the U.S. Supreme Court that would land in the thick of the 2020 presidential campaign.