So have you been reading about the "Paradise Papers" this week? Paradise Papers Shine Light on Where the Elite Keep Their Money: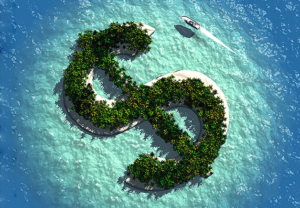 It's called the Paradise Papers: the latest in a series of leaks made public by the International Consortium of Investigative Journalists shedding light on the trillions of dollars that move through offshore tax havens.
The core of the leak, totaling more than 13.4 million documents, focuses on the Bermudan law firm Appleby, a 119-year old company that caters to blue chip corporations and very wealthy people. Appleby helps clients reduce their tax burden; obscure their ownership of assets like companies, private aircraft, real estate and yachts; and set up huge offshore trusts that in some cases hold billions of dollars.
The New York Times is part of the group of more than 380 journalists from over 90 media organizations in 67 countries that have spent months examining the latest set of documents.
* * *
As with the Panama Papers, the Paradise Papers leak came through a duo of reporters at the German newspaper Süddeutsche Zeitung and was then shared with I.C.I.J., a Washington-based group that won the Pulitzer Prize for reporting on the millions of records of a Panamanian law firm.
This week, The New York Times is publishing articles on the Paradise Papers that were reported in cooperation with our I.C.I.J. partners. Here is a roundup of the stories that have already been made public.
• Behind one of Silicon Valley's most prominent investors, Yuri Milner, was hundreds of millions of dollars in Kremlin funding. The documents show that Mr. Milner's investment in Twitter relied on money from VTB bank, controlled by the Russian state. One of his most significant investors in Facebook relied on funding from Gazprom Investholding, another government-controlled institution. Mr. Milner is also an investor in Cadre, a New York-based real estate technology company founded by Jared Kushner, President Trump's son-in-law and White House adviser.
• Wilbur Ross, the commerce secretary, invested in a shipping company whose top clients include a Russian firm controlled by an oligarch facing sanctions and President Vladimir V. Putin's son-in-law. The ethics agreement Mr. Ross filed when taking office said he intended to retain several investment partnerships, but did not specify that they were used to hold his stake in the shipper, Navigator Holdings. The revelations of Mr. Ross's continued investment led Senator Richard Blumenthal, a Connecticut Democrat, to call for an investigation. Mr. Ross said he had done nothing wrong, but would "probably" sell his Navigator shares.
• Apple has come under scrutiny by Congress for shifting much of its earnings to Irish subsidiaries, avoiding income taxes. Documents from the leak show that after its chief executive, Tim Cook, said that the company didn't just "stash money on a Caribbean island," it found a new tax haven — an island in the English Channel. The use of complex offshore structures have helped keep much of Apple's more than $128 billion in profit abroad free from taxation. The technique isn't unique to Apple. "U.S. multinational firms are the global grandmasters of tax avoidance schemes," said Edward Kleinbard, a former corporate tax adviser to such companies.
• A bank in Utah is in the business of helping wealthy foreigners register private planes in the United States, which requires American citizenship or residency. The offshore files shed light on how a small financial institution, the Bank of Utah, served as a stand-in for citizenship purposes to allow Russia's richest man, Leonid Mikhelson, whose energy company is subject to sanctions, register a $65 million Gulfstream jet.
Britain's The Guardian adds this report, Offshore cash helped fund Steve Bannon's attacks on Hillary Clinton: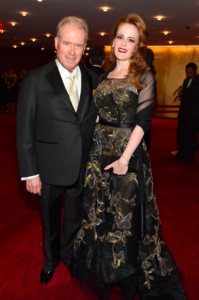 Leaked documents and newly obtained public filings show how the billionaire Mercer family built a $60m war chest for conservative causes inside their family foundation by using an offshore investment vehicle to avoid US tax.
The offshore vehicle was part of a network of companies in the Atlantic tax haven of Bermuda led by Robert Mercer, the wealthy hedge-fund executive and Bannon patron whose spending helped put Trump in the White House and aided a resurgence of the Republican right.
Mercer, 71, appears as a director of eight Bermuda companies in the Paradise Papers, a trove of millions of leaked documents on offshore finance reviewed by the Guardian, the International Consortium of Investigative Journalists and other partners. The files include a copy of Mercer's US passport and other private data.
Some of the Bermuda companies appear to have been used to legally avoid a little-known US tax of up to 39% on tens of millions of dollars in investment profits amassed by the Mercer family's foundation, which funded Bannon's book and a who's who of conservative groups, along with a $475m retirement fund for the staff of Mercer's hedge fund, Renaissance Technologies.
Bill Parish, an Oregon-based investment adviser who has been consulted on the tax by US government investigators, said: "This is simple but ingenious. You take retirement plans or foundations, you invest them in a hedge fund, and even if the value rises 100%, you can sell off the investments with no tax consequences."
Extraordinary returns
Mercer, who declined to comment for this article, has risen from relative obscurity to become one of the most influential figures in US conservatism. He financed ventures including the presidential campaigns of Trump and Senator Ted Cruz, the website Breitbart News and the online agitator Milo Yiannopoulos, whom he publicly disowned last week. Mercer has personally donated $41m to federal election campaigns over the past decade, according to public filings.
A PhD computer scientist who rarely speaks publicly, Mercer is president and co-chief executive of Renaissance, a New York-based company that manages more than $50bn in assets. He announced last week that he would step down from his leadership roles at the end of the year. Renaissance frequently makes extraordinary returns, which it chalks up to closely guarded trading formulas created at its Long Island offices by mathematicians and scientists. [Hmmm, algorithims … targeting voters?]
The company has also faced sharp criticism for trying to sidestep obligations to the public purse. The Internal Revenue Service (IRS) has been pursuing Renaissance for $6.8bn in federal taxes that it was accused of improperly avoiding through practices described as "abuses" in a 2014 investigation by a Senate committee. The two sides are preparing to meet for negotiations this week.
Mercer also helps fund the Mercer Family Foundation, a nonprofit led by his daughter and political guru, Rebekah. It has no website, staff or offices and is registered to a mailbox at a UPS store on Manhattan's Upper West Side. It was previously listed at Rebekah's $28m home in a Trump building nearby. The foundation's accountant is treasurer of Make America Number 1, a Super Pac part-funded by Mercer, which supported the 2016 campaign against Clinton.
Mercer's foundation is barred from intervening in election campaigns. But over the past decade, it has given out $62m to conservative research groups and thinktanks whose work generally bolsters Republicans. Among them are prominent names including the Heritage Foundation, the Federalist Society, and the Media Research Center.
From 2013 to 2015, the Mercer foundation gave $4.7m to Bannon's Government Accountability Institute – more than half its total funding in that time. Mercer's foundation has not yet filed paperwork disclosing its 2016 spending. An IRS official said the filing was more than five months overdue.
Bannon founded GAI in Florida in 2012 with Peter Schweizer, the conservative author of Clinton Cash. Since then, the GAI has paid Bannon $379,000 and Schweizer $781,000. Rebekah Mercer was a director of the group until 2014. It has continued assailing liberals since Trump's victory and says exposing the "misuse of taxpayer monies" is central to its mission.
Mercer's foundation also gave millions more to other groups that funded Bannon. It paid $3.8m to the nonprofit arm of Citizens United, best known for the deregulation of political spending it won in a 2010 supreme court ruling. Bannon has made films for Citizens United and between 2012 and 2013 was paid $450,000 in consulting fees by its nonprofit arm.
The Mercer foundation gave $1.2m to the Young America's Foundation, another conservative nonprofit, which paid Bannon more than $577,000 between 2010 and 2012 for filmmaking services, according to filings.
Mercer was also a major investor in Breitbart News, the influential rightwing website that Bannon led before joining Trump's campaign. Bannon returned to the site after being fired from the White House in August. In an extraordinary email to Renaissance staff last week, Mercer moved to distance himself from Bannon and announced he was selling his stake in Breitbart to his daughters.
* * *
The Mercer foundation is largely funded by money it makes through investments in Renaissance's hedge funds. Since 2004, according to annual filings, the foundation has sold off more than $68.5m of holdings in these investments and used the money to fund its operations.
While Renaissance's main hedge fund is based in the US, the company also has "feeder funds" incorporated in Bermuda, which imposes no income or corporation taxes.
Renaissance does not have staff or offices in Bermuda. Instead, the feeder funds are registered to the offices of Appleby, a legal and financial services firm that Renaissance pays to manage its offshore affairs. The Paradise Papers contain a cache of millions of Appleby's internal files, including dozens on Renaissance.
Documents reviewed by the Guardian indicate that the Mercer foundation has avoided liability for millions of dollars in US tax by routing its investments through one of these Bermuda vehicles.
Nonprofits in the US such as the Mercer foundation do not pay tax on ordinary donations from the public. But they face unrelated business income tax (UBIT) on money obtained through investments financed by debt, such as many of those by Renaissance and other hedge funds. UBIT is intended to prevent nonprofits from being used to compete unfairly with regular businesses.
But nonprofits can avoid the tax by routing their investments through an offshore company known as a "blocker." The Mercer foundation's public filings to the IRS confirm it has never paid UBIT. Since 2004, the foundation has paid $74,017 in federal excise taxes, less than 0.2% of its investment gains.
In Bermuda, Medallion Capital Investments was set up to take investments from American charities or foundations "closely affiliated with an owner or employee" of Renaissance, according to a regulatory filing obtained from the Bermuda government, which did not mention Mercer's foundation by name.
The Mercer foundation confirmed that Medallion Capital Investments was the destination for its money in 2004 and 2005, according to previously unreported filings to the IRS. More recently, it has not named the fund it uses. Renaissance told US authorities this year that Medallion Capital Investments held $1.3bn of funds owned by the company or people related to it.
Tax attorneys and accountants consulted by the Guardian said the Bermuda feeder fund appeared to be operating as a blocker between the Mercer foundation and the hedge fund investments.
* * *
Pension fund
Like Mercer's family foundation, his hedge fund company also appears to use an offshore blocker system to legally avoid US taxes on a huge pool of retirement funds being accumulated by its employees. The fund has existed for five years but is already nearing $500m in value, according to its accounts.
In 2012, Renaissance staff were unhappy with the tepid pension options available to most Americans. So their bosses obtained special permission from the US government to help supercharge their savings.
The permission meant staff could ditch their vanilla 401(k)s and funnel their entire individual retirement accounts (IRAs) into the firm's own hedge fund, free from restrictions designed to protect ordinary workers from risky investments. Several investment advisers said they were surprised the permission was granted.
"This is a unique perk," said Mat Sorenson, an attorney based in Phoenix, Arizona, who specializes in law around retirement accounts.
When making the request to the US government, Renaissance identified a pair of new investment vehicles it had set up to hold the retirement funds. These were registered in Bermuda and are among those in the Paradise Papers that identify Mercer as a director.
The Renaissance retirement fund began with $103m in 2012. By last year, it had grown to more than $476m. More than $300m of the gains came purely from returns on investments in the Renaissance hedge funds.
Ordinary Americans investing their retirement funds in this way could expect to face UBIT on some investment profits. But the use of the Bermuda vehicles to protect Renaissance's retirement fund means the tax is legally avoided.
A Renaissance source, who declined to be identified, stressed that other companies used blockers to avoid tax on retirement plan investments. But Ed Slott, an accountant based in New York who is a noted authority on IRAs, said the arrangements were far from typical.
"It may be common among people with truckloads of money and big hedge funds, but it's not common among rank-and-file, ordinary Americans who just save for retirement," said Slott. "Almost nobody has the wherewithal."
* * *
Filings show tens of millions of dollars are being taken out of Renaissance's retirement fund each year by workers remaining at the company.
The government imposes tax and a 10% penalty on funds removed early by younger workers. But this does not apply to early withdrawals by staff older than 59. Mercer is 71. A Renaissance spokesman declined to say whether Mercer had used the system to reduce tax on his income.
And these are the kind of people that the GOP tax plan benefits the most, giving them even more money with which to corrupt our political system.