The Republican National Committee lists 36 names on an online straw poll of potential presidential candidates. Larry J. Sabato's Crystal Ball has an equally unmanageable list of 20 official or potential Republican candidates in the 2016 presidential race. 2016 Republican Race Might See Record Level of Competition in Early States.
This is creating a conundrum for the RNC: how to fit all those clowns on one stage for the early debates. Here's the tentative Republican presidential debate schedule.
Here's my solution — stack 'em! Ask them only yes or no questions and they can hit a button that lights up their box with green for yes and red for no. Conservative groups can score their responses for religious fealty to conservative dogma, with everyone getting a point total at the end. If the RNC is going to allow all these vanity campaigns, it might as well be a TV game show. Nobody really wants to hear what these clowns have to say anyway.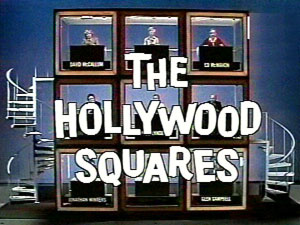 The New York Times reported this week, G.O.P. Seeks Strategy for Debates Amid Expanding Candidate List:
Republican leaders, searching for a fair-minded but strategically wise way to conduct the presidential primary debates, are grappling with how to manage White House contenders in a sprawling field that mixes proven politicians with provocateurs and reflects an increasingly fractious party.
But by trying to impose order through party-sanctioned debates and limiting the number of forums, the party may have begotten an equally messy problem: who to include on stage for a 90-minute debate from a field of nearly 20 potential candidates.
* * *
It is not entirely clear who will be in charge of devising or enforcing the debate criteria — that is, if there are criteria. One member of the national committee panel charged with overseeing the debates said its members had discussed ceding the decision entirely to Fox News.
[Wait, they don't already do this? FAUX News is the propaganda machine that dictates to the RNC, not the other way around.]
At issue is how to stage a substantive discussion that is fair to viewers and the campaigns. The party has little appetite for a forum so thick with candidates that it allows for not much more than an extended "lightning round" of questions. One Republican involved in the process said a 90-minute forum with 10 candidates would offer each candidate only four to five minutes, after subtracting commercials and moderator time.
The Washington Post reported, GOP wrestles with how to fit ballooning 2016 field on debate stage:
There could be 16 or more declared candidates by [August] in one of the most robust GOP presidential fields in history. Another half-dozen are contemplating long-shot bids.
No GOP primary debate has ever included more than 10 candidates. Even if this year's stage is more crowded than in the past, some reasonably serious White House aspirants are bound to be left out.
The criteria for who will qualify to participate will be set by the news organization producing each debate, with input from party officials. This year, the behind-the-scenes discussions have been the source of acute angst at the Republican National Committee, which has floated using factors such as campaign donations and early-state staffing to winnow the pool, according to people familiar with the discussions. [Many candidates will not file an initial fundraising report until mid-October.]
[Campaign donations? So all one needs is his or her sugar-daddy billionaire to put up some big bucks to buy a seat at the debate?]
The party streamlined the debate schedule this year to avoid the nonstop televised showdowns that stretched through the 2012 primaries, which RNC Chairman Reince Priebus dubbed "an embarrassment." This time, the RNC has sanctioned up to 12 debates, down from 20 four years ago.
But figuring out who can take part in the forums has been a thornier problem.
* * *
RNC Communications Director Sean Spicer said the party's aim is to provide candidates with clear guidelines early in the process.
"While the networks ultimately will establish the criteria, our goal is to make sure that the criteria to get in the debate is known as soon as possible," he said.
Fox News and CNN, which host the first two debates, declined to comment on what thresholds they will use.
In past years, Fox News determined debate qualification in part by looking at the top 10 candidates who had hit at least 1 percent in the five most recent national polls. As of now, 15 of the top 16 potential candidates have at least 1 percent, according to an average of the five most recent phone surveys testing support for the GOP nomination.
The top 10 candidates on that basis are former Florida governor Jeb Bush, Sen. Marco Rubio of Florida, Wisconsin Gov. Scott Walker, Sen. Rand Paul of Kentucky, Sen. Ted Cruz of Texas, former Arkansas governor Mike Huckabee, real estate tycoon Donald Trump, retired neurosurgeon Ben Carson, New Jersey Gov. Chris Christie and former Texas governor Rick Perry.
Lagging behind Perry with less than 2 percent are former senator Rick Santorum of Pennsylvania, Ohio Gov. John Kasich, Sen. Lindsey O. Graham of South Carolina, Jindal and Fiorina. Former New York governor George Pataki averages a mere half-point.
All are sure to balk if they are excluded.
Is anyone else bothered by the fact that the television networks decide who gets to debate? The media villagers are supposed to report the news, not stage manage the news. They are supposed to be objective observers, not directors and producers (with the exception of FAUX News). The media is the problem.