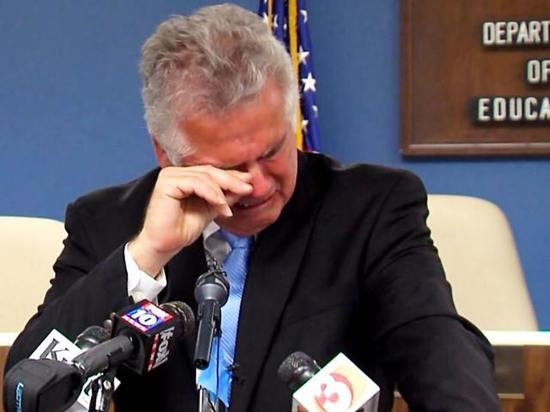 Three years ago, when my colleagues here at BfAZ and I exposed then Superintendent of Public Instruction John Huppenthal as a closet racist, I knew we had done the right thing. But I didn't know how right it would prove to be.
Huppenthal, or Thucky as we know him here, along with his predecessor, Tom Horne, had closed down the Mexican American Studies program in the Tucson Unified School District. I don't know much about that controversy, but I know this: If a student of any national heritage wants to learn more about that heritage, it takes a special kind of creep to deny her the opportunity to do so.
Students, with the assistance of David Morales, proprietor of the Three Sonorans blog and friend of this blog, other community leaders, and some very capable attorneys, challenged the legislation promoted and enforced by Horne and Huppenthal. A critical issue, it turned out, was whether Horne and Thucky were motivated by racial animus either in the enactment or the enforcement of the statute banning the MAS program. This may shock a few of you, but ole Thuckenthal didn't acquit himself well on the witness stand. Imagine that? And those comments he posted at this site and others? Yeah, those didn't play very well either. Here are the leading paragraphs in each of the first three sections of Judge Tashima's opinion:
1. Enactment

Huppenthal's blog comments provide the most important and direct evidence that racial animus infected the decision to enact A.R.S. § 15-112. Huppenthal not only voted for the bill, but was a key player in the effort to get it passed. Several of his blog comments convey animus toward Mexican Americans generally. Trial Tr. 95:18-23 June 27, 2017 ("No Spanish radio stations, no Spanish billboards, no Spanish TV stations, no Spanish newspapers. This is America, speak English."); id. at 97:19-20 ("I don't mind them selling Mexican food as long as the menus are mostly in English."). Other comments specifically referenced and disparaged the MAS program and teachers in racial terms. Trial Tr. 101:17-18 June 27, 2017 ("MAS = KKK in a different color"); id. at 96:2-7. ("The rejection of American values and embracement of the values of Mexico in La Raza classrooms is the rejection of success and embracement of failure."); id. at 98:13-22 ("The Mexican-American Studies classes use the exact same technique that Hitler used in his rise to power. In Hitler's case it was the Sudetenland. In the Mexican-American Studies case, it's Aztlán."); id. at 99:5-8 ("The infected [MAS] teachers are the problem."). Because these comments were made soon after the legislature debated and voted on the bill, they are highly probative of Huppenthal's state-of-mind during the relevant period.

Defendants made no attempt to argue that these comments do not convey racial animus.23 Rather, they argued that Huppenthal's public statements, which were facially neutral as to race, are more probative of his true intent. Trial Tr. 81:15-21 July 21, 2017 (defense counsel arguing in closing that "those private comments don't reflect the public reasons for taking action against TUSD's MAS program," as they were not "reflected in the directives he issued regarding the program"). The Court is unpersuaded. The blog comments are more revealing of Huppenthal's state-of-mind than his public statements because the guise of anonymity provided Huppenthal with a seeming safe-harbor to speak plainly. Huppenthal's use of pseudonyms also shows consciousness of guilt. Had Huppenthal, a public official speaking in a public forum on a public issue, felt that his inflammatory statements were appropriate, he would not have hidden his identity.

…

Enforcement

Huppenthal's blog comments provide the strongest evidence that racial animus motivated the enforcement of A.R.S. § 15-112 against the MAS program, for the same reasons given above. The blog comments are more probative of the reasons behind enforcement of the statute because Huppenthal was Superintendent at the time, the ultimate decisionmaker in that effort. While enforcing A.R.S. § 15-112 against the MAS program, Huppenthal continued to make comments that disparaged Mexican Americans as a group, and linked that view to his fight against the MAS program.

…

Conclusion Regarding the Fourteenth Amendment Claim

Considering the evidence, the Court is convinced that A.R.S. § 15-112 was enacted and enforced with a discriminatory purpose. Huppenthal's anonymous blog comments are the most important evidence, as they plainly show that he harbored animus. The circumstantial evidence corroborates that direct evidence, and confirms that other actors held the same views. Given this wealth of evidence, the Court finds Horne and Huppenthal did not testify credibly regarding their own motivations. The passage and enforcement of the law against the MAS program were motivated by anti-Mexican-American attitudes.
[Emphasis mine]
Would the result have been the same had Thucky not been exposed? It would be impossible to know, or even hazard a guess. But when I first asked David Morales if those racist blog comments were a factor, his response was "big time." Which means that maybe, just maybe, Tucson high schoolers one day may again be allowed to study their proud heritage because of what we did here at BfAZ.
And that's a great feeling.
Strike that. It's a fantastic feeling.