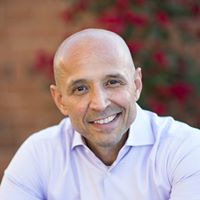 At their headquarters in Phoenix, Democratic Gubernatorial candidate David Garcia, along with his Communications Director Sarah Elliott relayed how the candidate plans to win the Governor's race and what he would do once inaugurated in January 2019.
A former Army veteran (unlike his opponent), a teacher and professor, a legislative analyst and Associate Superintendent of Public Instruction, Dr. Garcia displayed a vibrant and charismatic persona when presenting his reasons for running and what he would do if elected Arizona's next Governor in November.
No one left behind
Commenting that Arizona is now "one of the worst places to be a kid," he is disgusted with Arizona ranking near or at the bottom in most social justice and economic indicators, Dr. Garcia wants to run as the Governor for all Arizonans.
He wants to be the governor that fully funds education, fights poverty and homelessness, restores democracy and combats Dark Money Interests, protects our environment and water supply while making Arizona a solar capital in renewable energy, grows the economy and modernize our infrastructure and safeguard our borders.
Unlike Ducey who has failed to address issues like homelessness (a meeting with City Mayors surprised the Democratic nominee when the guests conveyed that there has been no leadership from the Governor's office on this issue), Dr. Garcia vows not to leave anyone behind if elected, wanting to leave the state in better shape, especially for children, after eight years of a Garcia Governorship than when he found it.
How Dr. Garcia will win in November?
Seeing this as a David v.  Goliath fight to election day, Dr. Garcia believes that he will have the support of the people whereas Mr. Ducey can only rely on the dark money special interests that have backed the agenda of corporate tax loopholes, underfunding public schools, privatizing education, compromising the safety net, destroying our environment, and taking away the rights of the voters.
To those who may say that his ideas are socialist or extreme, Garcia counters "fully funding education is not extreme. Providing accessible health care is not extreme. Looking out for our environment is not extreme. It is basic good government and the only reason it is extreme is that we have not been doing it for a long time."
He says the three keys to victory are "turnout, turnout, and turnout." The votes are there. The people need to show up — noting that "46 percent of the Democratic voters in the primary" were first-time voters — he feels his grassroots campaign on the issues he speaks about will motivate the people to turn out.
He debated Ducey eagerly. There were two debates between the nominees on September 24 and 25 — Watch the Full Arizona Gubernatorial Debate on Arizona PBS.
However, Dr. Garcia also wants two more debates, one sponsored by the Sandra Day O'Connor Institute and the other in Yuma so all television markets are able to broadcast at least one event so all the people can get a chance to see how the major Gubernatorial Candidates will steer the state.
Dr. Garcia on the issues
Education
Dr. Garcia wants Arizona's schools, one of the keys to economic development and social mobility, to be institutions where the joy for learning is universal. Saying that the future depends on the ability to "create," he wants children to be able to demonstrate creativity in addition to reciting facts. He wants schools to have rigor, focus, and a sense of mission in what they want to accomplish rather than targeting their educational priorities towards children passing standardized multiple-choice tests. He feels portfolios or exhibitions may be better ways to assess a child's learning and progress, recommending certificates for achievement in specific content areas like bilingual proficiency and technical achievement like the ability to computer code.
Calling the Ducey stacked Supreme Court Decision to take Invest in Ed off the ballot a "travesty," Dr. Garcia wants to fully fund education by:
     Getting a version of the initiative through the legislature and getting it back on the ballot.
     Eliminating tax breaks and credits (possible by repealing Proposition 108), including those for vouchers, which cost the state over $14 billion a year.
     Working to restore funding to community colleges and universities (a constitutional requirement that they should be as free as possible) so they can be avenues for students to pursue the fields of the future like robotics and aerospace. He wants voters to ask all candidates how they would fulfill the constitutional requirement of making university tuition as free as possible.
He believes that both community colleges and universities are essential ingredients to economic growth and development, especially in rural areas of the state where investments in human capital are sorely needed. He feels the Governor has failed in this key area because he has not pursued forward-looking policies that invest in people, "building them up", and growing the economy.
Expanding Health Care
Unlike his opponent who wants to do away with the Affordable Care Act and its protections like making sure people with preëxisting conditions can get affordable and quality treatment, Dr. Garcia believes everyone should have affordable, accessible, and high-quality health care. He strongly favors a public option where state residents can buy into the Arizona Medicaid program. He wants local control of this and other public policy areas because the "best solutions come from those closet to the problem. They are better and more sustainable."
Reducing Poverty and Homelessness
As mentioned earlier, Dr. Garcia would restore a statewide leadership role in this area. He believes the best way to reduce poverty is to provide jobs that pay well where people can live on a living wage. Having a sound quality education system and prudent economic development strategies are essential to providing opportunities to reduce poverty and homelessness.
Protecting the Environment and Promoting Renewable Energy
A supporter of Proposition 127 (the Clean Energy and Healthy Arizona Ballot Initiative), he wants to make Arizona a solar superpower. He wants to lead the way on working within and outside the state on preserving our water supply and "defending our natural resources." He wants to, as his father taught him, to "leave the state cleaner than they found it."
Modernizing our Infrastructure
Recognizing a statewide need to modernize our infrastructure, he would prioritize rural areas first, building and upgrading roadways, renovating and constructing rural district schools, and increasing high-speed broadband accessibility.
Expanding Democracy in the State
Saying that Dirty Money is one of "the biggest threats to the economy of the state," Dr. Garcia will propose that the state legislature (with hopefully more Democrats) enact measures that make it easier to get people to vote and restore the ballot process to what it was like before and let local municipalities retain their own voter-approved measures like Tempe's requirement that campaign donors reveal themselves or Bisbee allowing paper bags. David does not support Prop. 306.
Protecting Individual and Group Rights
He fully supports protecting the civil rights of all people and groups including women, minorities, and members of the LGBTQ Community. If elected Governor, he will have a team that reflects the demographic composition of the state.
Maintaining Public Safety
Dr. Garcia, a retired Army veteran, strongly condemned any individual or group that questions his dedication to maintaining the public safety of the state's citizens in any part of Arizona. He chastised Mr. Ducey, a person who never served in the military, for knowingly promoting false and negative partisan "dog whistle" ads portraying him as weak on border security and law enforcement, commenting that he "took the oath to defend the United States and live it to this day." He is fully committed to protecting families and committed to securing our borders in cooperation with the federal government. Furthermore, he calls the incumbents border strike force " a political ploy," citing the Yuma County Sheriff who said that it "was counterproductive" because they were not doing 24-hour patrols.
Moving to Victory
Dr. Garcia has put together an impressive team with over 5,400 core volunteers and offices in every part of the state. He has 16 teams that are going door to door in every part of Arizona to spread his message of inclusiveness and taking Arizona forward to every demographic group Please visit the below sites for more information about what David Garcia would do as Governor. As he stated, turnout is key. If you are a voter who is not happy with most of what Jan Brewer and Doug Ducey have done to Arizona in sinking us to the bottom of most social and economic indicators in the region and nation, then consider the progressive message David Garcia offers. It is a path that will take the state forward in all directions, not backward for the first time in ten years. Remember to vote.
https://www.facebook.com/dg4az/