When it comes to climate science, Tea-Publicans always begin with "I'm not a scientist …." Why Republicans Keep Telling Everyone They're Not a Scientist:
For now, "I'm not a scientist" is what one party adviser calls "a temporary Band-Aid" — a way to avoid being called a climate change denier but also to sidestep a dilemma. The reality of campaigning is that a politician who acknowledges that burning coal and oil contributes to global warming must offer a solution, which most policy experts say should be taxing or regulating carbon pollution and increasing government spending on alternative energy. But those ideas are anathema to influential conservative donors like the billionaire brothers Charles and David Koch and the advocacy group they support, Americans for Prosperity.
John McCain's puppet boy, Little Lindsey Graham, took a shot at Republican climate change deniers on Tuesday night, throwing the "I'm not a scientist" line back at those in his own party who he said stubbornly refuse to believe scientists. Graham Throws 'Not A Scientist' Line Back At GOP Climate Change Deniers:
"Late Night" host Seth Meyers asked Graham, who has previously urged his GOP colleagues to break from the party on environmental issues, if he's "surprised" to find so many climate change deniers in the party's ranks.
"Well I'm not a scientist," Graham responded. "but here's the problem I've got with some people in my party: When you ask the scientists what's going on, why don't you believe them? If I went to 10 doctors and nine said, 'Hey, you're gonna die,' and one says 'You're fine,' why would I believe the one guy?"
Remember, Little Lindsey Graham said this on "Late Night" with Seth Meyers Tuesday night after he had just spent the entire day on Tuesday criticizing the P5+1 world powers nuclear agreement with Iran without having even reviewed the details of the agreement. Graham: Iran Deal 'Akin to Declaring War' on Israel: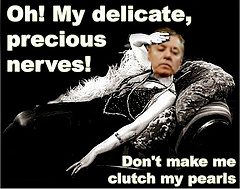 "My initial impression is that this deal is far worse than I ever dreamed it could be and will be a nightmare for the region, our national security and eventually the world at large," Graham told me in an interview early Tuesday morning, just after Iran, China, France, Russia, Britain, the U.S. and Germany confirmed they had reached terms for a historic deal to limit Iran's nuclear program in exchange for sanctions relief.
"If the initial reports regarding the details of this deal hold true, there's no way as president of the United States I would honor this deal," Graham said. "It's incredibly dangerous for our national security, and it's akin to declaring war on Sunni Arabs and Israel by the P5+1 because it ensures their primary antagonist Iran will become a nuclear power and allows them to rearm conventionally."
* * *
He said President Obama put Democrats in an impossible situation: "He's pitted Hillary Clinton and the Democratic party against common sense and the security of the American people."
* * *
Graham also predicted that the deal would lead to an arms race in the Middle East and expanded hostilities between Shiite and Sunni Arabs all over the region. "If I had property in the Middle East, I would think about selling it after this deal."
"I must retire to my fainting couch, I'm feeling faint. Someone bring me my smelling salts."
The "P5 powers" (permanent members of the U.N. Security Council), the U.S., Britain, France, Russia, China, "plus" Germany, did not negotiate this deal in a vacuum. Each of the P5 powers is a nuclear weapons power (Germany has a domestic nuclear energy program) and brought its top nuclear science experts in to advise and develop the highly technical aspects of this agreement, knowing full well that the technical aspects of this agreement would be peer reviewed by other nuclear science experts.
Secretary of State John Kerry had at his side Energy Secretary Dr. Ernest Moniz:
Prior to his appointment, Dr. Moniz was the Cecil and Ida Green Professor of Physics and Engineering Systems at the Massachusetts Institute of Technology (MIT), where he was a faculty member since 1973. At MIT, he headed the Department of Physics and the Bates Linear Accelerator Center. Most recently, Dr. Moniz served as the founding Director of the MIT Energy Initiative and as Director of the MIT Laboratory for Energy and the Environment where he was a leader of multidisciplinary technology and policy studies on the future of nuclear power, coal, nuclear fuel cycles, natural gas and solar energy in a low-carbon world.
From 1997 until January 2001, Dr. Moniz served as Under Secretary of the Department of Energy. He was responsible for overseeing the Department's science and energy programs, leading a comprehensive review of nuclear weapons stockpile stewardship, and serving as the Secretary's special negotiator for the disposition of Russian nuclear materials. From 1995 to 1997, he served as Associate Director for Science in the Office of Science and Technology Policy in the Executive Office of the President.
In addition to his work at MIT, the White House and the Department of Energy, Dr. Moniz has served on a number of boards of directors and commissions involving science, energy and security. These include President Obama's Council of Advisors on Science and Technology, the Department of Defense Threat Reduction Advisory Committee, and the Blue Ribbon Commission on America's Nuclear Future.
A member of the Council on Foreign Relations, Dr. Moniz is a Fellow of the American Association for the Advancement of Science, the American Academy of Arts and Sciences, the Humboldt Foundation, and the American Physical Society.
When the always terrified bedwetter Little Lindsey Graham gets hysterical and says something as patently ridiculous as the U.S. and the Security Council powers are "declaring war on Sunni Arabs and Israel," he has lost all credibility, if this Neocon war monger ever had any. No one should be relying on such a ridiculously hysterical politician.
This agreement will stand or fall on the peer review of nuclear science experts. Trust the science. One of the most respected nuclear non-proliferation organizations in the world, the Ploughshares Fund, strongly supports this nuclear agreement. Iran Agreement a Major Advance for Global Security:
Washington, DC – The global security foundation Ploughshares Fund hailed today's Iran nuclear agreement as a groundbreaking triumph for U.S. diplomacy and security, strongly urging Congress to support this historic step to prevent an Iranian nuclear bomb.
"This is a very good deal. It is a major victory for American national security. We have a once-in-a-lifetime chance to stop Iran from building a nuclear bomb, without putting a single U.S. soldier in harm's way," said Joe Cirincione, President of Ploughshares Fund. "But we haven't crossed the finish line yet. Congress will now give it a review, and a majority of nuclear security and policy experts agree that this deal deserves its full support," he added.
In accordance with the Iran Nuclear Agreement Review bill signed by President Obama in May, Congress now has 60 days to review the deal signed in Vienna by the P5+1 – the United States, Great Britain, France, Germany, Russia and China – and Iran. Congress can approve the agreement, reject it, or do nothing, in which case it would still go into effect. Congressional approval of the deal is not required.
"The talks have delivered a solid agreement resulting from an extremely rigorous and carefully calibrated diplomatic process," said Philip Yun, Ploughshares Fund Executive Director. "We must remember that the U.S. was not alone in negotiating this deal. We were part of a coalition of five other world partners, all seeking to prevent Iran from becoming a nuclear weapons state."
Research shows that a clear majority of Americans supported a nuclear deal, which is the best way to block Iran's pathways to nuclear weapons. The deal will require Iran to cut its enrichment capacity by two-thirds and slash its existing uranium stockpile by 98 percent. Highly rigorous and intrusive inspections will detect any Iranian attempt to renege on the deal and enable rapid response if it does. U.S. sanctions will be suspended only after inspectors verify that Iran has complied with its part of the deal. And terrorism and human rights-related sanctions will remain in place.
"For those who oppose the deal, the onus is on them to provide a viable alternative," said Tom Collina, Ploughshares Fund Policy Director. "This deal is far better than any other option we currently have to prevent Iran from building a nuclear bomb."
About Joseph Cirincione
Joseph Cirincione is president of Ploughshares Fund, a global security foundation. He is the author of the new book Nuclear Nightmares: Securing the World Before It Is Too Late, Bomb Scare: The History and Future of Nuclear Weapons and Deadly Arsenals: Nuclear, Biological and Chemical Threats. He is a member of Secretary of State John Kerry's International Security Advisory Board and the Council on Foreign Relations.
Cirincione worked for nine years in the U.S. House of Representatives on the professional staff of the Committee on Armed Services and the Committee on Government Operations. He is the author of hundreds of articles on nuclear weapons issues, the producer of two DVDs, a frequent commentator in the media, and he appeared in the films, Countdown to Zero and Why We Fight. He previously served as Vice President for National Security and International Policy at the Center for American Progress and Director for Nonproliferation at the Carnegie Endowment for International Peace. He has held positions at the Henry L. Stimson Center, the U.S. Information Agency and the Center for Strategic and International Studies. He teaches at the graduate School of Foreign Service at Georgetown University.
About Tom Collina
As director of policy Tom brings 25 years of Washington, DC experience in nuclear weapons, missile defense and nonproliferation issues to Ploughshares Fund. He has worked extensively as a researcher, analyst, and advocate to strengthen the efforts to end US nuclear testing, rationalize anti-missile programs, extend the Nonproliferation Treaty, and secure Senate ratification of the New START Treaty among others.
Prior to joining Ploughshares Fund in 2014, Tom served as Research Director of the Arms Control Association.  He was the Executive Director and Co-Founder of the Institute for Science and International Security and the Director of the Global Security Program at the Union of Concerned Scientists, among other leadership positions. He has published widely in major magazines and journals and has appeared frequently in the national media, including The New York Times, CNN, and NPR. He has testified before the Senate Foreign Relations Committee and regularly briefs congressional staff. Tom has a degree in International Relations from Cornell University.
About Philip Yun
Philip oversees the organization's entire range of day-to-day activities, including grantmaking, communications, financial management and fundraising.  He is an experienced executive and former policymaker who has also worked extensively in academia, business, international diplomacy, nonprofits and government.
Prior to joining Ploughshares Fund, he was a vice president at The Asia Foundation (2005-2011), a Pantech Scholar in Korean Studies at Stanford University (2004-2005) and worked at the U.S. Department of State (1994-2001). He was part of a U.S. delegation that travelled to North Korea with Secretary of State Madeline Albright in October 2000, and was a member of a U.S. government working group that managed U.S. policy and negotiations on North Korea under President Clinton. Mr. Yun also served as senior advisor to the first U.S. Coordinator for North Korea Policy, former Secretary of Defense William J. Perry. His writings and commentary have appeared on The Hill, Foreign Policy.com, AP TV, Fox News, CNN, NBC and the Los Angeles Times, among others. He is the co-editor of a book entitled North Korea and Beyond (2006).
Prior to government service, Mr. Yun practiced law at the firms of Pillsbury Madison & Sutro in San Francisco and Garvey Schubert & Barer in Seattle. He also was a foreign legal consultant at the firm of Shin & Kim in Seoul, Korea and later a vice president at the private equity firm of H&Q Asia Pacific. In other lives, Mr. Yun was a national staffer on the Presidential campaigns of Vice President Walter Mondale, Governor Michael Dukakis, and then Governor Bill Clinton.