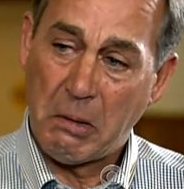 I posted last week that "The weakest Speaker of the House in modern American history, and the consensus 'Worst. Speaker. Ever.,' John Boehner, is the only reason that comprehensive immigration reform has not come up for a vote in the House that he controls." Boehner admits House Tea-Publicans are the problem on immigration reform.
Immigration reform still isn't on the agenda for the House GOP this spring, according to a memo sent Friday by Majority Leader Eric Cantor (R-Va.) to Republican members. Immigration Not On House GOP Agenda For Spring.
The Beltway media villagers who deem themselves the oracles of conventional wisdom also say that Immigration reform isn't happening anytime soon in the House. No matter what John Boehner says.
The thing about "conventional wisdom" is that it is almost always wrong. Behind the scenes is strategic maneuverings. The GOP leadership is trying to get past the 2014 Congressional Primary Calendar (.pdf) to avoid giving any red meat to its nativist and racist crazy base, and hopefully elect GOP establishment candidates in the primary who won't cost the party seats in November. Most primaries are concluded by the end of June, with the last slate of states holding primaries in August and early September.
Roll Call reports that Rep. Mario Diaz-Balart says he has a Republican immigration bill in the House that is close to a deal, and all he has to do is round up the votes. Immigration Overhaul for 2014: Decidedly Not Dead:
A bipartisan overhaul of immigration, considered dead in the water just a few weeks ago, is not only alive, according to the House Republican leading efforts to broker a deal — it's gaining steam.
Rep. Mario Diaz-Balart, R-Fla., told CQ Roll Call that pro-rewrite calls earlier this week from two Illinois Republicans, Reps. Adam Kinzinger and Aaron Schock, recent comments from Speaker John A. Boehner, combined with a rash of immigration rallies and protests across the nation in recent days, are indications that momentum has shifted back to those hoping to implement an overhaul of the nation's immigration laws this year.
Diaz-Balart, a major player in ongoing efforts to produce a bill that could balance Republican demands for border security with Democratic calls for legal status for the undocumented, said a solution is closer than ever.
"I think we finally have the policy right," he said in a phone interview. "I think we have figured out a way to secure, to have border and interior security, holding the administration accountable for the enforcement … forcing the administration to enforce the law whether they want to or not. And I think we figured out a way to deal with the folks that are here in a way that is fair — fair, by the way, to those in the legal system … who are doing everything legally, and also deals with the folks that are here in a way that is fair and reasonable. And adheres, strictly adheres, to the rule of law.
"So I think we finally have the policy right. And what we're finding is more and more people out there as they're seeing it, different aspects of the policy, are starting to say, 'Hey, that is something that makes sense.'"
Diaz-Balart said he thinks they're close to a deal that can pass both chambers.
"It is as close as we have ever been. It is still a big, big, heavy lift," he said. "I think we're going to get there."
* * *
Diaz-Balart said solution-oriented lawmakers on both sides of the aisle need to put the needs of the country ahead of political expediency.
"We're going to need a large group of Republicans and Democrats who are willing to stand up and do what is right for our country. What I'm finding is that there are a lot of them out there," Diaz-Balart told CQ Roll Call. "I have no problems if people have objections to the policies. But if the reason … that this is not done, is because of political gamesmanship or lack of courage, then that's something that I'm not willing to accept.
"Getting legislation that can get you to that 218 you need is not easy on this issue," he said, but "I feel really good about it."
The number four in the House GOP leadership, Rep. Cathy McMorris Rodgers, also says Republicans may act on immigration reform before the August recess, claiming: "I believe there is a path that we get a bill on the floor by August." A House immigration bill by August?:
The House could come up with a bill to overhaul the country's immigration system by August, according to the House's No. 4 Republican.
"I believe there is a path that we get a bill on the floor by August," Rep. Cathy McMorris Rodgers (R-Wash.), the Republican conference chairwoman, told The Spokesman-Review last week.
An August deadline would resolve the troubled issue months before November's midterm elections[.]
So the ball is in the court of Weeper of the House John Boehner and his deputy Eric Cantor, both of whom have said they want immigration reform done. If they want it done, then make it happen — that's why it is called leadership.
By the way, it is not enough that Senators John McCain and Jeff Flake supported the bipartisan Senate immigration reform bill. Where is their leadership? They need to be actively bringing pressure to bear on their Arizona GOP Caucus colleagues in the House to get them to vote for an immigration reform bill. The Senators need to be doing the heavy lifting and moral suasion to bring public pressure to bear on these Tea-Publicans to vote for an immigration reform bill.
Immigration and civil rights activists also need to strategically focus all their attention on Tea-Publicans in the House in the coming months. If Diaz-Balart and McMorris Rodgers are correct, an immigration reform bill can come up for consideration in the House in July. It will be the last chance to get it done this year. Once Congress leaves for August recess, nothing is going to happen after Labor Day in an election year.