It is hard to imagine in the Arizona in which we live today, but at one time Arizonans elected a Democratic Latino governor. Those were better days.
I have had the pleasure of speaking with Governor Castro and listening to him tell his life stories many times over the years. He was a good and decent man who will be missed.
Former governor Raul Castro, Arizona's only Latino governor, died at the age of 98 today: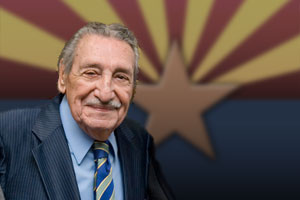 Raul Hector Castro, who became Arizona's only Latino governor and a well-traveled U.S. diplomat after lifting himself out of a hardscrabble, impoverished childhood, has died at the age of 98.
Castro followed an improbable journey to the state's highest office and a series of presidential appointments to diplomatic posts. Born in Mexico, he spent some of his childhood scouring the desert for food to feed his family. He spent some of his young-adult years as a hobo, boxing for money at carnivals or picking sugar beets in fields.
Castro was a Tucson lawyer when he decided to enter politics. He saw rampant discrimination against Latinos and figured the best way to change the system was to become part of it. Castro was elected Pima County attorney in 1954 and was subsequently elected a Superior Court judge. He spent time as a U.S. ambassador in Latin America before returning to Arizona and running for governor.
Castro served two years as governor before being asked again by another U.S. president to serve as a diplomat.
Arizona Governor Doug Ducey announced Castro's passing in a statement, saying Arizonans will not forget the 14th governor.
"He was an honorable public servant, a history-maker, a beloved family man and a strong friend and fighter for Arizona," Ducey's statement said. "Whether as a county attorney, a superior court judge, a United States ambassador or – as we will best remember him – our 14th governor, his life and legacy of service is forever ingrained in our history. The thoughts and prayers of all Arizonans are with Governor Castro's family and loved ones during this difficult time."
Ducey ordered state flags to be lowered to half-staff in Castro's honor in a day where he was remembered as a success story. The Governor's Office will soon announce details on plans to honor Castro's life and legacy.
* * *
Although he was a trailblazer for Latinos in Arizona politics, Castro expressed regret that not many Latinos followed his path. Since his election in 1974, no Latino has been his or her party's nominee for the governor's chair.
Continue reading Raul Castro, Arizona's only Latino governor, dies at 98.
The Arizona Democratic Party released the following statement on the passing of Governor Castro:
Statement on the Passing of Governor Raul Castro
by Arizona Democratic Party Chair Alexis Tameron
Phoenix – "We have lost a gem of a man, an Arizona treasure, a trailblazer so many of us from small copper mining and farming towns across Arizona took inspiration from," said Alexis Tameron, chair of the Arizona Democratic Party.
"As our first and only Mexican American Arizona Governor, Raul Castro was a beacon of light and the living embodiment of 'opportunity' for the Latino community in Arizona and beyond. A native of Cananea, located in Sonora, Mexico, Governor Castro immigrated to Arizona and later became a U.S. Citizen to pursue his dream of becoming a lawyer. Against all odds and in the face of racial prejudices, he worked his way through school often in grueling physical environments, and went on to become Pima County Attorney, a Superior Court Judge, and U.S. Ambassador to El Salvador and Bolivia before being elected Governor of Arizona in 1974. Two years later, while serving as Governor, he was selected by President Carter to become U.S. Ambassador to Argentina."
"I count myself among those privileged to have met and known Governor Castro. When giving lectures on civic engagement he would often encourage students by saying, 'You have to be a participant. You can't just be a follower. You've got to be active and motivated. You can't always win, but at least give it a try.' Those words still ring true today. Governor Castro not only leaves behind a rich legacy of service to our state and country, he has inspired many generations of leaders to carry the torch forward.
"As we remember him and give him thanks, our thoughts and prayers are with his wife Pat, his daughters, and members of his family."
###
Statement by Vince Rabago, Chairman of the Pima County Democratic Party Latino Caucus:
CHAIRMAN OF THE PIMA DEMOCRATIC LATINO CAUCUS
STATEMENT ON THE PASSING OF FORMER ARIZONA
GOVERNOR RAUL CASTRO, A REAL ARIZONA TRAILBLAZER.
Today, Vince Rábago, Chairman of the Pima County Latino Democratic
caucus, issued a statement on the passing of former Arizona Governor Raul Castro, who was Arizona's first Hispanic governor.
"Raul Castro was a real Arizona trailblazer. As Arizona's first and only statewide Latino office holder, elected in 1974, he broke barriers. He was also the first Hispanic elected as Pima County Attorney, and was elected as a judge. He has served as inspiration not just for the Latino community, but for everyone in the State of Arizona and beyond. We will miss his humbleness, wit, amazing story-telling abilities and historical perspective, but we will not forget his public service and legacy, and his trailblazing accomplishments."
Rábago, who expressed gratitude for the Governor's political support during Rábago's own 2010 run for Arizona Attorney General, applauded the Governor's continuing commitment for change in Arizona, noting that the former Governor was still actively engaged in supporting progressive politics and Democratic candidates in the past few years, despite being well into his mid-90s. After his election as Governor, President Carter appointed Gov. Castro as Ambassador and he served as Ambassador to three countries.
"The Governor never forgot his roots and the effort that is still needed to make change in the political arena, especially for Latinos in this state," said Rábago. "Growing up in Douglas – the same place where Governor Castro was raised after immigrating from Mexico – gave us a common bond. Our thoughts and prayers go out to the entire Castro family."
Memorial arrangements for Gov. Castro will be announced later this week.