The 41st president of the United States and the father of the 43rd, George H. W. Bush who steered the nation through a tumultuous period in world affairs, has died at 94 (NY Times):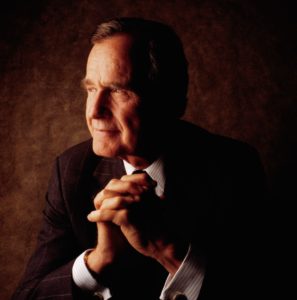 His death, which was announced by his office, came less than eight months after that of his wife of 73 years, Barbara Bush.
Mr. Bush had a form of Parkinson's disease that forced him to use a wheelchair or motorized scooter in recent years, and he had been in and out of hospitals during that time as his health declined.
Mr. Bush, a Republican, was a transitional figure in the White House, where he served from 1989 to 1993, capping a career of more than 40 years in public service. A decorated Navy pilot who was shot down in the Pacific in 1944, he was the last of the World War II generation to occupy the Oval Office.
Mr. Bush was a skilled bureaucratic and diplomatic player who, as president, helped end four decades of Cold War and the threat of nuclear engagement with a nuanced handling of the collapse of the Soviet Union and the liberation of Eastern Europe.
Yet for all his success in the international arena, his presidency faltered as voters seemed to perceive him as detached from their everyday lives. In an election that turned on the economy, they repudiated Mr. Bush in 1992 and chose a relatively little-known Democratic governor from Arkansas, Bill Clinton, a baby boomer, ushering in a generational shift in American leadership.
If Mr. Bush's term helped close out one era abroad, it opened another. In January 1991 he assembled a global coalition to eject Iraqi invaders from Kuwait, sending hundreds of thousands of troops in a triumphant military campaign that to many Americans helped purge the ghosts of Vietnam.
But the victory also brought years of American preoccupation with Iraq, leading to the decision by George W. Bush in 2003 to topple the Iraqi leader, Saddam Hussein, in a war that taxed American resources and patience.
The elder Mr. Bush entered the White House with one of the most impressive résumés of any president. He had been a two-term congressman from Texas, ambassador to the United Nations, chairman of the Republican National Committee, United States envoy to China, director of the Central Intelligence Agency and vice president, under Ronald Reagan.
And he achieved what no one had since Martin Van Buren in 1836: winning election to the presidency while serving as vice president. (Van Buren did so in the footsteps of Andrew Jackson.)
It took Lee Atwater's Souther Strategy of appealing to racism against African-Americans with the infamous "Willie Horton" ad to do it. Let's never forget that George H.W. Bush's "Willie Horton" ad will always be the reference point for dog whistle racism.
After his loss in 1992 to Mr. Clinton, in an election in which the billionaire independent candidate Ross Perot won almost a fifth of the vote, Mr. and Mrs. Bush repaired to their home in Houston and to their oceanfront compound in Kennebunkport, Me. By his own account the loss had left him dispirited and feeling humiliated. But he did not quite retire.
* * *
Mr. Bush had made little effort to mask his disdain for Mr. Clinton, but they forged an unlikely, almost familial, bond, growing so close that Mrs. Bush described her husband as the father Mr. Clinton never had.
The two former presidents became a symbol of bipartisanship in an increasingly partisan age. If Mr. Bush's embrace helped scrub Mr. Clinton's reputation of some of its tawdrier aspects, Mr. Clinton helped transform Mr. Bush's image from that of a vanquished one-term president who had never fully escaped the shadow of his popular predecessor, Reagan, to one of a respected elder statesman.
Mr. Bush was president during a shift in the world order that had begun under Reagan. His measured response to upheaval in Eastern Europe drew complaints that he was not seizing the reins of history. [See Bosnian Genocide in the Bosnian War.] But he chose a collaborative approach, working with the Soviet leader Mikhail S. Gorbachev to allow for the reunification of Germany, the dissolution of the Soviet Union and the end of the Cold War. The two leaders signed treaties mandating historic reductions in their countries' nuclear and chemical weapons.
In his first year at the White House, Mr. Bush sent troops into Panama to oust its strongman, Gen. Manuel Antonio Noriega. The rapid, relatively bloodless conclusion of the Persian Gulf war of 1991 earned him a three-minute standing ovation and shouts of "Bush! Bush!" when he addressed a joint session of Congress that March. It also sent his voter approval ratings soaring to close to 85 percent during the four-day aerial bombardment of Baghdad, according to a New York Times/CBS News poll. It was the pinnacle of his presidency, yet it lulled him, not to mention some potentially formidable Democrats, into assuming his re-election was certain.
Iraq was not an unalloyed victory. Mr. Bush felt compelled to defend his decision to suspend the assault before it could topple Mr. Hussein, and his critics questioned his earlier effort to give Mr. Hussein financial aid and intelligence data. Still, foreign policy successes were the hallmark of his presidency. Not so his domestic record.
By the midpoint of his term, leaders of both the Republican and Democratic Parties complained that in the midst of the worst economy any American president had faced since the end of World War II, Mr. Bush had no domestic agenda. Many questioned his sensitivity to the worries of ordinary Americans. Though stung by the criticism, he did little to dispel that perception on a visit to an economically reeling New Hampshire during his re-election campaign, when he announced in January, "Message: I care."
His signal domestic decision was almost certainly the 1990 budget deal, which sought to address deepening deficits by raising taxes on the wealthy. If it helped put the nation back on solid financial footing, it nevertheless reversed one of the most explicit campaign pledges ever uttered by a major-party presidential candidate: "Read my lips. No new taxes."
* * *
Barely a year after the world had hailed his success in Iraq, Mr. Bush found himself almost losing the Republican presidential primary in New Hampshire to the conservative commentator Patrick J. Buchanan. Mr. Bush won the nomination but was weakened by the Buchanan challenge and accordingly veered sharply to the right. He then lost to Mr. Clinton. Mr. Perot's 19 percent of the popular vote helped deny both Mr. Bush and Mr. Clinton a majority.
Before leaving office, Bush Pardoned 6 in the Iran-Contra Affair, Aborting the Caspar Weinberger Trial; Prosecutor Assails a 'Cover-Up'. "[Independent Prosecutor] Lawrence Walsh hinted that Mr. Bush's pardon of Mr. Weinberger and the President's own role in the affair could be related." No one was ever held accountable for the Iran-Contra Affair. Bush's obstruction of justice serves as a dark legacy for the current occupant of the White House.
Former President George H.W. Bush will be honored with a state funeral. George H.W. Bush's state funeral arrangements:
What we know
President George H.W. Bush will lie in state in the US Capitol Rotunda starting Monday December 3, with the public invited to pay their respects from 7:30 pm that night until 7 am Wednesday.
President Trump has issued an executive order to close down most federal government offices on Wednesday as a mark of respect.
The Bush family will be partnering with the Department of Defense's Task Force-National Capital Region to make arrangements for the funeral, according to the late president's website.
A state funeral is a seven to 10 day event, consisting of three stages. According to the Joint Task Force website: "Stage I includes ceremonies within the state in which the president, former president, or president-elect was in residence. Stage II includes ceremonies within Washington, DC, and Stage III includes ceremonies in the state in which the authorized individual has chosen to be interred."
Though he was born in Massachusetts and grew up in Connecticut, Bush spent most of his life in Texas, and was living there when he died. He is expected be buried at the George H.W. Bush Presidential Library in College Station, Texas.
The ceremonies in the capital will be held at the National Cathedral, according to a statement from White House Press Secretary Sarah Sanders, with both Trump and the first lady in attendance.
Further updates can be found at his presidential website.
What we don't know
Exact dates and times for most of the ceremonies
Where the ceremonies in Texas will be held
What other prominent politicians will be in attendance
UPDATE: Times are now available:
The public will be able to pay its respects to Bush from 7:30 p.m. Monday to 7 a.m. Wednesday at the U.S. Capitol Rotunda in Washington.
A state funeral will be held at the Washington National Cathedral, beginning at 11 a.m. Wednesday.
The late President's remains will then be returned to Houston on Wednesday afternoon. A funeral service is planned at St. Martin's Episcopal Church in Houston, beginning at 10 a.m. local time.
Bush will be buried on Thursday in a family plot behind the George H.W. Bush Presidential Library and Museum at Texas A&M University, alongside his wife and former first lady, Barbara, and daughter Robin, university officials said in a statement on Saturday.
---
Support volunteer citizen journalism at the Blog for Arizona with a donation today. Your secure contribution keeps the Blog online and sustains a free press in Arizona.
---