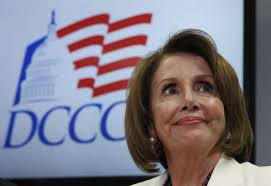 Julia Conley nailed the title on her piece at Common Dreams: From Pushing 'Thoughts and Prayers' to Dissing Medicare for All, DCCC Called Out for Sabotaging Bold Demands.
She also did a damn good job writing it.
A few key passages:
"It's becoming evident that the DCCC—and the billionaire donors and revolving door consultants that make up the Democratic Party establishment—believe Democrats can only take back Congress by running on a watered down message…instead of the basic values of decency and fairness that voters demand," said Waleed Shahid of Justice Democrats in a statement.

Documents on healthcare messaging that were handed out to House Democrats in the wake of the 2016 election treated universal healthcare as a fringe issue, suggesting that lawmakers are not to entertain Medicare for All as a potential solution to the nation's high healthcare costs and poor outcomes.
……
As the healthcare memo came to light, the Huffington Postreported that last October, in the immediate wake of the Las Vegas shooting, the DCCC warned House candidates to steer clear of "politicizing" the massacre that killed 58 people and injured hundreds.

"You and your candidate will be understandably outraged and upset, as will your community. However, DO NOT POLITICIZE IT TODAY," DCCC regional press secretary Evan Lukaske wrote to candidates in an email just after the shooting. "There will be time for politics and policy discussion, but any message today should be on offering thoughts/prayers for victims and their families, and thanking first responders who saved lives."

The email was "straight out of the NRA's talking points," Mark Glaze of the gun violence prevention group Guns Down told the Huffington Post.

"If the DCCC is willing to give up a key issue and offend virtually every Democrat so as not to bother eight Independents in rural Missouri, they're even more incompetent than we thought, and Democrats should be very worried about the midterms," Glaze said.
And her closing paragraph:
"The establishment of the Democratic Party needs to get out of the way of the rising tide of movements that could sweep them into the majority," said Shahid. "Across the country, we're seeing grassroots activists come out in unprecedented numbers: to demand health care as a right, to stop the Trump agenda of division and greed, and to ban assault weapons. It's a slap in the face to this grassroots movement that the DCCC only wants to offer 'thoughts and prayers' as a solution to an epidemic that has stolen so many lives."
My friend Howie Klein at Down With Tyranny has been writing about DCCC incompetence and corruption for years. Election cycle after election cycle, too few people listened. Now, it seems, they are.
My own experience with the DCCC, at least in the moment, was favorable. Chris Van Hollen, then DCCC chair and now a Senator from Maryland, put me on the Red to Blue list and approved $2 million in spending on my ill-fated candidacy. I was invited to all the candidate trainings. They sent debate coaches out to help prepare me. And 8 or 10 sitting reps, including then Speaker Pelosi, headlined events for me.
So I have no axe to grind.
But even back then, when DCCC candidates were winning races in 2006 and 2008, something seemed off. There was a clubbiness to the whole operation that I found off-putting, even though I was welcomed to the club. Although I more than held my own fundraising and felt it entirely appropriate for a candidate seeking DCCC help to have to show a threshold level of fundraising competence, I found the DCCC emphasis on money too extreme. And I thought their media operation was abysmal. I cringed at the ads they ran for me, hoping they at least would not affirmatively cost me votes, but knowing they weren't going to help any.
It was during my race that I met Howie. We've stayed in touch for the past decade and have spoken numerous times about DCCC absurdity. Howie recognized Debbie Wasserman-Schultz's corruption way before the rest of us experienced it. He pointed out to me how the D-trip would not support a candidate challenging Republicans who sat in top leadership posts, even if the race was winnable. There seemed to be an agreement of sorts between the DCCC and RNCC on that front.
Most of all, though, Howie railed about the DCCC practice of always, always seeking out the most conservative of candidates. They never met a Republican convert they didn't like. I ran at the same time as Darcy Burner, from the Seattle suburbs. Darcy was as compelling a candidate as you could meet, and solidly progressive. The DCCC supported her, but only because they couldn't justify not doing so. It was no secret that they didn't care much for her style. A well run DCCC would have used her as a modal for other candidates. She wound up losing by the narrowest of margins in 2008. It's too bad, she would have been awesome in the job.
With any luck, grass-roots Dems will reject the DCCC slate of primary candidates this time around. There's a lot at stake. If the new, enthusiastic young candidates and their supporters are told to go run for lower offices and not take bold campaign positions (like, you know, providing health care and banning weapons of mass murder), they won't be back. And America will be worse for it. Forever.