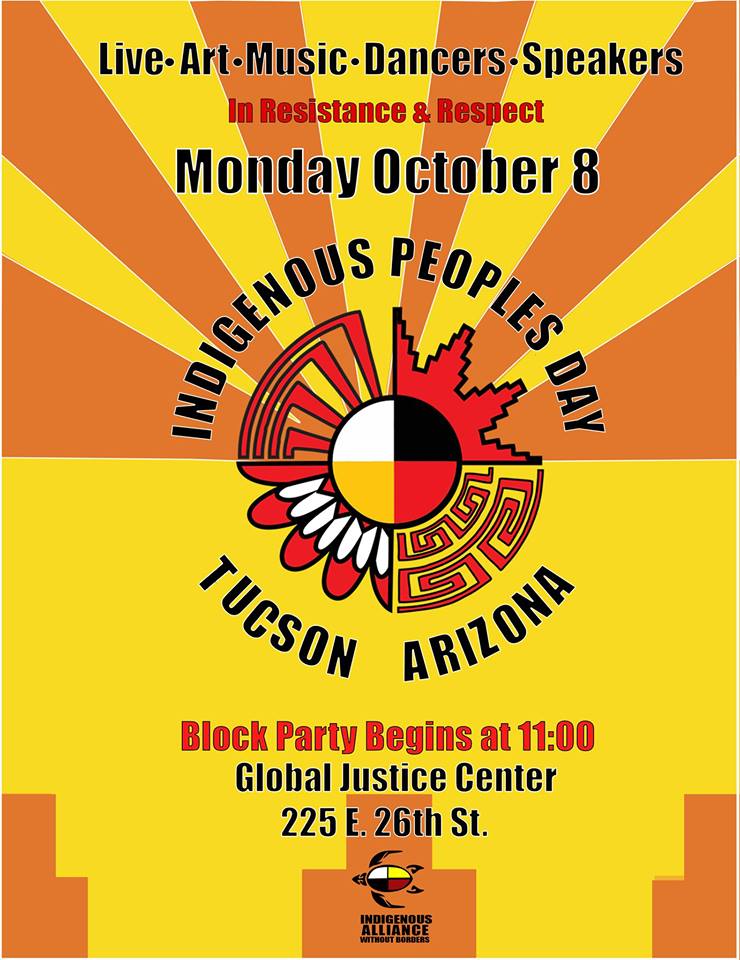 INDIGENOUS PEOPLES' DAY
South Tucson, AZ
Monday, October 8, 2018
GLOBAL JUSTICE CENTER
BLOCK PARTY BEGINS 11:00AM
225 E. 26th ST
TUCSON/CHUKSHON, AZ
(Free to the Community) of Music, Dancers and Speakers throughout the day. Join us to celebrate Indigenous Peoples' Day!
There will be music, dancers, speakers, food and more!
Family-friendly, drug and alcohol free
Donations to Indigenous Alliance Without Borders well accepted and appreciated to work towards next years Indigenous Peoples Day.
Come show your support to make this day a holiday celebrating and honoring Indigenous Peoples' everywhere!
11AM – Opening Blessing Lester Smith (T.O.)
Honoring Color Gaurd (Yoeme)
Music by:
DJ Chuckie Chingon (Yaqui) (all day)
Gertie and the Waila Boyz (Tohono O'odham) (7:30pm)
Renegade Rebels
3 Wing Band
Speakers:
Juan Ortiz (Alianza) U.N Document on Indigenous Rights. (2pm)
LD 3 Representative Sally Ann Gonzales (Yaqui) Legislation that affects Indigenous rights.
Joseph Garcia -Conducting the O'odham Census in Mexico (2:15pm)
Nellie Jo David – O'odham Anti Border Collective (4pm)
We'panag Bike Club (TBA)
Derechos Humanos (TBA)
Dr. Roberto Cintli Rodriguez 6pm
Spoken Word: 6pm (In honor of Missing Indigenous Peoples and Missing Indigenous Women)
Leilani Clark
Enrique "Q" Garcia Naranjo (Spoken Futures)
Intertribal dances: 630pm
Round Dance in honor of Missing Indigenous Peoples and Women. (Toby Jose)
Ryan Pinto – Grass Dance (hopi/omaha/ute)
Santiago Stanton – Smoke Dance (yaqui)
Spoken Word: 6:45pm
Shay Jimenez
Danza: 7pm
Calpolli Teoxicalli
VENDORS $20
SPACES AVAILABLE !!!!
PLEASE CONTACT THROUGH EMAIL RYAN 10rhythms.rp@gmail.com
Or by phone 928-707-1729
GIVING INFO ON ORGANIZATION AND MERCHANDISE, MUST BE INDIGENOUS AFFILIATED AND FAMILY AND KID FRIENDLY.
Support volunteer citizen journalism at the Blog for Arizona with a donation today. Your PayPal contribution keeps the Blog online and sustains a free press in Arizona.