With the daily, almost hourly scandals coming out of Washington, D.C., this long-running scandal was almost overlooked by the media. At any other time, it would have been the focus of media coverage for days. This is how Trump's "chaos theory" works: overwhelm the public with multiple scandals until they are too numbed to respond any longer.
The Washington Post reports, Trump's family separation policy was flawed from the start, watchdog review says: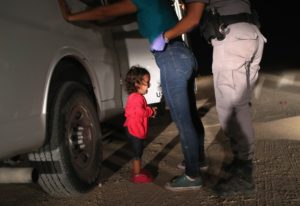 The Trump administration's "zero tolerance" crackdown at the border this spring was troubled from the outset by planning shortfalls, widespread communication failures and administrative indifference to the separation of small children from their parents, according to an unpublished report by the Department of Homeland Security's Inspector General.
The report, a copy of which was obtained by The Washington Post, is the government's first attempt to autopsy the chaos produced between May 5 and June 20, when President Trump abruptly halted the separations under mounting pressure from his party and members of his family.
The DHS Office of Inspector General's review found at least 860 migrant children were left in Border Patrol holding cells longer than the 72-hour limit mandated by U.S. courts, with one minor confined for 12 days and another for 25.
Many of those children were put in chain-link holding pens in the Rio Grande Valley of southern Texas. The facilities were designed as short-term way stations, lacking beds and showers, while the children awaited transfer to shelters run by the Department of Health and Human Services.
U.S. border officials in the Rio Grande Valley sector, the busiest for illegal crossings along the nearly 2,000-mile U.S.-Mexico border, held at least 564 children longer than they were supposed to, according to the report. Officials in the El Paso sector held 297 children over the legal limit.
The investigators describe a poorly coordinated interagency process that left distraught parents with little or no knowledge of their children's whereabouts. In other instances, U.S. officials were forced to share minors' files on Microsoft Word documents sent as email attachments because the government's internal systems couldn't communicate.
"Each step of this manual process is vulnerable to human error, increasing the risk that a child could become lost in the system," the report found.
Based on observations conducted by DHS inspectors at multiple facilities along the border in late June, agents separated children too young to talk from their parents in a way that courted disaster, the report says.
"Border Patrol does not provide pre-verbal children with wrist bracelets or other means of identification, nor does Border Patrol fingerprint or photograph most children during processing to ensure that they can be easily linked with the proper file," the report said.
"It is a priority of our agency to process and transfer all individuals in our custody to the appropriate longer-term detention agency as soon as possible," U.S. Customs and Border Protection, which includes Border Patrol, said in a statement. "The safety and well-being of unaccompanied alien children . . . is our highest responsibility, and we work closely with the Department of Health and Human Services (HHS) Office of Refugee Resettlement to ensure the timely and secure transfer of all unaccompanied minors in our custody as soon as placement is available from HHS."
In its Sept. 14 response to the inspector general's report, DHS acknowledged the "lack of information technology integration" across the key immigration systems and "sometimes" holding children beyond the 72-hour limit.
On June 23, three days after the executive order halting the separations, DHS announced it had developed a "central database" with HHS containing location information for separated parents and minors that both departments could access to reunite families. The inspector general found no evidence of such a database, the report said. More, Homeland Security's Computers Couldn't Track Separated Families, Report Finds.
"The OIG team asked several [Immigration and Customs Enforcement] employees, including those involved with DHS' reunification efforts at ICE Headquarters, if they knew of such a database, and they did not," it states. "DHS has since acknowledged to the OIG that there is no 'direct electronic interface' between DHS and HHS tracking systems."
Inspectors said they continue to have doubts about the accuracy and reliability of information provided by DHS about the scope of the family separations.
In late June, a federal judge ordered the government to reunite more than 2,500 children taken from their parents, but three months later, more than 100 of those minors remain in federal custody.
The inspector general's report also found that U.S. Customs and Border Protection (CBP) restricted the flow of asylum seekers at legal ports of entry and may have inadvertently prompted them to cross illegally. One woman said an officer had turned her away three times, so she crossed illegally.
At one border crossing, the inspection team saw CBP attempt to increase its detention space by "converting former offices into makeshift hold rooms."
The observations were made by teams of lawyers, inspectors and criminal investigators sent to the border amid concerns raised by members of Congress and the public. They made unannounced visits to CBP and ICE facilities in the border cities of El Paso and McAllen, Tex.
As Aaron Blake of the Washington Post says:
The inescapable conclusion of it all is that Homeland Security couldn't even handle a messaging operation, much less the separation and reunification of families. Claims were made with no [factual] basis that wound up suggesting not even Nielsen fully appreciated what was taking place.
This whole situation has largely escaped the headlines in recent weeks. This report reinforces that it shouldn't have.
In recent weeks, hundreds of migrant children have been roused in the middle of the night and loaded onto buses with backpacks and snacks for a cross-country journey to their new home: a barren tent city on a sprawling patch of desert in West Texas. Migrant Children Moved Under Cover of Darkness to a Texas Tent City:
Until now, most undocumented children being held by federal immigration authorities had been housed in private foster homes or shelters, sleeping two or three to a room. They received formal schooling and regular visits with legal representatives assigned to their immigration cases.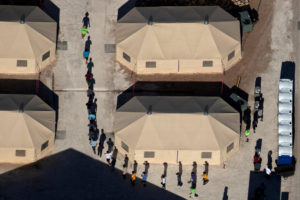 But in the rows of sand-colored tents in Tornillo, Tex., children in groups of 20, separated by gender, sleep lined up in bunks. There is no school: The children are given workbooks that they have no obligation to complete. Access to legal services is limited.
These midnight voyages are playing out across the country, as the federal government struggles to find room for more than 13,000 detained migrant children — the largest population ever — whose numbers have increased more than fivefold since last year.
The average length of time that migrant children spend in custody has nearly doubled over the same period, from 34 days to 59, according to the Department of Health and Human Services, which oversees their care.
To deal with the surging shelter populations, which have hovered near 90 percent of capacity since May, a mass reshuffling is underway and shows no signs of slowing. Hundreds of children are being shipped from shelters to West Texas each week, totaling more than 1,600 so far.
* * *
[T]he mass transfers are raising alarm among immigrant advocates, who were already concerned about the lengthy periods of time migrant children are spending in federal custody.
The roughly 100 shelters that have, until now, been the main location for housing detained migrant children are licensed and monitored by state child welfare authorities, who impose requirements on safety and education as well as staff hiring and training.
The tent city in Tornillo, on the other hand, is unregulated, except for guidelines created by the Department of Health and Human Services. For example, schooling is not required there, as it is in regular migrant children shelters.
* * *
The move to Texas is meant to be temporary. Rather than send new arrivals there, the government is sending children who are likely to be released sooner, and will spend less time there — mainly older children, ages 13 to 17, who are considered close to being placed with sponsors. Still, because sponsorship placements are often protracted, immigrant advocates said there was a possibility that many of the children could be living in the tent city for months.
* * *
The number of detained migrant children has spiked even though monthly border crossings have remained relatively unchanged, in part because harsh rhetoric and policies introduced by the Trump administration have made it harder to place children with sponsors.
Traditionally, most sponsors have been undocumented immigrants themselves, and have feared jeopardizing their own ability to remain in the country by stepping forward to claim a child. The risk increased in June, when federal authorities announced that potential sponsors and other adult members of their households would have to submit fingerprints, and that the data would be shared with immigration authorities.
Last week, Matthew Albence, a senior official with Immigration and Customs Enforcement, testified before Congress that the agency had arrested dozens of people who applied to sponsor unaccompanied minors. The agency later confirmed that 70 percent of those arrested did not have prior criminal records.
"Close to 80 percent of the individuals that are either sponsors or household members of sponsors are here in the country illegally, and a large chunk of those are criminal aliens. So we are continuing to pursue those individuals," Mr. Albence said.
Seeking to process the children more quickly, officials introduced new rules that will require some of them to appear in court within a month of being detained, rather than after 60 days, which was the previous standard, according to shelter workers. Many will appear via video conference call, rather than in person, to plead their case for legal status to an immigration judge. Those who are deemed ineligible for relief will be swiftly deported.
There is no good faith attempt by the Trump administration to comply with the court order to reunify the families it illegally separated under its "zero tolerance" family separation policy. It's time for the court to hold agency heads in contempt of court, and to impose daily accrued fines until the government complies.
---
Support volunteer citizen journalism at the Blog for Arizona with a donation today. Your secure contribution keeps the Blog online and sustains a free press in Arizona.
---